College of Arts and Media News Archive
Marshall University's W. Page Pitt School of Journalism and Mass Communications (SOJMC) is seeking nominations for its upcoming Hall of Fame class.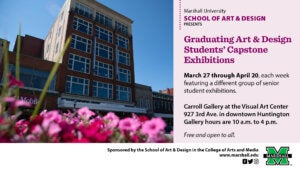 Marshall University's senior art students will have their capstone projects on display weekly, beginning on Monday, March 27, through Thursday, April 20.
Marshall University will host a concert of British music by the Brass Band of the TriState at 7:30 p.m. Tuesday, March 21, in Smith Recital Hall. Among the pieces to be performed are Holst's Second Suite, Elgar's Nimrod, a movement from Handel's Water Music Suite and a brand-new tribute to the late Queen Elizabeth II.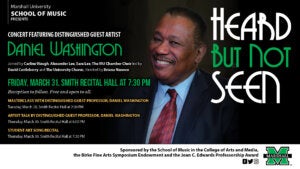 Guest artist Daniel Washington visits Marshall University this month to present a concert, "Heard But Not Seen — The African American Voice: A Musical Landscape," as well as teaching a master class and leading an artist talk. His visit is part of the Birke Fine Arts Symposium, a university-wide celebration of art featuring the theme
Two faculty members from Marshall University's School of Art and Design, Associate Professor Hanna Kozlowski and Professor Sandra Reed, received grants from the West Virginia Department of Arts, Culture and History to support creative work and promote lifelong learning and healthy aging.
Marshall University's School of Art and Design will present its 12th Annual National Juried Exhibition, featuring works by artists from more than a dozen states and works of regional artists from West Virginia and Ohio.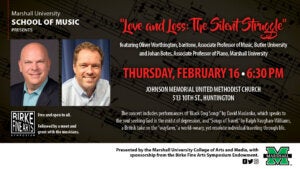 The Marshall University School of Music will present "Love and Loss: The Silent Struggle," a concert featuring guest artist Dr. Oliver Worthington, baritone, and Marshall Associate Professor Dr. Johan Botes, piano, at 6:30 p.m. Thursday, Feb.16, at Johnson Memorial United Methodist Church, 513 10th St. in Huntington.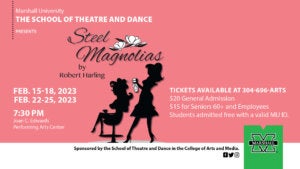 Marshall University's School of Theatre and Dance will present "Steel Magnolias" by Robert Harling at 7:30 p.m. Wednesday through Saturdays, Feb. 15-18 and Feb. 22-25, in the Francis‐Booth Experimental Theatre of the Joan C. Edwards Performing Arts Center.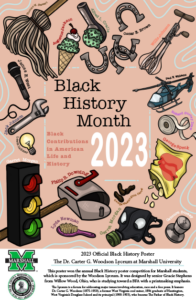 The Dr. Carter G. Woodson Lyceum at Marshall University kicked off Black History Month 2023 Tuesday, unveiling the 2023 Official Black History Poster and honoring the Marshall University and K-12 student winners of the Black History Poster Competition and their teachers.  The event featured keynote speaker Dr. Leonard White, physician, and associate dean for diversity at Marshall's Joan C. Edwards School of Medicine.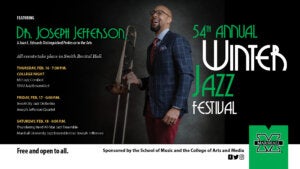 The Marshall University School of Music will present its 54th Annual Winter Jazz Festival Feb. 16-18 in Smith Recital Hall. The festival will feature local, regional and national jazz talent, including Dr. Joseph Jefferson, a Joan C. Edwards Distinguished Professor in the Arts.