Welcome to Marshall University's School of Physical Therapy!  
The Doctor of Physical Therapy Program at Marshall University is accredited by the Commission on Accreditation in Physical Therapy Education (CAPTE), 1111 North Fairfax Street, Alexandria, VA 22314; phone: 703-706-3245; email:accreditation@apta.org; website: http://www.capteonline.org.  If needing to contact the program/institution directly, please call 304-696-5614 or email davis1090@marshall.edu.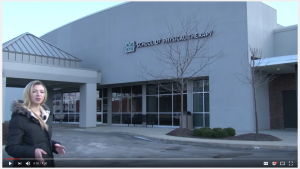 Join the Sons and Daughters of Marshall University through the School of Physical Therapy. Start changing lives for the better!
---

Apply Now to start your DPT education at Marshall University in May 2019!
PTCAS will be open for application on July 5, 2018! (2018-2019 application cycle)

MU DPT program will participate in the 2018-2019 PTCAS Early Decision process.

  The Early Decision application is for applicants who have decided MU DPT program is their first choice and have met all of the following requirements: 1) a minimum overall GPA of 3.5; 2) a minimum total GRE score (verbal + quantitative) of 300; 3) a minimum GRE analytical writing score of 3.5; 4) no more than two outstanding science prerequisite courses at the time of application.  Please click here for more information.
PTCAS Early Decision Application Deadline: August 15, 2018 (GRE & PT observation hours need to be completed no later than July 31, 2018)
PTCAS General Application Deadline: October 15, 2018 (GRE & PT observation hours need to be completed no later than October 1, 2018)
The interview dates for Class of DPT 2022: First two weeks of January 2019 (exact dates: TBD).
DO NOT send your application documents (i.e. official transcripts, GRE score report, clinical observation verification hours forms and reference letters) to Marshall University School of Physical Therapy.  All of the documents shall be sent to PTCAS.
For submitting your GRE score report, our PTCAS program code is "Marshall U Sch Phy Therapy PTCAS (0323)."  Only using this code can ensure that your report is sent to PTCAS.
There is no supplemental application and fee required when you apply on PTCAS.  When you are invited to our on-site interview in early January, 2019, you will be asked to complete the supplemental application form.  When we offer you a seat (February – Mid-May), you will be asked to pay the $40 supplemental application fee (for international applicants: $150; non-refundable) along with the $500 seat deposit (non-refundable). 
Questions?  Contact us at physicaltherapy@marshall.edu
As a member of the American Council of Academic Physical Therapy (ACAPT), the Marshall University School of Physical Therapy strives to conform to the Admissions Traffic Rules for Physical Therapist Education Programs. (ACAPT Admissions Traffic Rules)