Marshall Homecoming 2018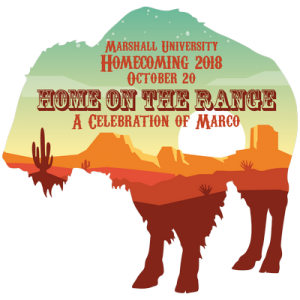 Home on the Range-Celebration of Marco
Join us Thursday October 18th at 6:30 p.m. for the 2018 Marshall Homecoming Parade. Floats, bands, candy and everything we love about parades will be marching its way through Huntington. Want enter your group or organization for the parade? Reserve your spot here.
The annual pep rally and bonfire will immediately follow parade activities in Commons Field. Coaches and players will be making a special appearance.
The 2018 Grand Marshals are Jim and Bobbie Farley from Cincinnati, OH.