Welcome to the homepage for the Department of Communication Studies at Marshall University. The Communication Studies Department offers a variety of courses and major concentrations which are designed to provide current knowledge, cognitive abilities, and competencies in communication.
The concentrations prepare graduates for various communication roles and functions in personal life, organizations, and society.
The Department of Communication Studies is home to the nationally successful Marshall University Speech and Debate Team, the Thundering Word.
Interested in meeting other Communication Studies majors and minors while interacting with the community? Check out the Communication Studies Student Club.
Syllabi for the Spring 2019 Semester and other forms can be found on the Resources page.
Faculty Publishing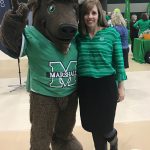 New research published by our own Dr. Jill C. Underhill, Ms. Victoria Ledford, and Dr. Hillary Adams examines how peer perceptions about students with ASD influence their stigma, attitudes, and perceptions about interacting in communication classrooms. Dr. Underhill is an Associate Professor in Communication Studies, Ms. Ledford received both her B.A. and M.A. degree in Communication Studies at Marshall and is now a doctoral student at the University of Maryland. Dr. Adams is a student support specialist for the The College Program for Students with Autism Spectrum Disorder at Marshall University.
"Autism stigma in communication classrooms: exploring peer attitudes and motivations toward interacting with atypical students" can be found in Communication Education, vol. 68, 2019.

Faculty Service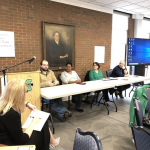 In her role as a member of the John Marshall Leadership Fellows planning committee, Dr. Julie Snyder-Yuly facilitated a panel on February 5 focusing on leadership and intrapersonal skills. The panel included: Dr. Kevin Knotts, Dr. Sherry Early, Ms. Lisa Williamson, and Mr. Travis Bailey. Dr. Snyder-Yuly is the Department of Communication's newest assistant professor.
Student Activities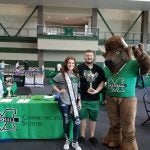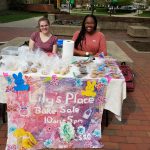 Communication studies students engage with the department in a variety of ways. This year they have helped at Green and White Days to recruit incoming students. Additionally our Communication Studies Club hosted a bake sale to raise funds for Lily's place. The students raised over $300.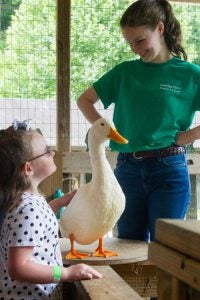 Rachel Lykins, one of our Communication Studies majors, was featured in the June 10th Herald-Dispatch.