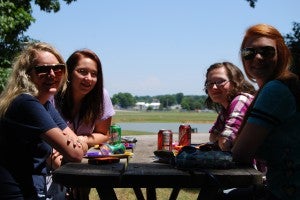 HATS Cultural Trip
The Heart of Appalachia Talent Search (HATS) Program, funded by the U.S. Department of Education, is one of the federal "TRIO Programs".  Our program provides assistance to students who want to continue their education after high school and have the ability to do so. Our services are described throughout the HATS website.  All services are provided at the school, at times convenient to the students, (at least twice per month, weather permitting).  Parents are welcome to meet with our staff any time we are at the school, at our office, or by scheduling an appointment.The HATS Application is in Adobe PDF format.  The application requires the attention of both the student and a parent/guardian. Feel free to print the application, complete the required information, attach requested materials, and mail to: Heart of Appalachia Talent Search Program, One John Marshall Drive, Gullickson Hall 212 I, Huntington, WV, 25755-2195-104.Please note:

The Financial Statement must be completed, signed, and returned to our office in order for us to determine eligibility for services.
The U.S. Department of Education requires us to request a copy of your most recent

federal income tax

form if you filed income tax.  Please enclose a SIGNED copy of your last year's 1040 or 1040A (front & back only, tax schedules do not need to be included), or a SIGNED copy of your 1040EZ, whichever is appropriate.
The Student Records Release form is part of the application, and must be signed in order of us to work with the participant in the schools.
The Participation Agreement gives HATS the permission to include the student in HATS activity photos on our website, in newspaper articles, and other promotional media.
Parent/guardian & student signatures are required on application. If you have any questions, please call our office at (304) 696-2941.
All information will be held in complete confidence by our program.

Please return the Application, signed Federal Income Tax forms (if applicable), and other documents if required. Students selected as HATS Program participants will be notified in a timely manner. All services are FREE!  We hope you will take advantage of the additional support and guidance provided by the Heart of Appalachia Talent Search Program.