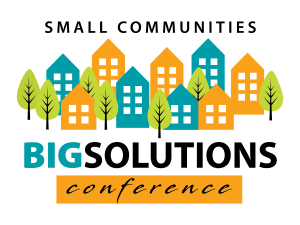 Celebrating southern West Virginia successes is the focus of the Small Communities, BIG Solutions Conference, which also provides an excellent opportunity for attendees to network and connect with government officials, their colleagues, community leaders as well as higher education experts.
The Alliance for the Economic Development for Southern West Virginia, the West Virginia Community Development  Hub  and Coalfield  Development  teamed  up to host the inaugural, jam-packed  conference in October 2018, with more  than  200 West Virginians participating over the two-day period at BridgeValley's Advanced Technology Center in South Charleston.
Among the topics discussed by federal, state and local leaders were community revitalization, addiction and reentry, workforce development, education, diversity, manufacturing and innovation, broadband, children's services and poverty solutions.
"The  focus  of  this conference  is  to  get  people  talking   to  each  other,  sharing ideas and celebrating  southern  West  Virginia  successes,"  said Sara  Payne Scarbro, chair of the Alliance 's Operations Council. "We can't overcome obstacles in a vacuum. Having a regional perspective and working together will take us to new heights."
Attendees included business leaders, educators, community leaders and public officials. Based on an attendee survey, more than 97% of the respondents made new connections and learned something. An astounding 94% said that they would be likely to promote the next Small Communities, BIG Solutions Conference!
Other findings include:
The majority of respondents want to stay connected.
All respondents thought the audience size was just right or wanted to grow the numbers even more.
The top issues for respondents included:

Business and Workforce Development;
Addiction, Recovery and Reentry; and,
Higher Education.
If you are interested in participating on a panel or attending the next conference, please complete this form.
---
Conference Partners
---