---
Overview:
The Alliance for the Economic Development of Southern West Virginia is a collaboration between the 11 higher education institutions in Southern West Virginia. The Alliance will focus on fostering an environment for economic growth. We have the talent, expertise and resources needed to solve our  own challenges and through the Alliance, and we will pool our resources and knowledge to build a stronger southern West Virginia.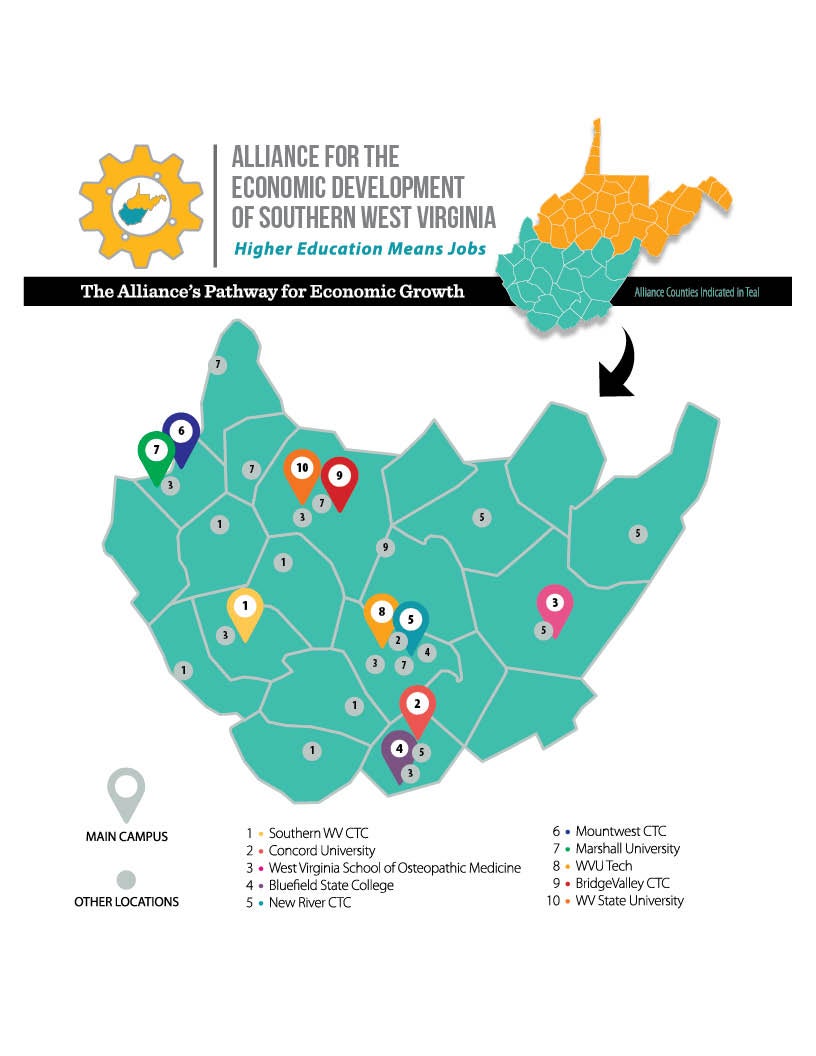 Participating Institutions:
Bluefield State College
BridgeValley Community and Technical College
Concord University
Marshall University
Mountwest Community & Technical College
New River Community and Technical College
University of Charleston
Southern West Virginia Community and Technical College
West Virginia School of Osteopathic Medicine
West Virginia State University
West Virginia University Institute of Technology
Geographic Area:
The Alliance is focused on a 21-county area:
Boone
Cabell
Clay
Fayette
Greenbrier
Kanawha
Lincoln
Logan
Mason
McDowell
Mercer
Mingo
Monroe
Nicholas
Pocahontas
Putnam
Raleigh
Summers
Wayne
Webster
Wyoming
Our Goal:
The Alliance's main aim is to learn about all of our existing resources, in regards to education services, workforce training, the talent pool, all available business sites, and the willing partners in southern West Virginia and to promote and utilize these resources in a meaningful way that creates jobs, enhances our businesses sector and competitive edge, ensures our workers have access to the latest training and technology, builds long-lasting partnerships and ultimately revitalizes our small southern communities.
Our Four Working Groups:
Prevention, Addiction, Recovery and Reentry
Tourism
Entrepreneurship
Workforce Development