*** BIRKE ART GALLERY CLOSED FOR THE SUMMER! ***
We will reopen on Monday, August 14 with a new exhibition. Please see below for the exciting fall schedule!
Located in Smith Hall on the corner of
Hal Greer Boulevard and Third Avenue
Huntington, WV 25755 | 304-696-2296
Gallery Hours: Monday – Friday | 10am – 4pm
Open to the Public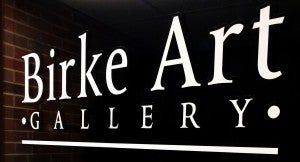 The Birke Art Gallery is Marshall University's on-campus display of the School of Art &Design's talented students, as well as professional exhibitions. It's free and open to the public. The space is beneficial to the community, but also to students, offering the developing artists the chance to interact with professional artists through viewing their work, and hearing the exhibiting artists present on their craft and concept. The gallery also serves as an exhibition space for the students. Each year, students show their work as part of the School of Art & Design Capstone Experience. For undergraduates this is in the form of the Student Juried Exhibition and graduating seniors and graduate students present individual and group shows.
If you are interested in submitting a proposal for an exhibition at Birke Art Gallery, please use Exhibition Proposal.  The gallery dimensions are available here.
Upcoming Exhibitions
Erika Stearly's paintings that depict off-campus housing within the zip code of Kutztown, Pennsylvania, where Kutztown University is located. In order to create private rentals, many large, single family homes have seen their floor plans awkwardly subdivided, forcing the occupants to creatively utilize their space and providing an eclectic combination of household objects that are featured in these paintings. Stearly integrates representational image-making with abstraction's emphasis on materiality and mark-making to depict the clutter of household objects.
Heather Jones is an author, designer and self-taught quilter. She is often inspired by objects and places close to home—country roads, cityscapes, street signs—the landscape of her existence. She has a great love and respect for the traditional art of quilting, is an avid collector of vintage quilts, and loves to bring a modern twist to traditional patterns. Heather often creates multiples of each pattern in different color palettes to show what a striking different can be made with a few basic changes.   w.heatherjonesstudio.com
Jeffrey Jones, Artist Statement   w.jeffreycortlandjones.com
I am interested in:
Locating
apprehending
then releasing
the resistance of a color
then surrendering to it
a hard edge as it softens
the slight peeking that come from covering and layering
that space between the wall and object
when shallow and deep appear the same
what its like to look through the fog
when a mostly matte surface shifts to a little tinge of gloss that hangs out at the edge
that place between misplacing and finding
how white can be both warm and cool at the same time
when you find that correcting is making it worse
the moment when a stable stack is on the verge of collapse
when contemplation breaks down and you go for it
General questions/media requests: