Unleash Truth. Empower Voices. Tell The Story.
Our programs: Advertising, Public Relations, Broadcast Journalism, Sports Journalism, Multimedia Journalism, Radio & TV Production and Management, *TV & Video Production* (coming Fall 2024)
Now, more than ever, we need dedicated journalists and media professionals who can effectively communicate to an audience.
Marshall's Journalism and Mass Communications programs are dedicated to learning through hands-on experience. That makes our students powerful communicators who know how to tell the story. Our school includes a newspaper newsroom, an HD TV studio, an award-winning radio station, and an advertising agency. We publish The Parthenon that's online 24/7 and printed every week. We broadcast 24/7 on WMUL-FM 88.1, and MU Report is produced weekly and streamed online. Campaigns and communications programs created by students in the Advertising and Public Relations emphases raise money for nonprofits, generate awareness, and support brands and ideas on campus as well as in the community.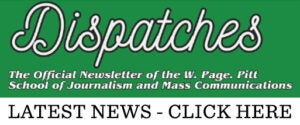 Seven journalism and mass communications emphases operate out of three majors: Advertising/Public Relations that houses the advertising and the public relations emphases, Journalism in which broadcast, multimedia and sports programs function, and Media Studies/Production from which radio/television production and management and video production work. All majors in the School of Journalism and Mass Communications are required to complete internships that provide professional experience before graduation. Students also build portfolios and networks through the advertising, public relations, journalism and broadcast clubs that are active within the school.
If you come to our school, you'll leave prepared for what's next.

Why mass media?
It's exciting, interesting, satisfying and vital. It also immerses us.
Mass media shapes how we think, how our culture moves and even how we live and interact with one another. It's become an all-encompassing term for "storytelling" and "published content." We're the school who make certain the content is honest and real, gleaning verifiable facts. Through mass media a universe of information is readily at hand providing messages necessary for evaluating products, considering ideas and participating in our society. Media literacy and learning to navigate media are now essential skills. We'll equip you with the skills to detect truth from fiction.
Who knew they wanted to be an MMJ (multimedia journalist)?
Or a content creator? Or a strategic planner? Mass media are in a time of dramatic flux.
That change is creating a broader, more versatile view of modern mass media.
First, people working in the field can no longer talk simply of reporters, editors and copywriters. We're adjusting to a new vocabulary that includes content creator, web manager, social media specialist, strategic planner and multimedia producer. New job titles and tasks emerge almost daily. Still, even in the midst of rapid change, solid storytelling and clean, concise writing are at the heart of what we do.
Second, journalism and mass communications graduates aren't limited to traditional media jobs. The ability to write well, to ask questions, to think creatively, to use social media as a tool and to work within a team are valued in any job setting. Writers who don't confuse they're, their and there are always in demand. Many of our school's grads have found their skills transferable to other fields, useful in in law school and applicable in their own businesses. Check "My Degree in JMC" and the "SOJMC Hall of Fame" to see what our grads have accomplished.