How Will You Meet the Moment?
Live Your Marshall Moment
Now is your time
We remember life in its moments. It only takes a moment for us to be enriched, to be connected, to be changed. At Marshall University you will find a place to create these moments; a place where things that matter now, you will find, still matter later.
Choose The Right Degree For You
In-seat. Online. Our wide range of undergraduate, graduate and doctoral degree programs cover almost everything.
What difference do you want to make in the world? You won't just earn a degree at Marshall – you'll cultivate a passion. Find the right path to match your goals with 100 + degree programs to choose from.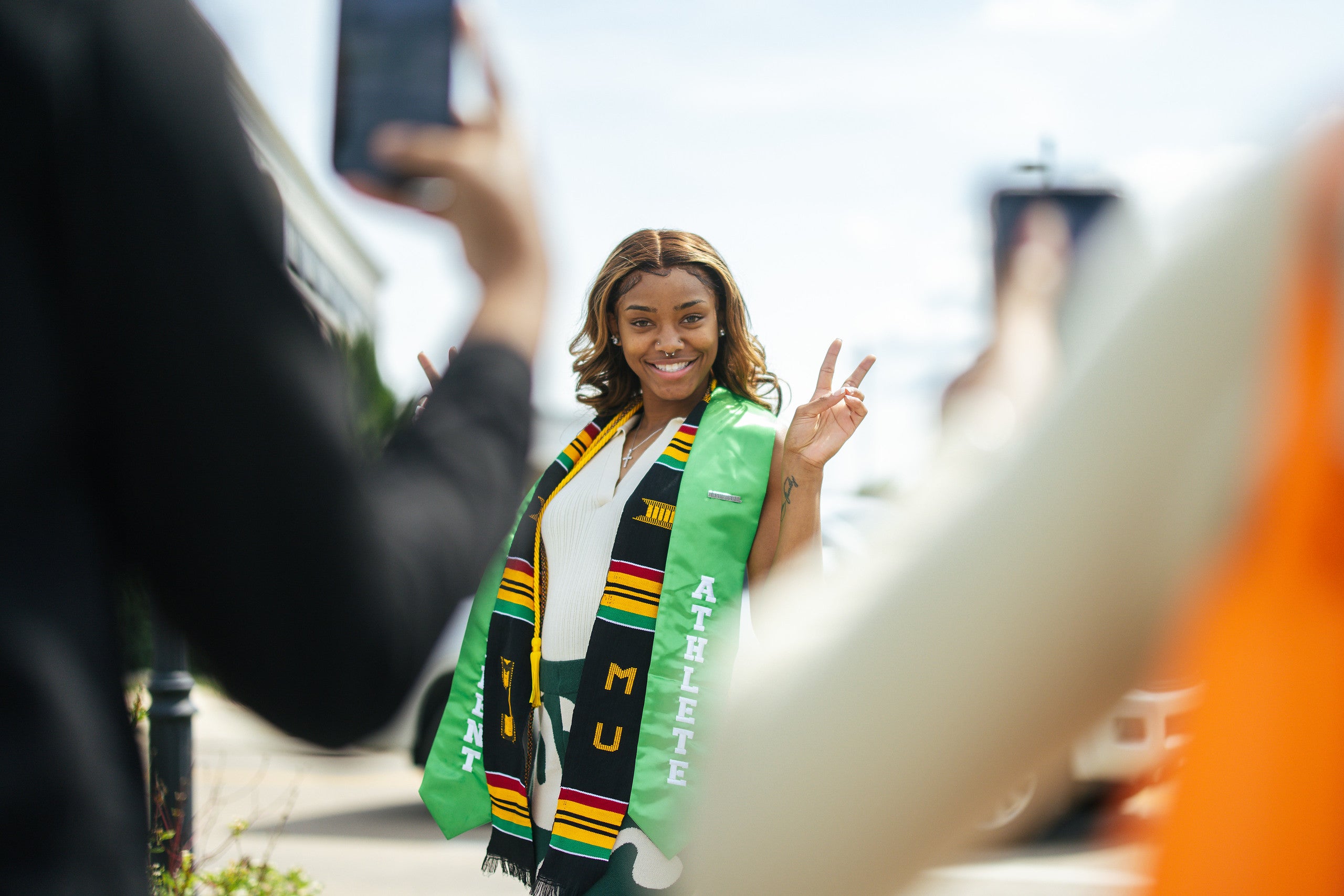 Whatever your interests are, we have a place for you at Marshall.
At Marshall, you'll find a diverse community featuring students from all 50 states and nearly 60 countries – and with more than 200 clubs and organizations, there's something for everyone.
Take center stage with one of our musical ensembles or theatre productions. Score big with one of our Division I athletic teams or call the plays on our award-winning campus radio station. Attend campus-wide events, participate in student activities, make an impact through community service – make friendships that will last forever.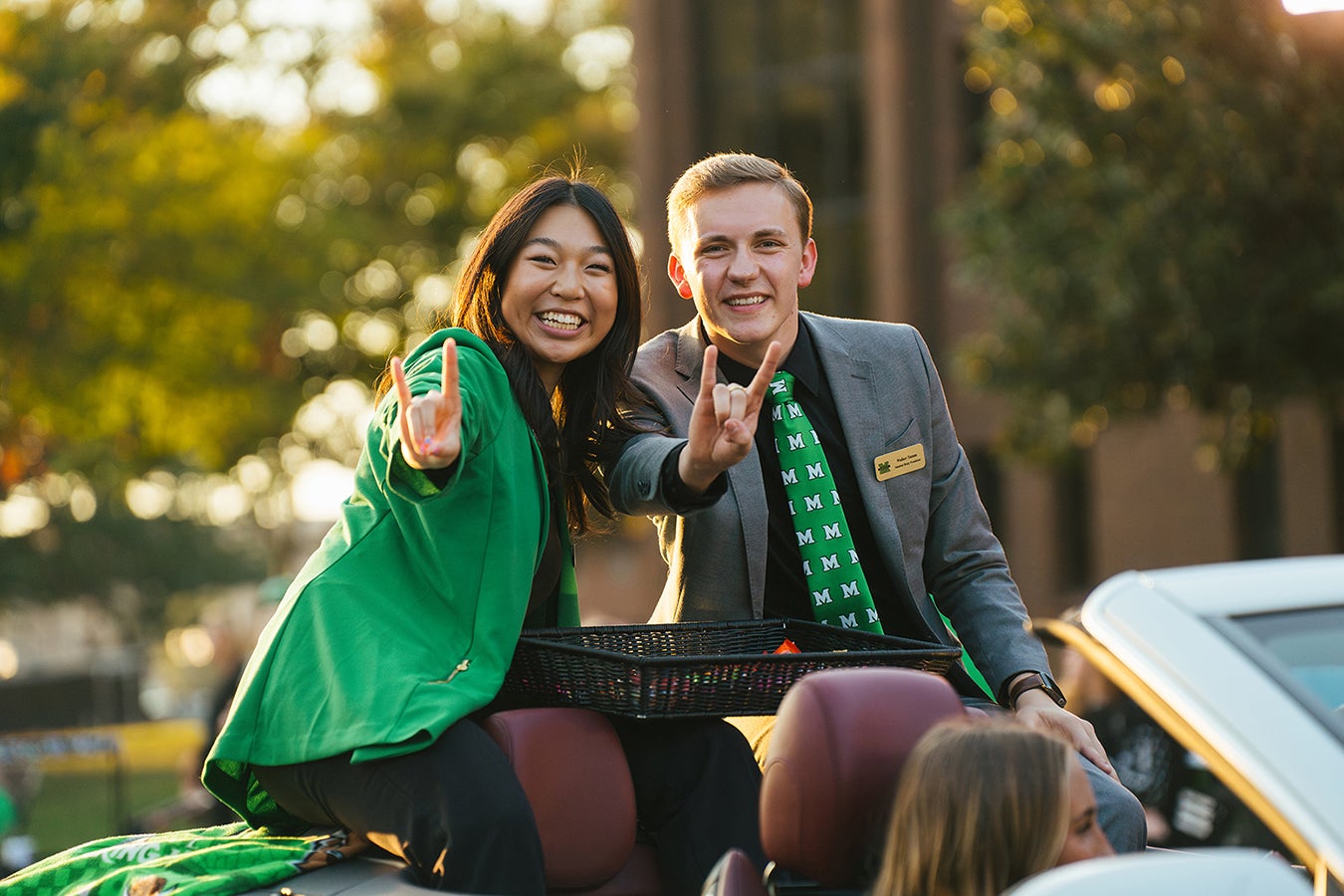 Request More Info
Find out which of our academic programs is right for you.
Meet some of our current students and hear about their favorite Marshall moments.
Receive invitations to special events for future students.
Get help with the application and enrollment process.
One of the Most Affordable Universities in America
Marshall University was named one of the top 100 most affordable universities in America by Best Value Schools
As committed as we are to providing you with the best educational experience possible, we are also dedicated to ensuring that cost is not a barrier to your education.
Our recently expanded Metro Rate offers our in-state tuition to more than 50 of our neighboring counties in Kentucky and Ohio.
Our new Marshall for All program is an innovative approach to the college experience that will allow our students to leave Marshall with a bachelor's degree, a resume full of relevant experiences, and just as important, it allows them to leave without student debt.
Receive the support you need
From academic and advocacy to wellness and mental health – be ready for what comes next
Advising support to stay on track for graduation, mentoring and student support to keep you connected with your peers, or advice on how to return to school after taking a break – we're here to help you successfully navigate your college experience.
We also offer 24-hour emergency services, one-on-one counseling, a variety of support groups and stress relief activities for our in-seat and online communities.
Partner with our awarding-winning faculty on life-changing research, showcase your work in exhibitions and symposiums, compete in business competitions – and be ready to change the world when you graduate.
Cheer on the Thundering Herd
As an NCAA Division I school in the Sun Belt Conference, Marshall offers plenty of opportunities to cheer on the Herd
Marshall is a NCAA Division I school in the Sun Belt Conference, boasting an impressive lineup of over 16 men's and women's sports teams, as well as over 30 intramural sports and 10 club sports. Whether you're a die-hard sports fan or just looking for some fun and excitement, Marshall has got you covered! Come out and show your support for our incredible student athletes. You won't want to miss a single moment of the action!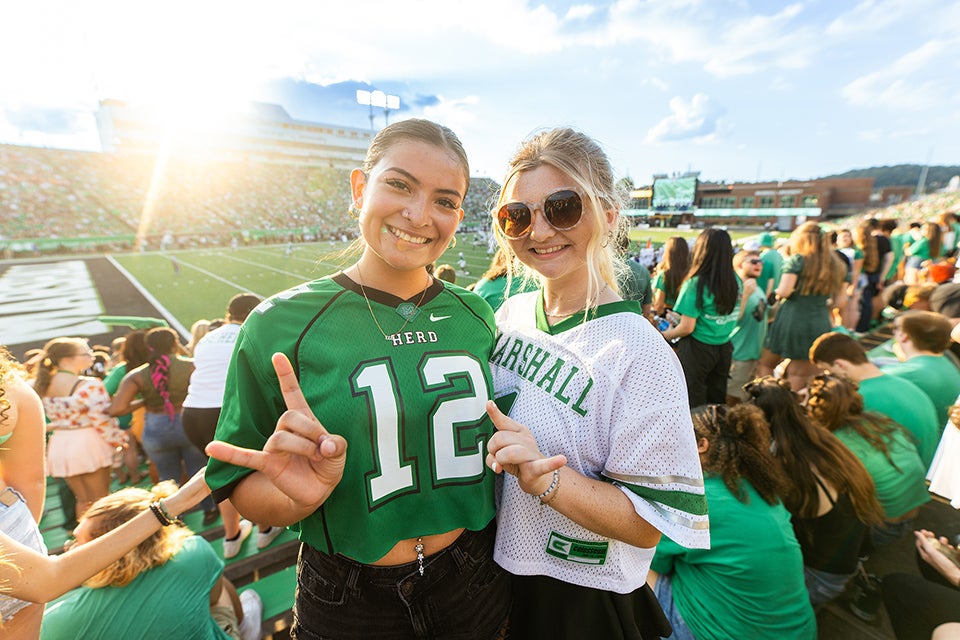 Huntington, WV is home to educational and cultural opportunities that allow our students to thrive
A vibrant college town, Huntington is the second largest city in West Virginia and sits on the Ohio River at the point where West Virginia, Ohio and Kentucky meet.
The downtown area is a draw for shopping, dining and entertainment. Year-round, a variety of festivals and special events draw crowds to Pullman Square, the Mountain Health Arena and the historic Keith-Albee Performing Arts Center.
Students also enjoy spending time in Huntington's Ritter Park and Rose Garden, recognized by the American Planning Association in 2012 as one of America's 10 Great Public Spaces. In addition, the Huntington Museum of Art contains numerous collections, exhibitions, education programs, nature trails and West Virginia's only plant conservatory.
Visit Our Campus
There is so much to love about becoming part of the Herd. We invite you to discover for yourself by visiting our campus