The Department of History at Marshall University is energetic department of thirteen full-time faculty. Each semester we offer more than 50 courses (including a number fully online), which meet the needs of over 2000 students per year. Currently, the department serves about 100 undergraduate majors and 25 graduate students.
We welcome and encourage student interaction, emphasize analytical, communications, and critical thinking skills, and promote chronological, cultural, and geographic diversity. Our alumni are employed in a variety of fields from law to city planner and serve on the faculty of History Departments across the United States.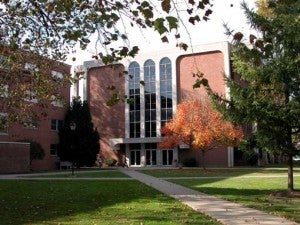 Clio: Discover History All Around You
---
Created by Marshall University historians,
Clio
connects the public to nearby historical sites throughout the United States.
Marshall students wishing to learn more about internship opportunities with Clio should email Dr. Trowbridge or Dr. Holbrook.
Download the Mobile App:
---
---
---
Our undergraduates engage in active research projects.  The  Carter G. Woodson Project Web Site highlights one such project.
Department of History Award Winners
---
2016 – 2017
---
Marshall University Distinguished Artists and Scholars Award, Junior Faculty
Dr. Michael Woods
Faculty Merit Foundation of West Virginian Professor of the Year: Finalist
Dr. Phillip Rutherford
---
2015 – 2016
---
Charles E. Hedrick Outstanding Faculty Award
Dr. Phillip Rutherford
Marshall & Shirley Reynolds Outstanding Teacher Award"
Dr. Greta Rensenbrink
---
2014 – 2015
---
Marshall University Distinguished Artists and Scholars Award
Dr. Chris White
Faculty Merit Foundation of West Virginian Professor of the Year: Finalist
Dr. William Palmer
---
2013 – 2014
---
Charles E. Hedrick Outstanding Faculty Award
Dr. William Palmer
---
2012 – 2013
---
Pickens-Queen Teaching Award
Dr. Laura Michele Diener
Faculty Merit Foundation of West Virginia Professor of the Year: Finalist
Dr. Daniel Holbrook
---
2011 – 2012
---
Charles E. Hedrick Outstanding Faculty Award
Dr. Daniel Holbrook
---
2008 – 2009
---
College of Liberal Arts Outstanding Teacher Award
Dr. Montserrat Miller
---
2007 – 2008
---
Faculty Merit Foundation of West Virginia Professor of the Year
Dr. Montserrat Miller
Charles E. Hedrick Outstanding Faculty Award
Dr. David Mills
Distinguished Artists and Scholars Award
Dr. William Palmer
Pickens-Queen Teaching Award
Dr. Phillip Rutherford
---
2006 – 2007
---
Charles E. Hedrick Outstanding Faculty Award
Dr. Montserrat Miller
College of Liberal Arts Outstanding Teacher Award
Dr. Daniel Holbrook
---
2005 – 2006
---
College of Liberal Arts Outstanding Teacher Award
Dr. Montserrat Miller
---
2004 – 2005
---
Pickens-Queen Teaching Award
Dr. Kat Williams
---
1999 – 2000
---
Pickens-Queen Teaching Award
Dr. David Mills
---
1998 – 1999
---
Pickens-Queen Teaching Award
Dr. Montserrat Miller
---
1996 – 1997
---
Marshall & Shirley Reynolds Outstanding Teacher Award
Dr. William Palmer