Kinesiology – What is it?
Kinesiology is the study of the mechanics and anatomy of human movement.
We study how the body moves and functions, and research ways to strengthen the body while protecting it from injury.
You will enjoy our majors if you are a hands-on learner with an interest in the human body and the world of health, fitness, and athletics.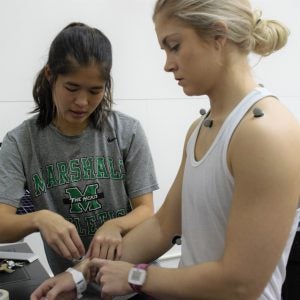 Perhaps you'd like to learn how injuries happen and how to help others heal. You might have a passion for working with people, like athletes, artists, and industrial workers, whose bodies are their most important tools. In that case, you'd love Athletic Training.
Maybe chemistry and biology appeal to you more, and you're interested in testing the human body to understand how it works and how to push its limits. Maybe you'd like to learn how to help others overcome diabetes and heart disease, or how to lose weight and become bigger, faster, and stronger. Your passion might be Exercise Science.
Perhaps you'd like to work in a cutting-edge new field, where things change constantly and new discoveries are made each day. Maybe you're most excited by physics and math, and interested in learning how the body produces force and motion. In that case, you'll love Biomechanics.
Maybe your dream is to start a business or work for an athletic franchise. The idea of learning the business of athletics appeals to you, and you'd love to learn about marketing and advertising. In that case, check out Sport Management.
The opportunities are endless. Our students frequently go on to medical school, occupational therapy, physical therapy, chiropractic, and more. You can learn more by contacting us.
Tour Our Programs
We'd love for you to visit! We offer tours for individuals and groups, and our group tours include hands-on lab activities. Click here to schedule a tour today.
Sign up to receive more information!