Launch your STEM career in movement science with a degree in Biomechanics from Marshall University. We offer both Bachelor's and Master's degrees in Biomechanics, with ample research opportunities in both programs. Our small class sizes, dedicated faculty, and cutting-edge research labs provide opportunities for students looking to pursue careers in sports performance, medicine, physical therapy, and more.
What is Biomechanics?
Biomechanics is the analysis of human movement to enhance performance, improve training, rehabilitate injuries, and reduce injury risk. The Biomechanics degree provides students an educational foundation in anatomy, physiology, kinesiology, and physics that provides a holistic understanding of how the body produces motion, and how to identify healthy movement. Then, the program teaches students to use specialized research equipment to measure human movement in real time and evaluate that movement to detect problems and inefficiencies.
This deep understanding of movement is valuable in a wide variety of career settings. For example, Biomechanics graduates can work for athletic teams, research labs, sports performance centers, sports medicine clinics, and other environments to help athletes improve their performance. Additionally, Biomechanics students are highly successful in medical school, physical therapy, occupational therapy, prosthetics, orthotics, and private practice.
Degrees in Biomechanics
Marshall University offers the following Biomechanics degree programs: 
Bachelor of Science in Biomechanics
Master of Science in Biomechanics
Research Opportunities
Our state-of-the-art motion labs offer the following technology to allow students to conduct research at the undergraduate and graduate level:
Two VICON Nexus 3-D motion capture systems, used to measure movements of the body using reflective markers and infrared light
One VICON Motus system, a markerless motion capture system used to film athletes in their natural play environment
Two AMTI force plates, used to analyze the forces exerted on the body during walking, running, and other force-producing tasks
Noraxon 12-lead EMG system, which integrates with the VICON system during motion capture
Cybex isokinetic dynamometer, used to analyze the torque produced by a joint during motion
Sets of inertial movement sensors, used to measure orientation, velocity, and gravitational forces
Pressure-sensitive insoles, used to analyze gait patterns during movement
A series of accelerometers and wearable sensors used in a variety of environments, from football gameplay to shooting sports
Custom-ordered research accessories, like underwater camera housings and eye movement trackers, purchased to allow students to research the movements and activities that interest them the most
What's it like to major in Biomechanics?
Students in the Biomechanics program benefit from the program's highly experienced and motivated faculty. Both faculty are avid researchers, and students begin learning to use the program's research equipment as early as sophomore year. Dedicated courses in biomechanical instrumentation and research ensure that every student has practical experience collecting and processing data prior to graduation. Biomechanics is a STEM major, and students take numerous classes in physics, anatomy, and kinesiology to build the understanding of movement and mechanics required to conduct research.
Students in the Biomechanics program can expect to conduct original research at the undergraduate and graduate level. Students frequently complete the program with a publishable or presentation-ready research product, and many students in the program have traveled nationally and internationally to present their research findings.
Meet the Faculty & Contact Us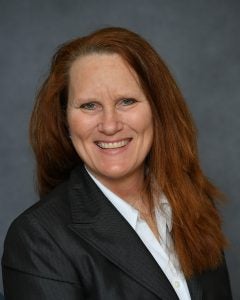 Dr. Suzanne Konz, the Program Director, is a licensed athletic trainer and Certified Strength and Conditioning Specialist in addition to her expertise in biomechanics. A native of Iowa, she received a Ph.D. in Exercise Science from Brigham Young University. She has worked the NFL Combine performing isokinetic testing on NFL athletes since 2009. Additionally, she performs biomechanical analysis for the U.S. Track and Field Team (USATF), working with Olympic-caliber athletes since 2003. Her research interests include concussion, sports performance, injury risk and prevention, hammer throw technique, and equipment reliability.
Dr. Konz has facilitated student research of the USATF, and helped many students present at the National Athletic Training Association and International Society of Biomechanics in Sports conferences. She has also helped students meet ambitious research goals, like underwater motion capture and assessment of concussive forces during shooting sports.
Prospective graduate students are encouraged to contact Dr. Konz about research opportunities.
Phone: 304-696-2926
E-mail: konz@marshall.edu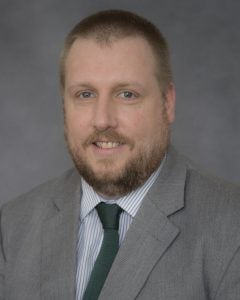 Dr. Steven Leigh is an associate member of the Institute of Physics (UK) in addition to his credentials in biomechanics. He completed his doctoral work at the University of North Carolina at Chapel Hill. As a physicist, Dr. Leigh brings to the classroom a deep knowledge of the software and equipment used in the field of biomechanics. Students benefit from his ability to explain the equipment, troubleshoot problems, and find novel solutions to unique research methodology questions. He is also a great resource for students interested in physical therapy, prosthetics, orthotics, and occupational therapy, because of his research interest in rehabilitation of the aging population.
Dr. Leigh has also conducted research with USATF, analyzing the throwing motions of elite javelin and discus throwers. Additionally, he has researched baseball pitching mechanics, shoulder bracing, upper extremity prosthesis, and equipment validity and reliability.
Prospective students are encouraged to contact Dr. Leigh about research opportunities.
Phone: 304-696-5405
E-mail: leighs@marshall.edu