Marshall University School of Kinesiology
In the Marshall University School of Health and Kinesiology, we study how the body moves and functions, and research ways to strengthen the body while protecting it from injury. Our department houses 3 academic majors students can choose to study: Athletic Training, Biomechanics, and Exercise Science.
Our programs are a great choice for hands-on learners interested in the human body and how it produces movement, heals, and adapts over time. Athletic Training, Biomechanics, and Exercise Science are each allied health professions that students can begin careers in after completing the program. Additionally, our majors are great choices for students who want to build clinical skills and work with patients while obtaining the prerequisites to study medicine, physical therapy, occupational therapy, and other health professions.
Our Programs
Athletic Training
Athletic trainers (ATs) are health care professionals who collaborate with physicians to provide preventative services, emergency care, clinical diagnosis, therapeutic intervention, and rehabilitation of injuries and medical conditions.  Athletic trainers are an integral part of health care in many clinical settings. Learn more about Athletic Training here.
Exercise Science
Exercise Science is a multidisciplinary field of study involving the active human body in the areas of anatomy, physiology, metabolism, and kinetics. Exercise Science professionals are allied healthcare providers that work to understand the effects of therapeutic exercise for the general population, athletes, and people with chronic diseases and conditions like diabetes and heart disease. Exercise Science is a STEM career field, requiring intensive study of human physiology. Learn more about Exercise Science here.
Biomechanics
Biomechanics is the analysis of human movement to enhance performance, improve training, rehabilitate injuries, and reduce injury risk. The Biomechanics degree provides students an educational foundation in anatomy, physiology, kinesiology, and physics that provides a holistic understanding of how the body produces motion, and how to identify healthy movement. Biomechanics is a STEM major, requiring a strong basis in physics and anatomy. Learn more about Biomechanics here.
The opportunities are endless. Our students frequently pursue further education and become physicians, physical therapists, physician's assistants, chiropractors, occupational therapists, and more.
About Us
Marshall University School of Kinesiology
Visit us: Our office is located in Gullickson Hall, Room 112. Gullickson Hall sits at the corner of 3rd Avenue and 18th Street on Marshall University's campus.
Phone: 304-696-6490
Email: sok@marshall.edu
Department Chair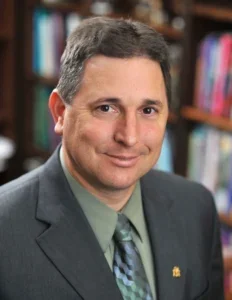 Gary E. McIlvain, EdD, LAT/ATC
School of Kinesiology
Phone: 304-696-2930
Office Location: Gullickson Hall D Level, GH 112
E-mail: mcilvain2@marshall.edu
Dr. McIlvain serves as the College of Health Professions Associate Dean of Student Affairs, School of Kinesiology Department Chair, and Professor at Marshall University. He received his Bachelor's of Science from Lipscomb University in Nashville, TN, Master's of Science degree from Middle Tennessee State University, and completed his Doctorate in Kinesiology and Health Promotion at the University of Kentucky. He started at Marshall in the fall of 1999 and has taught in the CAATE accredited athletic training education program, serving as clinical coordinator and program director. Dr. McIlvain's research interests are in lower extremity injury prevention, knee injury rehabilitation, and caffeine consumption.
More Information
Tours: We'd love for you to visit our programs. We offer tours for individuals and groups, and our group tours include hands-on lab activities. Click here to contact us about scheduling a tour. Additionally, our faculty are happy to provide a tour of our labs during Green and White Days and other recruiting events. Contact us at 304-696-6490 for more information.
Mailings and Enrollment Info: For more information about Marshall University and our programs, please request information from the Admissions Office by clicking here.
Apply to Marshall: To apply to Marshall and start studying in the School of Kinesiology, please visit our online application here.
Social Media: Find us online by following us on Facebook and Instagram.