Visual Arts Center

The nation's premier center for the visual arts
Housing eight programs from the School of Art & Design, the six-floor Visual Arts Center stands to bridge Huntington's historic downtown and the future of Marshall University.
Marshall University's Visual Arts Center in downtown Huntington paints a picture of old meets new: The site of the VAC, once the historic Anderson-Newcomb Co. building, was built in 1902 — the same year Marshall began its visual arts program.
The $13 million transformation to remarkable, world-class visual arts facility incorporates of the building's original hardwood floors with 65,000 pounds of new steel, smart lighting, highly-efficient heating and cooling and Wi-Fi throughout.
Lined with spectacular glass, the street-view of the 66,000-square-foot building is directly adjacent to Huntington's Pullman Square. The ground floor features retail space and a 2,200-square-foot gallery with upwards of 150 feet of linear display space.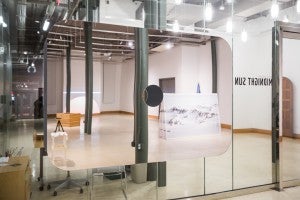 Art education, art history, fibers, foundations, graphic design, painting, photography and printmaking students will study and create throughout interactive spaces from the second through the sixth floors. The structure is capped with sixth-floor administrative space and a picturesque view of downtown and six blocks of the Old Main Corridor that leads to Marshall's main campus.
Upcoming Exhibitions
ANILA QUAYYUM AGHA: Selected Works
August 24-October 30
This exhibition is made possible through funding from the Joan C. Edwards Distinguished Professor in the Arts Endowment and the College of Arts and Media
Artist Reception: Monday, October 26, VAC Gallery 4:30-6:30pm
Artist Talk: Wednesday, October 28, VAC room 209, 5:30pm
BFA CAPSTONE EXHIBITIONS
Group I: November 9 -12
– Opening Reception, Monday, November 9, 5-7pm
Group II: November 16-19
– Opening Reception, Monday, November 16, 5-7pm
Group III: November 30 – December 3
– Opening Reception, Monday, November 30, 5-7pm
If you are interested in submitting a proposal for an exhibition at the Visual Arts Center Gallery, please use Exhibition Proposal.  The gallery dimensions are available here.
Building Hours
Open weekdays from 10am – 4pm
Swipe card access until 10pm weekdays
Swipe card access from 2pm – 10pm on Saturdays and Sundays