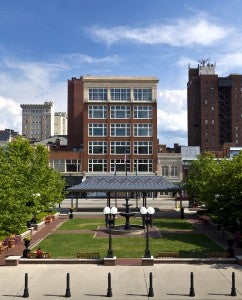 The Marshall University's Visual Arts Center (VAC) is located in downtown Huntington across from Pullman Square along 3rd Avenue. Once the location of the historic Anderson-Newcomb Co., this building was built in 1902, the same year Marshall began its visual arts program.
Th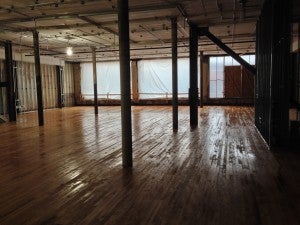 e $13 million transformation to remarkable, world-class visual arts facility incorporates of the building's original hardwood floors with 65,000 pounds of new steel, smart lighting, highly-efficient heating and cooling and Wi-Fi throughout.
The Visual Arts Center is intrinsically sustainable due to the fact that it is an adaptive reuse of a historic, vacant structure.  This means that the majority of the existing materials and utility infrastructure were maintained and reused in the new life of the building, thus reducing demand for production of new materials.  The downtown location of the VAC also allows occupants to walk or bike from campus and to nearby restaurants and other services, which reduces the need for automobile transportation and lowers pollution.  No new parking needed to be constructed for the project, as there are three large parking garages in very close proximity.
Existing wood and terrazz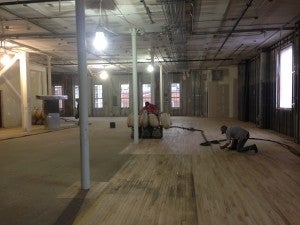 o floors were refinished throughout the building.  Sealants and coatings were required to meet strict requirements for volatile organic compound content, thus improving indoor air quality.
The energy efficie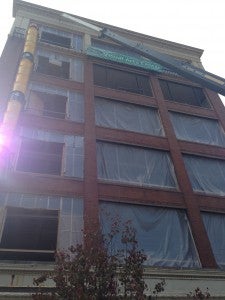 ncy of the building envelope was significantly improved with new continuous insulation on the interior and the existing windows were replaced with thermally-broken units with Low-E coated, insulated glazing.  The building utilizes a variable refrigerant flow HVAC system, which is more efficient than standard heating and cooling systems and allows for independent control to increase occupant comfort.  High efficiency lighting was utilized with occupancy sensor controls.  Water conserving plumbing fixtures were also installed.  Based on energy cost analysis, the building is 30% more efficient than a standard project of comparable size.