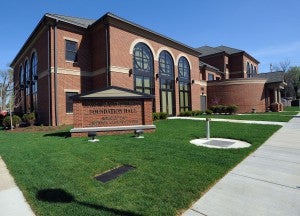 The Marshall University Foundation Hall was built using a number of environmental and energy conservation methods. Below is a list of it's many green features.
---
Green Strategies:
Site Selection:

Site utilizing close pedestrian and public transit access.
No new parking.
Built on previously developed site.

Composite Ventilated Roof Insulation Panels:

Cools shingles in hot weather reduce Heat Island Effect.
Shingles contain nearly 90% recycled material.

Steel:

All steel products contain minimum 25% recycled steel.

Demolition Debris:

All demolished asphalt parking lot was taken to an appropriate recycling area and diverted from the land fill.
No CFC were used.

Water and Energy Conservation:

Motion sensor faucets.
Low-flow flushing.
Motion sensor lighting.
Green Materials:
Plastic Laminates : Wilson Art

All WilsonArt plastic laminates have been awarded GREEN GUARD Indoor Air Quality Certification.
Selected laminates are low emitting surfacing materials.

Solid Surface Material: Formica

Member of the USGBC (U.S. Green Building Council).

Masonry: Brick (100% Recyclable)
Windows:

Glass with Low-E coating reflects most of sun's rays.

Aluminum Storefront System:

Glass with Low-E coating reflects most of sun's rays.
Aluminum Frames with thermal break to reduce heat transfer.

Gypsum Board:

High Mold and Moisture resistance improving Indoor Air Quality.

TS fluorescent lamps were used which are smaller in size, reducing manufacturing materials, and shipping impact on transportation costs.