The goal of the Green Trail is to create a walkable path for campus and community to follow and learn about Marshall University's many green initiatives and how you too can
Be Marshall Green
. At "Green Stations" along the Green Trail, signs will display interactive information about each location, along with QR codes. Download our
Green Trail Brochure PDF
for a self-guided experience.
Geocache our Green Trail (GC63KFA)!
By following the trail, visitors will be able to easily tour our campus, learn how we are working to Be Marshall Green and see how to live more sustainably. We host guided teaching tours of our Green Trail and use our "Green Stations" for hands-on learning with students and residents of all ages.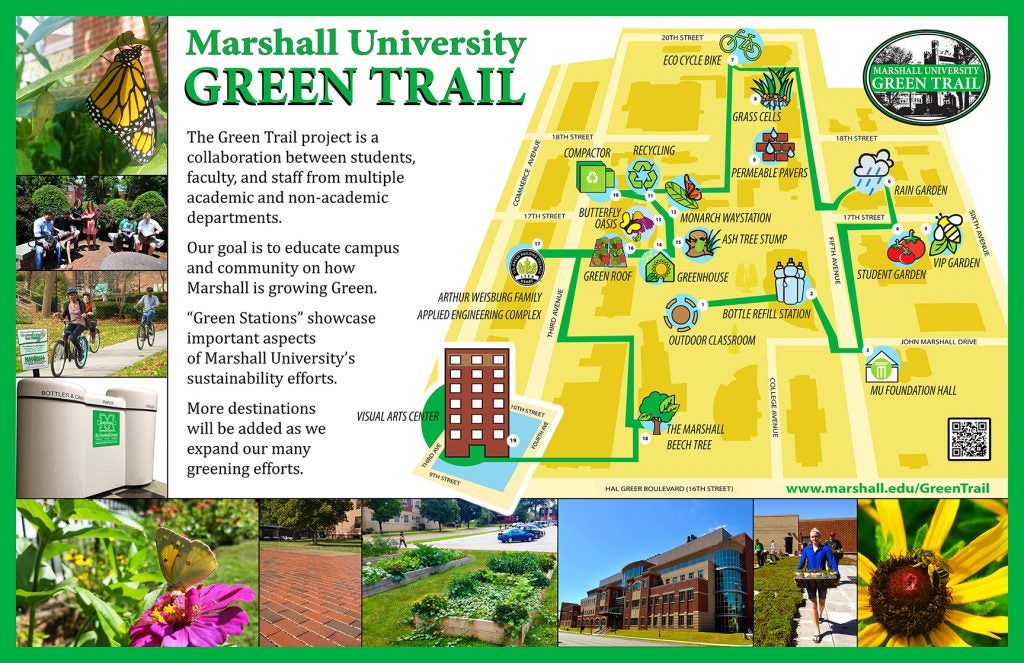 Our
Green Sustainability Education Modules (GSEM)
curriculum development project also utilizes the
Sustainability Gardens
and other locations along the Green Trail. Through this education outreach, we hope to inspire all to embrace living a more sustainable lifestyle.
We look forward to growing this site along with the trail, as we continue to expand our green initiatives on campus, and beyond.
Locations on the Green Trail
---
See the sights of the Green Trail online by visiting our
Virtual Green Trail
.
About the Green Trail Project
---
The Marshall University Green Trail project is funded in part by a grant through the Dunn Foundation, and is a collaborative effort between multiple departments, faculty, staff and students, including:
New trail signs were installed in the Spring of 2016. These interactive signs use graphics and photos to passively educate, while also providing QR codes for further interactions. They were developed by the Sustainability Department with the assistance of students, committee members, University Communications, Printing Services and the School of Art and Design. The Green Trail campus map graphic was developed in partnership with Printing Services.