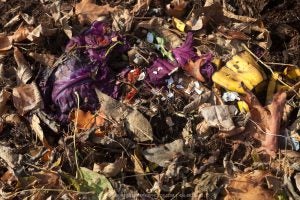 As part of the EPA Food Recovery Challenge, Marshall University's Recycling Program and the Harless Dining Hall collaborated with a local farmer in 2013 to collect and compost all the vegetable preparation waste and vegetable salad bar waste. Together, Noni's Farm and Marshall are diverting usable materials from our waste stream, and supporting local agriculture by providing fertile ingredients for a small business.
In addition, at the MU Student Garden, select garden waste is composted on-site.
Further, we are in the process of applying for a REAP Grant to expand our campus composting. Through this project, we hope to further reduce our impact on local landfills.