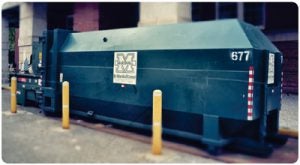 Marshall University's Recycling Program picks up recycling from numerous locations all over the Huntington campus. When the recycling is picked up, it is taken to a recycle-only compactor located between Harris Hall and the Science Building. Each resident hall and building has a designated recycle drop off spot; it is collected by student employees and taken here. When the compactor reaches capacity, approximately 10 tons, it is hauled to a recycle processing plant.
When the recycling leaves Marshall's campus, it is taken to a Rumpke processing plant in Portsmouth, OH. The material is presorted. Cardboard is sorted, baled, and shipped to Temple Inland in Maysville, KY. Trash is pulled and sent to the Wellston, OH landfill. Fiber products, aluminum, plastic, and steel are baled together and sent to the Columbus, OH single-stream processing plant.
Learn more about the Recycling Process.