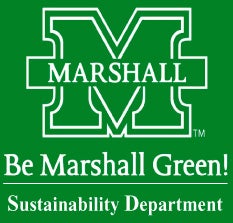 ---
History
In 2008, a "green" focused student movement petitioned then President Stephen J. Kopp for a Sustainability Department. They requested the addition of a $5 "Green Fee" to be added each year to their student fees to pay for sustainable programs on campus. Their proposal was approved by the Board of Governors.
The Sustainability Department began life in 2009. We are a division of Marshall's Environmental Health and Safety Department. Our offices are located inside the Sorrell Maintenance Building, located on the east side of campus along 20th street, next to the Rec Center and practice field. (Download the Campus Map PDF)
At our core is a dedication to being environmentally conscious in all areas. Efforts include: conservation of water and energy, campus wide recycling, the sustainability gardens, the Green Trail project, the inclusion of green technologies and materials into the University, and much more. We work closely with many different departments across campus to help make them as energy efficient as possible. The Sustainability Department offers many opportunities for students, staff, and faculty to get involved. We host and attend many events in the area involving sustainability, looking to make connections between Marshall University and the community.
---
Purpose
The purpose of the Sustainability Department is to:
Share the benefits of sustainability with faculty, staff, students, and the community
Educate on how actions impact energy and resource consumption, both on and off campus
Motivate all ages to modify their behaviors, so that sustainability is part of each persons daily activity
Demonstrate the University's commitment to reducing energy and resource consumption, and developing sustainable initiatives
We welcome your ideas and suggestions. Please send them to BeMarshallGreen@Marshall.edu.
---
Mission Statement
The Marshall University Sustainability Department will consistently strive to maximize the conservation of energy resources, preserve and improve the environment, and develop strategies to bring all areas of the campus together in one united effort to reduce the University's environmental impact on our local, state, and the global communities for future generations.
---
Vision Statement
To be environmentally conscious in all decision making activities, and to employ sustainable practices and actions in the daily use of the Earth's limited natural resources.
The "Student Green Fee" is utilized to help the University look for ways to conserve water and energy, reduce waste, and incorporate green technologies and materials into its planning and operations.
---
Sustainability Staff
---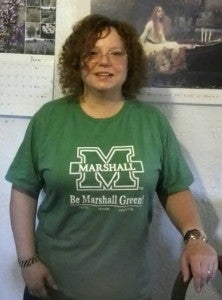 Capri Billings BS NRRM
Former Sustainability Education Assistant
Capri Billing assists the Sustainability Manager with many projects, while providing other needed support for educational and operational needs for the department, including promotional activities. As the Sustainability Education Assistant, she has hosted workshops, helped install and oversee several gardens including the Butterfly Oasis, Monarch Waystation, and VIP (Very Important Pollinator) gardens, assisted with the Market Days project, hosted Meatless Mondays outreach efforts, coordinated major Earth Day activities, and collaborated on the campus Green Trail project.
---