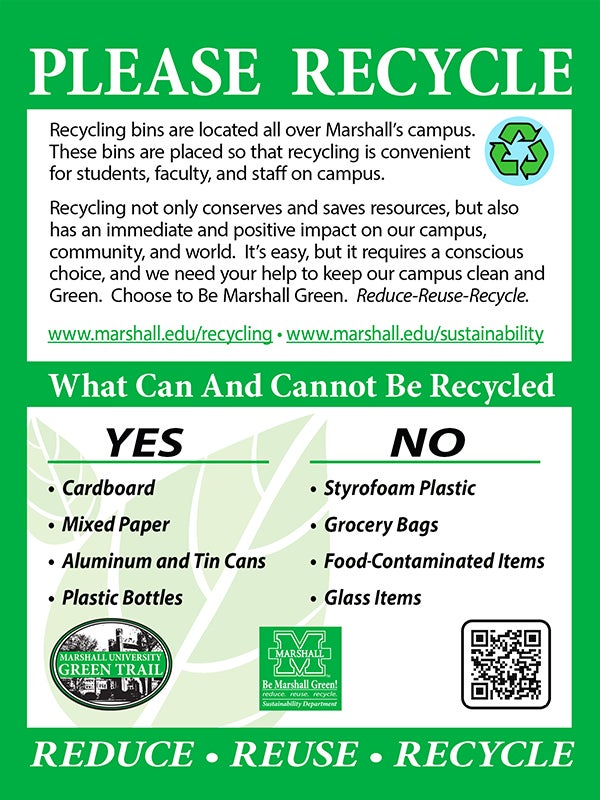 Recycling Is No Waste Of Time
By Recycling, not only do we conserve and save resources, but we also have an immediate and positive impact on our campus, community and world!
Recycling is easy, but it requires a conscious effort to be aware of our actions. Every time we throw things in the trash, we are allowing landfills to overflow and harm the environment.
You will find recycling bins located all over the Marshall University campus. These bins are placed so that recycling is convenient for students, faculty and staff members on campus. Choose to Be Marshall Green. Reduce-Reuse-Recycle.
RETURN TO GREEN TRAIL

What Can And Cannot Be Recycled?
| Yes! | No! |
| --- | --- |
| Cardboard | Styrofoam |
| Mixed Paper | Plastic and Grocery Bags |
| Aluminum and Tin Cans | Food Contaminated Items |
| Plastic Bottles | Glass Items |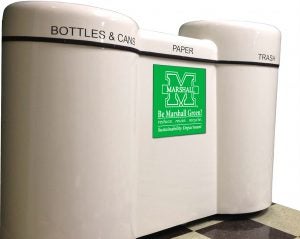 Recycling Details
The Only plastics that are recyclable are plastic numbers 1 and 2. These plastics are bottles with smaller openings than their base. Plastics, such as tubs, plastic bags and plastic cups are not accepted.
Mixed paper that can be recycled includes magazines, office paper, shredded paper, colored paper and junk mail.
When recycling cardboard boxes, please remove any styrofoam, as it is not recyclable. Food contaminated items such as pizza boxes or used paper plates are also not recyclable and should be placed in the trash.
Recycle rechargeable batteries, old cell phones and ink cartridges!
Rechargeable batteries and old cell phones should never be thrown away, but should be recycled instead. When batteries and cell phones are improperly disposed of, they can expose the environment to hazardous chemicals.
Ink cartridges should also be recycled. When ink cartridges are recycled, they are sent back to manufacturers so they can be reused to avoid being placed in landfills.
Important Note:
To recycle rechargeable batteries, cell phones and ink cartridges, please arrange for a Special Recycling Pick-up.
Do not place them in the recycling containers.

Contact the Sustainability Department:
---
Telephone: 304-696-2992
---
Email: bemarshallgreen@marshall.edu
---