Bottle Refill Stations
Several bottle Refill Stations are installed in buildings throughout campus.
Each fountain provides clean, "Green" filtered, refrigerated water.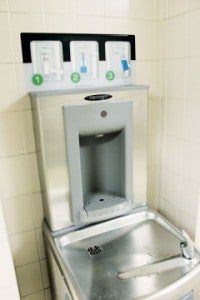 By refilling your water bottle, you can help cut carbon emissions, reduce waste, and create a more sustainable campus.
To learn more about bottle fill stations, please click OASIS. For "The Facts About Bottled Water", click bottle or see the image below. Presented by Online Education.