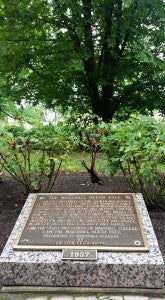 The Marshall Beech Tree and plaque were dedicated in 1957 by Omicron Delta Kappa. It reads:
"I am part and parcel of the growth and history of Marshall College. Under my branches I have gathered great personages, educators, philosophers, doctors, lawyers, musicians and artists. I am the symbol of all noble attributes and ideals of man, industry and honesty, courage and strengthy, knowledge and fruitfulness, goodness and inspiration and wisdom, simplicity and peace, modesty and loyalty, beauty and grace.
I am the spirit and symbol of Marshall College.
I am The Marshall Beech Tree."