Marshall is home to a large number and variety of trees, many of which are quite large and aged. Our goal is to ensure the health and vitality of our campus trees in the best way possible, and to integrate them into relevant course work and education outreach programs.
An Arboretum is a plot of land or botanical garden devoted to trees and/or shrubs, used for study and display. We view our campus trees as an educational arboretum.
Marshall's Arboretum Project, also known as the Campus Canopy Restoration and Rejuvenation Project, began as an effort to reduce potential unhealthy tree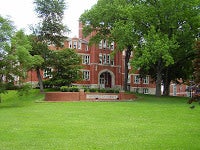 conditions and improve tree structures by:
Control and treatment of scales and mites
Tree pruning
Dead wood & debris removal
Removal of blighted/damaged trees
Planting of new trees
To this end, a Tree Committee was formed, comprised of faculty and staff from numerous plant related programs throughout the university. The goal was to develop a plan to identify all our campus trees, along with any tree related blights, and to formulate policies, procedures and practices to be used in establishing, protecting, maintaining and removing trees.
---
---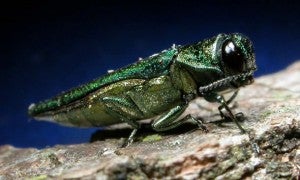 After inspection, well over 700 campus trees were cataloged, with over 50 varieties among them.
In addition, we found that several dozen of our trees were being destroyed by the Emerald Ash Borer beetle, and had to be removed. Many new trees were planted to replace them, with a focus on native varieties.