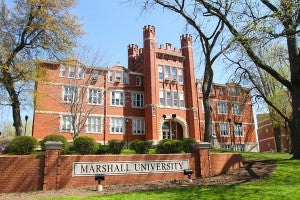 The mission of the Master's Degree in Public Administration at Marshall University is to prepare graduate students to competently lead and manage government and non-profit agencies. Our interdisciplinary curriculum strengthens students' capacity for understanding the socioeconomic environments and geopolitical dimensions in which governments and non-profits work to meet societal needs, emphasizing the value of ethics, transparency and professional service in public administration.
News
We are taking applications for the Spring 2015 semester! To begin, click here.
Registration for Spring Courses begins November 10th!
The following MPA courses will be taught this spring:
ACC 510, Survey of Accounting
GEO 510, Urban Geography
GEO 516, Environmental Issues in Planning
GEO 526, Principles of GIS
LS 532, Human Relations in the Public Sector
LS 615, Leadership in the Public Sector
LS 645, Community Relations in the Public Sector
MGT 620, Human Resource Management
MGT 672, Organizational Behavior
PSC 553, Governmental Budgetary Administration
PSC 561, Urban Problems and Public Policy
PSC 604, Data Analysis
PSC 660, Seminar in Policy Administration
PSY 520, Industrial/Organizational Psychology
SOC 501, Population and Human Ecology
SOC 523, Sociology of Class, Power and Conflict
SOC 525, Race and Ethnicity