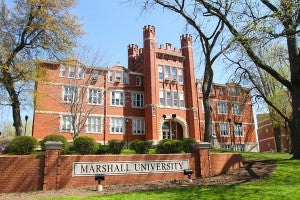 The mission of the Master's Degree in Public Administration at Marshall University is to prepare graduate students to competently lead and manage government and non-profit agencies. Our interdisciplinary curriculum strengthens students' capacity for understanding the socioeconomic environments and geopolitical dimensions in which governments and non-profits work to meet societal needs, emphasizing the value of ethics, transparency and professional service in public administration.
News
We are taking applications for the Summer and Fall 2014 semesters! To begin, click here.
Registration for Summer Courses begins March 17th!  All LS Courses and MGT 620 and 672 will be offered in the summer.
Registration for Fall courses begins March 31st!   The following MPA courses will be taught this fall:
ACC 510, Survey of Accounting
PSY 518, Personnel Psychology
GEO 514, Principles and Methods of Planning
GEO 531, Principles of Remote Sensing and Programming
LS, All MPA courses
MGT 620, Human Resource Management
MGT 672, Organizational Behavior
PSC 533, Public Administration and Policy Development
PSC 616, Public Administration Scope and Practice
PSC 618, Seminar in Public Administration