Our program is proud to share the stories of students who have achieved success in their chosen career paths.
---
Andy Church
I was searching to expand the scope of my professional development, which is why I chose the MPA program at Marshall University. The MPA program consists of experienced professionals that have guided me toward the right direction. This program has opened the door in understanding the diverse options within my professional field. Since then, I have been able to gain an opportunity for experience with the United Way. This has allowed me to be able to place this experience on a platform that allows me to engage with high level professionals into the workplace. Choosing to enter in the MPA program has been the best decision for me both professionally and personally.
Andy completed his MPA degree in May 2018 and is now employed with the WV Department of Health and Human Resources.
---
Malak Khader
Malak is a graduate student from Huntington, pursuing her MPA with a concentration in Urban Governance. She is currently a board member for the West Virginia American Civil Liberties Union, a graduate assistant for Drinko Library, and and active member of her religious community. Previously, she has served as a journalism intern with the West Virginia Legislature.
Malak has been an advocate for Muslim Americans her entire life and hopes that her involvement in government work will help other Muslim Americans fight and stand up for their given rights. Her main goal has always been to educate and inform on a political platform, and our MPA program is helping her better develop the skill sets necessary to do so.
Malak Khader is now pursuing a Ph.D. in Laboratory Sciences at the University of North Texas.
---
Dillon Neace
Dillon is a graduate student in the MPA program. Originally from Kanawha County, WV, he earned his undergraduate degree in political science from Marshall University in 2014. He is pursuing an MPA with an Urban Governance concentration, and is currently fulfilling his practicum requirement with the West Virginia Center on Budget and Policy. Dillon formerly served as the Lead Field Organizer for the Natalie Tennant campaign in the Fall following his undergraduate graduation, and gained valuable experience through the Frasure-Singleton internship.
His long-term goals include a career in talent representation, and he has been acquiring the skills necessary to succeed in this field through the MPA program.
Dillon earned an MS in business management from Arizona State University and is continuing his education in Tempe, Arizona.
---
Sara Price-Fortney

Sara is the Field Site Coordinator for Kanawha HSTA, a STEM-based after-school program for disadvantaged high school students. Previously, she has served as an Executive Assistant with the West Virginia Women's Commission, as well as being involved in the Tamarack Artisan Foundation. Sara is active in numerous volunteer organizations including Habitat for Humanity of Kanawha-Putnam and the Madison-Danville Jaycees, where she has served as president of the West Virginia chapter, and is currently on the United States Junior Chamber (Jaycees) National Communications Committee.
Sara's passion for civic engagement and public service is what led her to pursue her Masters of Public Administration. Through this program, she's learning the tools necessary to become an effective public manager so that she may continue working in the after-school realm, doing her best to meet the needs of West Virginia's youth.
---
Ludwig R. "Louis" Balbuena
I chose the MPA program at Marshall University for several reasons. I wanted to attend an MPA program after I finished my undergraduate, but shortly after graduating I received a job offer and decided to put pursuing my master's degree on hold. A few years later I had heard that Marshall was starting a MPA program. I looked in to it and decided it would be a perfect fit for me. The MPA program became attractive to me during my first year of working in the "real world". I began to take note of things happening in my state and decided I would like to be part of change that happens here to make West Virginia a greater state.
The MPA has greatly affected my professional life. I have grown to become a director in a Non-Profit at a company called First Choice Services that provides treatment services for the population of West Virginia. We also offer grant writing for organizations and help provide data collection and evaluation. It has helped me to become a key asset in my company by providing critical thinking skills as well as leadership skills to lead my staff into a progressive belief of every West Virginian getting the treatment they deserve.
Lugwig R. Balbuena is the Assistant Program Director with First Choice Health Systems.
---
Katie Quiñonez
I chose the MPA program because I wanted a degree that would allow me to make a living while making my community a better place. The Nonprofit Concentration of the MPA program has helped me to develop my skills in leadership, fundraising, analysis, and more. The MPA program has helped me to think more critically about vital aspects of public service including representation, intersectionality, accessibility, transparency, and equity.
When I first began the MPA program, I was a social worker at a Hurricane-based social services agency that contracted with Child Protective Services. I am currently the Development Director of the Women's Health Center of West Virginia, a nonprofit reproductive health care facility and the state's last remaining abortion provider. Through this position, I have had the opportunity to meet and work alongside many amazing community organizers and reproductive justice advocates. I consider myself lucky to work with an organization whose mission I support so deeply, and I credit the MPA program with helping me to get there.
---
Mathew Gallagher
I chose the Marshall MPA program due to the flexibility Marshall allows its students and the ability to graduate within a reasonably soon, despite fulltime employment. Marshall was also a prime choice due to the high regard for Marshall's MPA program by my colleagues and peers at the Capitol. The MPA program has been timely and important in my success with both the West Virginia Legislature and Secretary of State.
I am currently the executive director of the One-Stop Business Development Project at the West Virginia Secretary of State's Office.
---

 Rachel Gilliams
I chose the Marshall MPA Program because this program is flexible and provides entry  to a variety of governmental, legal, business, and nonprofit organizations. With this program, I have a better understanding of daily engagement with the public in a professional setting. The MPA program has opened doors for me in the community, in which I have made great professional connections with. With the information I have taken from this program, I deem I can go out into the public and maintain the skills to make it more efficient and effective.
"I currently work as a graduate assistant for Marshall University Career Services and I work as an intern for Big Brothers Big Sisters of the Tri State. When I am not working, I volunteer with Alpha Phi Omega, the community service organization on campus. I will be graduating in May 2018, and I will be working in case development for Kisling, Nestico, & Redick, working with attorneys on case development."
Rachel will begin work on a jurisdoctorate degree at the University of Akron beginning August, 2019.
---
Autumn Lee
I chose the Marshall MPA Program because this program gives students the ability to learn a lot about working as a nonprofit or with a nonprofit organization. You also get a chance to better understand what it means to be a represntative and how to represent the people who elected you. This also means you will have a better concept of how to be an effective and transparent leader. The MPA program has helped me to make connections with peers that I wouldn't have made otherwise.
I have an internship with the mayor's office. I am currently the president of the Graduate Student Organization as well as the Native American Student Organization. Both organizations operate very much like nonprofit organizations.
I am a water protector and in correlation with that I work with OVEC (the Ohio Valley Environmental Coalition). OVEC is a nonprofit organization that works to protect the environment and bring about awareness of
environmental issues.
Autumn completed her MPA degree in May, 2019 and has been accepted into the Doctor of Education (EdD) program at the University of Dayton for the Fall 2019 term.
_________________________________________________________________________________________________________
Jebediah Dickerson
I chose the MPA at Marshall University because I love to work with the public and those in need. The MPA degree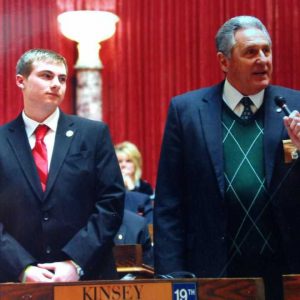 allows students to work within nonprofit organizations and contribute to the public good. I would recommend the MPA degree to anyone who enjoys being charitable or expresses a sense of altruism. The MPA degree will serve as an excellent stepping stone for me to pursue my doctorate degree in Political Science.
I am currently the Graduate Assistant of the MPA Program and the Vice President of the Graduate Student Organization at Marshall University. I also hold an internship position with the Future of Nursing West Virginia Coalition where I work on marketing and financial strategy.
---
 Jessica McGhee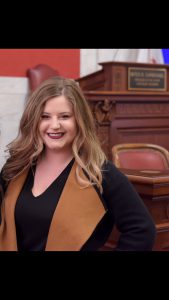 The MPA program at Marshall University offers students the ability to broaden their scope of knowledge in the field of public administration by enhancing their leadership skills. In doing so, the MPA program offers flexible hours with evening and online classes; said schedule allows for students to hold professional jobs while advancing themselves academically.
Currently, I am pursuing graduate degrees in both Public Administration and Political Science. The similarities of these degrees permit for personal growth, both professionally and academically.
When I first started the MPA program at Marshall University, I was working as a Court Reporter for a Criminal Division of a Common Pleas Court in Ohio. Now, I work for the West Virginia Senate's Committee on Government Organization as a Rollins-Burk scholar. With the position at the West Virginia Capitol, I have witnessed and participated in the legislative process in its entirety.
The MPA program at Marshall University has provided me with a pathway of possibilities and has opened many doors for my future endeavors.
Jessica completed her MPA in December 2018 and her MA in Political Science in May 2019.  She will be attending Ohio Northern Law School to pursue a Juris doctorate (JD) degree beginning the Fall 2019 semester.
---