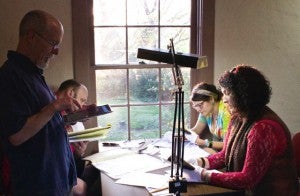 Students enrolled in the Graduate Humanities Program explore broad interdisciplinary issues through a diverse array of course offerings. Each semester, our seminars engage the intersection of the arts, literature, culture and history within an open, exploratory, and experimental educational environment. While several seminars are discipline-specific (our core curriculum, for example), most are designed to go beyond individual disciplines and enlist students in the cross-disciplinary study of the humanities.
---
Upcoming Seminar Schedules
Click on the links for registration information for individual seminars.
General registration information is here.
For previous seminar schedules, see here.
---
Spring 2018
CULS 600 (Selected Topics): Glenwood, Charleston, and West Virginia Histories (Peyton), Tuesdays, 7 – 9:50 PM
This seminar will meet at Glenwood, an iconic 1850s estate that stands in the hills of Charleston's West Side. Students will get up close and personal with the past as they utilize elements of the historic Glenwood collection to examine the history of West Virginia and the development of Charleston from a small 19th century village into a modern 21st century capital city. Sponsored in part by the Historic Glenwood Foundation.
Graduate Humanities Program students enrolled in the MA Program who complete the course with an A or B will receive a scholarship stippend from the Historic Glenwood Foundation.
Dr. Billy Joe Peyton is professor of history at West Virginia State University. He is the author of Historic Charleston: The First 225 Years, and has researched and written extensively on the history of Charleston and West Virginia.
HIST 585: Coal Mine Life, Work & Culture (Workman), Thursdays, 7 – 9:50 PM
This course provides students with a better understanding of the continuing economic, political, environmental and cultural impact which the extraction of coal has had on West Virginia.
Dr. Michael Workman worked in the underground coal mines of southern West Virginia before earning degrees in political science and his doctorate in history at WVU. He has written and published on coal and labor history, and currently is Associate Professor of History at West Viriginia State University.
HUMN 602: Historical Studies (Lassiter), Wednesdays, 7 – 9:50 PM
Core course acquaints students with problems of historical knowledge, changes in the interpretation of history, nature of historical forces, and methods of historical research.
This course will be taught in conjunction with CULS 600 and HIST 585, and students will be encouraged to apply their knowledge gained in one or both of these courses to issues in Historical Studies. It is not recommended that a student sign up for this course only: i.e., if registering for only course for the semester, then it is recommended that you register for either CULS 600 or HIST 585.
Dr. Luke Eric Lassiter is director of the Graduate Humanities Program and professor of humanities and anthropology.
HUMN 650 – Special Topics – Independent Studies arranged between instructor and student (contact Director to arrange course)
For students who need to conduct independent research and/or reading in a specific topic in the humanities, the Program will offer independent studies in those topics as funds allow. Contact the Director for more information. Examples of Special Topics might include:
* Museum Studies
* Film Criticism
* Studies in Appalachian Music
* Studies in Poetry
* Language and Communication
HUMN 680 – Independent Research Symposium, Arranged
A pro-seminar required of all Humanities degree students who are beginning the thesis or final project. Arranged with the Program Director.