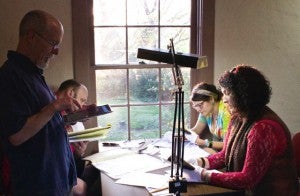 Students enrolled in the Graduate Humanities Program explore broad interdisciplinary issues through a diverse array of course offerings. Each semester, our seminars engage the intersection of the arts, literature, culture and history within an open, exploratory, and experimental educational environment. While several seminars are discipline-specific (our core curriculum, for example), most are designed to go beyond individual disciplines and enlist students in the cross-disciplinary study of the humanities.
---
Upcoming Seminar Schedules
Click on the links for registration information for individual seminars.
General registration information is here.
For previous seminar schedules, see here.
---
Fall 2017
HUMN 603: History and Theory of the Arts (Hilliard), Wednesdays, 7 – 9:50 PM
Core course provides chronological survey of the arts, emphasizing the social, political and/or religious motives that underlie artistic production.
This seminar will explore the theory and practice of expressive arts, with consideration of visual, verbal, cinematic, public, protest, "outsider," and performance forms, among others. Using anthropological, folkloristic, and arts and cultural studies theoretical frameworks, we will explore the engaged relationship of the arts to society and consider how these concepts can inform current work in arts administration, museums, public folklore, and community development. The course will rely on participatory critical analysis and discussion, with some excursions to area museums, organizations, artist studios, and public installations.
Emily Hilliard is the West Virginia state folklorist and founder of the West Virginia Folklife Program at the West Virginia Humanities Council. She holds an M.A. in folklore from the University of North Carolina-Chapel Hill and a B.A. in English and French from the University of Michigan-Ann Arbor. For the past ten years she has worked at cultural heritage organizations including Smithsonian Folkways Recordings, the American Folklife Center, the National Council for the Traditional Arts, and Maryland Traditions. Her writing and media work has been published by NPR, Humanities Magazine, Ecotone, The Bitter Southerner, and Southern Cultures, among others. Find more of her work at emilyehilliard.com.
HUMN 604: Expository Writing for Research (Pleska), Mondays, 7 – 9:50 PM
This core writing course develops proficiency in writing for research.
Cat Pleska earned her MFA in creative nonfiction writing at Goucher College in Baltimore and is an essayist for West Virginia Public Radio. She also is the Editor-in-Chief of Mountain State Press and book reviewer for The Charleston Gazette. Her latest book, Riding on Comets: A Memoir, is published by West Virginia University Press.
HUMN 650 – MAJOR SCHOLAR SEMINAR – Storying Climate Change (Crate)
More on the Major Scholar Program is here.
CLASS LIMIT: 5. By permission of the Director only.
Meetings on Thursday, August 24, 7-9:50 p.m.; Thursday, August 31, 7-9:50 p.m.; Thursday, September 21, 7-9:50 pm; Thursday, October 26, 7-9:50 pm; and Thursday, December 14, 7-9:50 pm.
Anthropogenic climate change is an incredibly urgent issue in the 21st century that transcends any political view or position, and must be addressed to ensure the perpetuation of life as we know it on the planet. Indisputable among serious scientists, the facts speak for themselves. Yet little is being done to address this world-wide crisis. Among those reasons include a naive position in which people use their own experience (such as not feeling the effects of climate change in their own lives) to evaluate a world-wide problem. In an effort to increase awareness of the experience of others around the world who are already directly experiencing climate change, many scientists are turning to story to raise awareness. This Major Scholar Seminar will explore some crucial parts of this effort, highlight the stories of people around the world struggling to adapt to rapid change, and encourage participants to understand how the power of story may be an important key to unlocking how the world will deal with this most critical issue.
Dr. Susan Crate has been documenting the perceptions, understandings and responses of change, in its many forms, with indigenous communities in Sibera since 1988. Since 1991 she has worked with Viliui Sakha, Turkic-speaking horse and cattle breeders in arctic Siberia and in 2006 she began working with them on issues of climate change as they face an increasingly unpredictable environment. She continues that work and also to document the experience of climate change in other global communities who are feeling uncontestable effects. She and her daughter, Katie Yegorov-Crate, are the subjects of a new documentary on Crate's work titled "The Anthropologist," a film that the New York Times called "a stealthily insightful film [that] improbably mixes that topic with a mother-daughter story to produce a distinctive study of change and human adaptability." Crate is Professor of Anthropology in the Department of Environmental Science and Policy at George Mason University.
Note: graduate course credit for this seminar is also available from MU's Department of Sociology and Anthropology (SOC 580 and ANT 580).
HUMN 650 – Special Topics – Independent Studies arranged between instructor and student (contact Director to arrange course)
For students who need to conduct independent research and/or reading in a specific topic in the humanities, the Program will offer independent studies in those topics as funds allow. Contact the Director for more information. Examples of Special Topics might include:
* Museum Studies
* Film Criticism
* Studies in Appalachian Music
* Studies in Poetry
* Language and Communication
HUMN 680 – Independent Research Symposium, Arranged
A pro-seminar required of all Humanities degree students who are beginning the thesis or final project. Arranged with the Program Director.