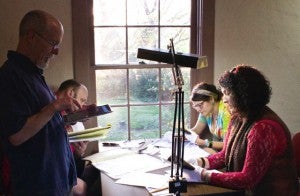 Students enrolled in the Graduate Humanities Program explore broad interdisciplinary issues through a diverse array of course offerings. Each semester, our seminars engage the intersection of the arts, literature, culture and history within an open, exploratory, and experimental educational environment. While several seminars are discipline-specific (our core curriculum, for example), most are designed to go beyond individual disciplines and enlist students in the cross-disciplinary study of the humanities.
---
Upcoming Seminar Schedules
Click on the links for registration information for individual seminars.
General registration information is here.
For previous seminar schedules, see here.
---
Spring 2020
CULS 600 – MAJOR SCHOLAR SEMINAR: Mapping Human Diversity: Genetic Testing, Folk Ideologies of Heredity, and Race

The 2020 Major Scholar Seminar will focus on the writings and perspectives of Dr. Jonathan Marks, genetic/biological anthropologist whose work on the relationships between science, history, and culture has significantly impacted both academic and public discussions across the sciences and humanities.  He is perhaps most well-known for his critiques on race, the genome project, and of ahistorical science.  He has also been a leading critic in public debates about direct-to-consumer genetic testing and its marketed correlation to heredity.  Understanding, for instance, how and why "I'm 45% Irish" is an invalid scientific claim not only requires deeper knowledge of science, but of history and culture as well.  Marks has argued persuasively, then, that understanding human problems are best approached through engagement with a liberal arts that combines, rather than siloes, the sciences and humanities.  To this end, students will engage some of Marks' key works, including What it Means to be 98% Chimpanzee, Why I am Not a Scientist, and Is Science Racist?  And they'll meet with Marks in both electronic and live meetings.
More about our Major Scholar Program is here.
The seminar will be facilitated by Dr. Luke Eric Lassiter, director of the Graduate Humanities Program and professor of humanities and anthropology.
Hybrid Seminar, online and live meetings.  Live meetings will be on Thursdays, 7-9:50 p.m. on January 16 & 30; February 13 & 27; March 12; and April 2.
CULS 611: Appalachian Studies: Themes & Voices (Pleska), Mondays, 7 – 9:50 PM
This interdisciplinary course orients students to the significant issues and research in Appalachian studies. Important political, social, and cultural issues will be considered. Research areas are introduced.
Cat Pleska, MFA, is a 7th generation West Virginian and her memoir, Riding on Comets, was published in 2015 by WVU Press. She is a former book reviewer and radio essayist, and is currently working on a collection of travel/personal essays, The I's Have It: Travels in Ireland and Iceland.
HUMN 650 – Special Topics – Independent Studies arranged between instructor and student (contact Director to arrange course)
For students who need to conduct independent research and/or reading in a specific topic in the humanities, the Program will offer independent studies in those topics as funds allow. Contact the Director for more information. Examples of Special Topics might include:
* Museum Studies
* Film Criticism
* Studies in Appalachian Music
* Studies in Poetry
* Language and Communication
HUMN 680 – Independent Research Symposium, Arranged
A pro-seminar required of all Humanities degree students who are beginning the thesis or final project. Arranged with the Program Director.