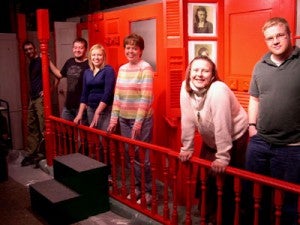 One student left the banking industry and wants to follow her passion for media design and digital humanities. Another is a recent history graduate, and plans to work in museums.  Still another is a retired engineer, and dreams of reading and writing philosophy, history, and anthropology.  Our students come to us from a broad range of backgrounds from recent graduates in the humanities, sciences, and professional fields to current and retired professionals. And they come to our program for a variety of reasons: to continue their passion in the arts, cultural, historical, or literary studies; to transition from one career to another; to complete that memoir or novel; or to just continue as life-long learners. Our job is to make it happen.
The Master of Arts in Humanities is a true interdisciplinary degree. It adapts advanced study of the humanities to the personal interests of a broad spectrum of students. The program provides students with varied undergraduate backgrounds the opportunity to continue their studies at the graduate level with an integrated and multidisciplinary perspective on human inquiry.
Our course formats include those in-person, virtual, and hybrid.  Most courses can be taken both in-person and virtually.  Contact the Director for various options for the MA program.
Why Study Humanities at Marshall University?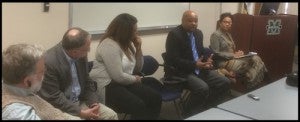 Housed in the Graduate Humanities Program, our curriculum brings together students and faculty from a variety of backgrounds to collaboratively explore the interdisciplinary intersections of the arts, historical, cultural and literary studies within an open, exploratory, and experimental graduate-level educational environment. Together, we've conducted research, written books, produced media, and built museum exhibits; hosted major thinkers and discussed with them their contributions to culture, politics, and society; designed seminars on important and significant events; and, of course, imagined a better world.  Much of this work takes place via our focus on community partnership and engagement, collaborative ethnography, and public humanities (see, e.g., here).  Nowhere else will you find this unique combination of academic and applied humanities.
After the MA?  What careers in the Humanities?
The work of our alums ranges widely: from service non-profits to museums, hospitals, public relations firms, colleges and universities.  We've kept up with our graduates for the past 40+ years.  You can see their broad range of work and employment experience on Our Graduates page.
Admission Requirements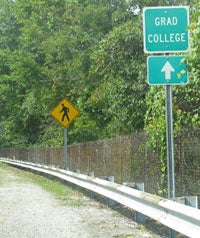 As outlined in the Graduate Catalog, applicants should follow the admissions process described on the Graduate Admissions website. In addition applicants must have:
a score in the 60th percentile or higher on the verbal section of the Graduate Record Examination (GRE) General Test or an equivalent score on the Miller Analogies Test (MAT);
an undergraduate major in the humanities broadly defined (including but not limited to fields such as philosophy, history, English, religious studies, folklore, anthropology, archaeology, classics, the arts, modern languages, and communication studies); and
an overall undergraduate grade point average of 3.0 on a scale of 4, or a score in or above the 40th percentile in the GRE subject test of Literature in English.
Applicants who do not meet all of the above admissions requirements may be admitted provisionally. A provisionally admitted student must earn a grade of B or above in their first twelve hours of coursework in the humanities, the twelve hours to include the course in Expository Writing for Research (Humanities 604) and one other core course (Humn 600, 601, 602, 603, or 605).
Be sure to read over the Program Guide for Admitted Students for more information.
Admission Procedure
Applicants are encouraged (but not required) to contact the Director before officially submitting their application.
Applicants are strongly encouraged (but not required) to submit with their application (or sent directly to the Director) a brief essay (two to three pages) that explains the degree goals and reasons for selected the Humanities Program.
Applicants should apply to the Graduate Humanities Program through Marshall University's Graduate College following the procedures outlined on the Graduate College's web site, here. Be sure to:

fill out a Marshall University Graduate Application for Admission (identifying the Humanities Program as the major program to which you are applying), and return to the Graduate Admissions Office;
submit your brief essay (see above) along with your application (or sent directly to the Director); have the registrars at all colleges and universities you have attended to send official transcripts of your academic records directly to the Graduate Admissions Office; and
take the appropriate admissions examination (GRE or MAT) and have the scores sent to the Graduate Admissions Office by the testing agency.

For provisional enrollment, students must first apply to the humanities program following the procedure above. Should the Humanities Program decide to admit the student provisionally, the Director will contact the student directly.
Program Requirements / Plan of Study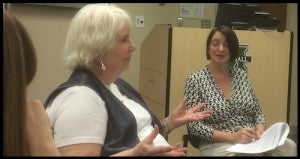 The Master of Arts in Humanities stresses an interdisciplinary approach, embracing a variety of fields, while allowing conventional disciplinary studies as an integral part of the program. Students consult with faculty advisors to determine individual plans of study. After completing a prescribed core of humanities courses, the student elects one of four areas of concentration (Arts and Society; Cultural Studies; Historical Studies; Literary Studies). Although the student's plan may encompass courses from more than one area of concentration it will have strong intellectual coherence. The program enhances the student's ability to deal critically and flexibly with intellectual, social, political, historical, literary, or artistic issues with a broad humanistic perspective. The Humanities Program strongly encourages students not concerned with pursuing the degree (such as teachers using classes for certification and those who want to take courses for their own continuing education) to enroll as non-degree students.
Degree students have the options of a thesis or final project. Students electing the thesis complete a total of 36 hours, six of which are the thesis (HUMN 680 and 681). Students electing the project option complete a total of 39 hours, three of which are the project (HUMN 680).  With both options, students must pass a comprehensive examination. All individual plans of study are organized according to the following general structure:
Humanities Core (12 hours): Required core courses acquaint the student with the methods, materials, and problems of interdisciplinary study and research in the humanities. The core courses also provide the foundation for the remainder of the plan of study. Each student must complete the following:

HUMN 600 – Introduction to Study in the Humanities (3 hours)
HUMN 604 – Expository Writing for Research (3 hours)
And two of the following:

HUMN 601 – Literary Theory and Criticism (3 hours)
HUMN 602 – Historical Studies (3 hours)
HUMN 603 – History and Theory of the Arts (3 hours)
HUMN 605 – Western Traditions and Contemporary Cultures (3 hours)
Concentration (minimum of 15 hours): Each student selects one of the following areas of concentration or develops a thematic emphasis which combines two or more areas. Specific core courses are required for each area of concentration. Within an area of concentration, a student may select courses to develop personal interests. These areas are:

 Arts and Society: for students interested in art history, theatre/drama, or film history and appreciation (HUMN 603 required).
 Cultural Studies: for students interested in philosophy/religion, classical studies, media theory and practices, regional or ethnic studies (HUMN 605 required).
 Historical Studies: for students interested in history or regional studies (HUMN 602 required).
Literary Studies: for students interested in literature, language, or creative writing (HUMN 601 required).

To assist the student in developing this portion of the plan of study, course offerings are organized under these four areas. An individualized plan of study may, with permission of the advisor and/or the Program Director, include courses from more than one area. No more than twelve hours may be taken at the 500-level.

See the Graduate Catalog for descriptions of individual courses. See the current schedule of classes for current and upcoming course offerings.

Program Electives (3-12 hours): See the Graduate Catalog for descriptions of individual courses. See the current schedule of classes for current and upcoming course offerings.
Comprehensive Exams: After a minimum of 24 hours of course credits and consultation with the advisor, the student is eligible to sit for the examination, which is related to the core and to the individual plan of study. The comprehensive examination will take a maximum of four hours and will be given at a time convenient for the student.
Each student in the program will have a three-member committee appointed to oversee the student's written comprehensive examination. The chair of the comprehensive committee ordinarily will represent the student's primary area of study. The second member will represent the area of concentration. The third member will represent the second core area. The Program Director, in consultation with the student, appoints the members of the committee.
If a student fails to pass one or more parts of the examination, he/she will be required to take a second examination over the portions failed. Further information on the comprehensive examination is available in the Program Office.
Independent Research Project (3 hours) or Thesis (6 hours): Students may choose either a thesis or project option to complete their plan of study:

Thesis  – The student's examination committee will ordinarily be the principal members of the thesis committee. The chair of that committee will serve as thesis director. The student will present a prospectus to the committee for approval before beginning the thesis. The student will defend the completed thesis. (6 hours : HUMN 680 and 681 required)
Project – The student will work with a faculty member to outline and complete a final project. The project must relate to the student's area of concentration. It should involve research and result in a written project. In the case of creative writing, a creative project may be appropriate. Additional information is available in the program office. (3 hours: HUMN 680 required)