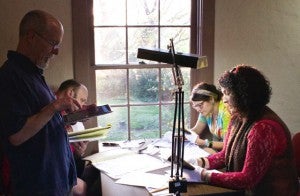 Each semester, the Graduate Humanities Program engages the intersection of the arts, literature, culture, and history within an open, exploratory, and experimental educational environment.
Students enrolled in the Graduate Humanities Program explore broad interdisciplinary issues through a diverse array of course offerings.  Most of these are offered in a seminar format: discussion-based graduate-level courses focused on reading, open and regular dialogue, collaborative and interactive interpretation, research and writing.
While several seminars are discipline-specific (our core curriculum, for example), most are designed to go beyond individual disciplines and enlist students in the cross-disciplinary study of the humanities.
Our course formats include those in-person, virtual, and hybrid.  Contact the Director for various options for both the MA and Certificate programs.
Click on the links below for registration information for individual seminars.  You can find general registration information on the MU Registrar website.
For previous seminar schedules, see our "Previous GHP Seminar Schedules" site.
Spring 2024
CULS 600: Selected Topics – Appalachian Studies Research, Arranged (contact Director)
For students enrolled in the Appalachian Studies Certificate who are working on research projects in the Appalachian region. Registration by permission only. Contact the Director.
HUMN 602: Historical Studies (Lassiter), Wednesdays, 7 – 9:50 PM
Core course acquaints students with problems of historical knowledge, changes in the interpretation of history, nature of historical forces, and methods of historical research.
This course will include a virtual option.
Luke Eric Lassiter is director of the Graduate Humanities Program and professor of humanities and anthropology.
HUMN 650 – Special Topics – Independent Studies arranged between instructor and student (contact Director to arrange course)
For students who need to conduct independent research and/or reading in a specific topic in the humanities, the Program will offer independent studies in those topics as funds allow. Contact the Director for more information. Examples of Special Topics might include:
* Museum Studies
* Film Criticism
* Studies in Appalachian Music
* Studies in Poetry
* Language and Communication
HUMN 680 – Independent Research Symposium, Arranged (contact Director)
A pro-seminar required of all Humanities degree students who are beginning the thesis or final project. Arranged with the Program Director.
LITS 600: Selected Topics – Appalachia: Exploring the Soul of a Region (Pleska), Mondays, 7 – 9:50 PM (VIRTUAL)
In this course, students will read classic Appalachian texts and encounter old traditions and new visions revealed within the region's fiction, nonfiction, and poetry. Within this literary exploration, students will explore perceptions of Appalachia to discover, and perhaps, uncover what comprises the soul of this vast region.
Cat Pleska holds an MFA in Creative Nonfiction from Goucher College in Baltimore. She teaches Creative Writing for the Marshall English Department. Her publications include Riding on Comets: A Memoir, as well as personal essays and fiction in many literary magazines.