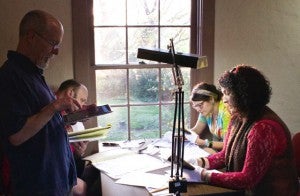 Students enrolled in the Graduate Humanities Program explore broad interdisciplinary issues through a diverse array of course offerings. Each semester, our seminars engage the intersection of the arts, literature, culture and history within an open, exploratory, and experimental educational environment. While several seminars are discipline-specific (our core curriculum, for example), most are designed to go beyond individual disciplines and enlist students in the cross-disciplinary study of the humanities.
---
Upcoming Seminar Schedules
Click on the links for registration information for individual seminars.
General registration information is here.
For previous seminar schedules, see here.
---
Fall 2019
A&S 600: Song Traditions & Musical Experience (Lassiter), Thursdays, 7 – 9:50 PM
This seminar will explore song traditions from a variety of perspectives and cultural contexts. It will focus, in particular, on the field of ethnomusicology and develop understandings of musical experience as an individual, as well as a social, process.
Dr. Luke Eric Lassiter, director of the Graduate Humanities Program and professor of humanities and anthropology, has written widely on topics concerning anthropology, folklore, ethnomusicology, and ethnography.
CULS 600: Philosophy's Practices and Engagements (Ormiston), five live meetings on Wednesdays, 7 – 9:50 PM
Online & Face to Face Meetings on Wednesday, August 28; Sept 11; Oct 9; Nov 13 & Dec 4 (all meetings 7 – 9 PM, GC 226)
This course will focus on certain "practices" of philosophy, e.g., the creation of concepts and ideas as "guides to action," set within specific texts and contexts comprising the philosophic tradition known as American Pragmatism.  Through an exposure and introduction to the many "roots" and "engagements" of pragmatism in America, the course will focus on developing–by each participant—an understanding of
– concept creation and context,
– practice preceding theory,
– experience and belief, and
– the varieties of reasoning (abduction, deduction, and induction) informing belief, habit, and action.
Gayle L. Ormiston is Professor of Philosophy and Humanities at Marshall University.  He has held faculty and administrative appointments at Marshall (where he was Provost and Senior Vice President for Academic Affairs from 2008 to 2018), Kent State University (where he was Associate Provost for Faculty Affairs and Curriculum, 2002-2008, and Chair of the Department of Philosophy, 1996-2002), the University of Colorado, and Denison University.  His publications and professional presentations include works on: hermeneutics and semeiotics; science, technology, and humanities studies; various issues in 19th and 20th century philosophy;  and numerous presentations on higher education administration, curriculum development and assessment, and collective bargaining in university and college environments. 
HUMN 604: Expository Writing for Research (Pleska), Mondays, 7 – 9:50 PM
This core writing course develops proficiency in writing for research.
Cat Pleska, MFA, is a 7th generation West Virginian and her memoir, Riding on Comets, was published in 2015 by WVU Press. She is a former book reviewer and radio essayist, and is currently working on a collection of travel/personal essays, The I's Have It: Travels in Ireland and Iceland.
HUMN 650 – Special Topics – Independent Studies arranged between instructor and student (contact Director to arrange course)
For students who need to conduct independent research and/or reading in a specific topic in the humanities, the Program will offer independent studies in those topics as funds allow. Contact the Director for more information. Examples of Special Topics might include:
* Museum Studies
* Film Criticism
* Studies in Appalachian Music
* Studies in Poetry
* Language and Communication
HUMN 680 – Independent Research Symposium, Arranged
A pro-seminar required of all Humanities degree students who are beginning the thesis or final project. Arranged with the Program Director.