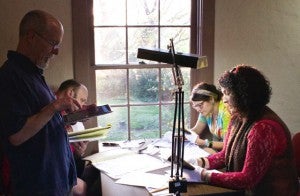 Students enrolled in the Graduate Humanities Program explore broad interdisciplinary issues through a diverse array of course offerings. Each semester, our seminars engage the intersection of the arts, literature, culture and history within an open, exploratory, and experimental educational environment. While several seminars are discipline-specific (our core curriculum, for example), most are designed to go beyond individual disciplines and enlist students in the cross-disciplinary study of the humanities.
---
Upcoming Seminar Schedules
Click on the links for registration information for individual seminars.
General registration information is here.
For previous seminar schedules, see here.
---
Spring 2019
HUMN 605: Western Traditions and Contemporary Cultures (Lassiter), Wednesdays, 7 – 9:50 PM
Using primary materials from different cultural periods, as well as contemporary critical analyses, this core course explores epistemological questions that underlie conflicts between cultures.
Luke Eric Lassiter is director of the Graduate Humanities Program and professor of humanities and anthropology. His books include Invitation to Anthropology, The Chicago Guide to Collaborative Ethnography, and Doing Ethnography Today, among others.
HUMN 650 – Special Topics – Independent Studies arranged between instructor and student (contact Director to arrange course)
For students who need to conduct independent research and/or reading in a specific topic in the humanities, the Program will offer independent studies in those topics as funds allow. Contact the Director for more information. Examples of Special Topics might include:
* Museum Studies
* Film Criticism
* Studies in Appalachian Music
* Studies in Poetry
* Language and Communication
HUMN 680 – Independent Research Symposium, Arranged
A pro-seminar required of all Humanities degree students who are beginning the thesis or final project. Arranged with the Program Director.
LITS 600: Selected Topics – Memoir in Appalachia (Pleska), Mondays, 7 – 9:50 PM
In this class we'll read, discuss, and write about Appalachian memoirs published in the past 250 years. What do they share? How do they differ? What makes them Appalachian other than the region where the authors lived and wrote? What can the memoirs tell and show us that make regional literature, and especially memoir, important and universal? We'll dive into memoirs ranging from Lt. Henry Timberlake Memoirs (1756) to Hillbilly Elegy (2018).
Cat Pleska, MFA, is a 7th generation West Virginian and her memoir, Riding on Comets, was published in 2015 by WVU Press. She is a former book reviewer and radio essayist, and is currently working on a collection of travel/personal essays, The I's Have It: Travels in Ireland and Iceland.