Preparing for Health Care Professions
Marshall University's College of Science provides academic programs and other resources to students preparing for a professional career in health care. This web site includes information and resources to help students explore pre-medicine (pre-med), pre-pharmacy (pre-pharm), and other health care-related undergraduate programs. Upper-level students will also find helpful information for applying to a professional program.
Snapshot of a Pre-Professional Health Care Student
Rules dictating who will be admitted to professional schools vary according to the field, school, and competitiveness. While there is not a certain combination of classes and scores that will guarantee admission, there are a number of traits that improve a student's chances of getting into a health care program.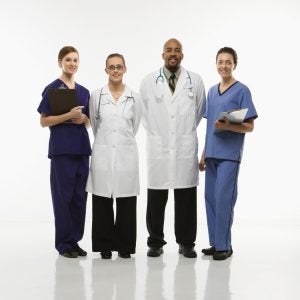 Achieved ACT Composite and Mathematics scores of 21 or higher (SAT 500 or higher)
Completed a strong high school course of study in the sciences
Possesses a strong sense of commitment and work ethic – high school honors is just the start
Complete a science-based college curriculum with a 3.4 or above GPA, preferably 3.8 or above
Prepare for and take the relevant professional exam – GRE, MCAT, PCAT, DAT, OAT, etc.
Develop practical in-field experience through shadowing, volunteering or research opportunities
Looking for more information about getting into a professional program? Our FAQ includes additional details for the bullet points above as well as answers to common questions about going into health care.
Seeking Pre-Professional Advice
Seeking admission to a professional program can be a difficult process with lots of variables. The Associate Dean of the College of Science serves as Marshall University's Pre-professional Officer and can assist you with your preparation and choices. You may speak to the Associate Dean of the College of Science at any time if you need help or have specific questions.
The College of Science's Office of Student Services will assist you with class selection based on your ACT/SAT scores, Advance Placement classes, and goals.