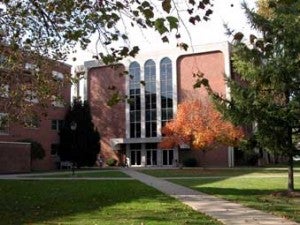 ---
Welcome our 2017 incoming PsyD cohort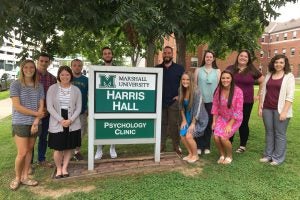 ---
In April 2017, Dr. Jon Day-Brown was faculty co-advisor (along with Dr. Ralph McKinney) to one of the teams that was part of Intuit sponsored Innovation for Impact/Design for Delight competition.  Dr. Day-Brown and Dr. McKinney's team, 42 Peaks, won this campus-wide competition.
This competition was a month-long program where MU students and faculty experimented to create potential solutions for select West Virginia social problems.    The challenge included seven teams that received training on innovation from Intuit leadership, and applied key principles to three specific challenges facing West Virginia today: providing educational opportunities for youth in rural communities, battling substance abuse and creating technology-based jobs in the state.
See the 42 Peaks team below, along with actress Jennifer Garner, who attended the award ceremony.  Members of 42 Peaks designed an app to connect people to resources, support groups, community events, peers with similar experiences, real-time video mentors and other resources.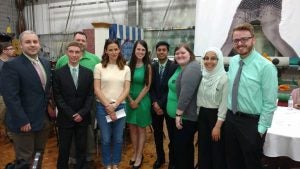 From L-R: Dr. Jon Day-Brown, Dr. Ralph McKinney, Hunter Barclay, actress Jennifer Garner, Liz Adams, Ani Rathore, Mary Day, Deena Dahshan, Justin Hurt
---
In April 2017, our students participated in both the College of Liberal Arts conference and the Tri-State Psychology Conference.  They did exceptionally well and we are so proud of them!  Below are some pictures from the two conferences.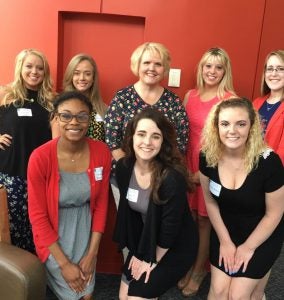 2017 COLA Conference, Marshall University
---

If you would like more information on one of our programs you may browse our site for more detailed information, email us, or contact:
Department Chair
Dr. Marianna Linz
PHONE:304-696-2774
EMAIL: linz@marshall.edu
Dr. Melissa Atkins
PHONE:  304-696-2779
EMAIL:  stinson8@marshall.edu
Dr. Thomas Linz
PHONE:  304-746-8995
EMAIL:  tlinz@marshall.edu
Dr. April Fugett
PHONE: 304-696-2776
EMAIL: fugett5@marshall.edu
Dr. Keith Beard and/or Connie Zirkle
PHONE:  304-696-2781
EMAIL:  beard@marshall.edu 
zirkle@marshall.edu 
Connie Zirkle
Program Assistant
PHONE: 304-696-2785
EMAIL:  zirkle@marshall.edu 
Nancy Tresch-Reneau
Administrative Secretary, Sr.
PHONE: 304-696-6446
EMAIL:  tresch@marshall.edu