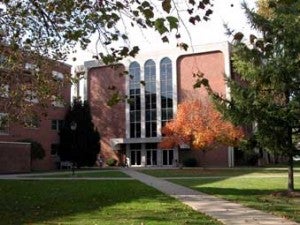 Welcome to the Psychology Department at Marshall University.  The Psychology Department is housed in Harris Hall on Marshall's campus in Huntington, WV .  The Psychology Department also has offices and offers courses on the South Charleston Campus.
We offer an undergraduate program in Psychology, a Master's Degree in either general psychology or with a clinical emphasis, and a Doctoral Degree in Psychology with an emphasis on rural and under-served populations.
Psychology is the scientific study of human cognition, affect, behavior, and relationships. Psychologists seek to understand, predict and influence behavior through research into a wide range of issues that affect human functioning, including social, physiological, developmental, cognitive and emotional factors. Research methodology is central to the discipline, and all psychology majors learn about research strategies and methods of data analysis.
The psychology major earns a liberal arts BA degree while also preparing for a variety of post-baccalaureate options. These include:
*  graduate education in such fields as psychology, medicine, law or business
*  work in business, industry and organizations
*  work in mental health and social service settings.
PSYCH AWARENESS WEEK ACTIVITIES: Monday April 13 – Friday April 17, 2015
The Psychology Department has planned a number of exciting activities as part of Psychology Awareness Week and the TriState Psychology Conference. The week will begin on Monday, April 13th with a visit from Dr. David Schroeder. Dr. Schroeder is a Professor of Psychology at the University of Arkansas, and his research interests include prosocial behavior, social dilemmas, and social influence processes. On Monday, April 13th at 1 p.m., Dr. Schroeder will give a talk entitled "Consilience and Prosocial Behavior" in Harris Hall 130 at Marshall University. This is an open talk and all are invited.
The activities continue Tuesday-Thursday with Psychology Awareness Week, as faculty and graduate students in the Psychology Department present on various topics from 10:00 a.m. to 2:00pm each day. All presentations will be held in Harris Hall 230, and all are welcome to attend. Click here for a detailed presentation schedule.
On Friday, the Tri-State Psychology Conference will be held in the Memorial Student Center at Marshall University. This is an open conference, all are invited, and there is no registration fee. The morning sessions will begin at 9:00 a.m. and will include a poster session and oral presentations showcasing the work of students and faculty from nearly 10 different regional colleges/universities representing four states. After lunch, the keynote speaker, Dr. Michael Olson (an Associate Professor of Psychology at the University of Tennessee) will speak about applications of social psychology to racial prejudice, close relationships, and substance abuse.  Click here for the day's schedule.  The day will end with an Intercollegiate Psychology Jeopardy Challenge for a traveling trophy and bragging rights; the game will begin around 3:00 p.m.
For those who attended the DSM-5 Training

If you would like more information on one of our programs you may browse our site for more detailed information, email us, or contact:
Nancy Tresch-Reneau
PHONE:  304-696-6446
EMAIL:  tresch@marshall.edu
Dr. Thomas Linz
PHONE:  304-746-8995
EMAIL:  tlinz@marshall.edu
Dr. Keith Beard and/or Connie Zirkle
EMAIL:  beard@marshall.edu
zirkle@marshall.edu 
Connie Zirkle – Program Assistant
zirkle@marshall.edu 
Nancy Tresch-Reneau
Administrative Secretary, Sr.
PHONE: 304-696-6446
EMAIL:  tresch@marshall.edu