2023
Congratulations to the recipients of 2023 Outstanding Undergraduates in Psychology Awards!  These students represent the best of the Psychology Department.
Overall Outstanding Students:
Jacob Hall
Stephanie Vance
Outstanding Research Award:
Outstanding Service Award:
WVPA/APA Citizen Psychologist Student Award
John Prentice in recognition of his extensive & important work in the community.
2022
Congratulations to the recipients of 2022 Outstanding Undergraduates in Psychology Awards!  These students represent the best of the Psychology Department.
Overall Outstanding Students:
Destiny Thompson
Jayson Bowen
Outstanding Research Award:
Abir Benemar
Brennan Counts
Lauren Gaal
Outstanding Service Award:
Special Merit:
2021
Congratulations to the recipients of 2021 Outstanding Undergraduates in Psychology Awards!  These students represent the best of the Psychology Department.
Academic Excellence:
Overall Outstanding Students:
Erin Freeman
Kelly Romans
Kariana Jude
Brianne Covington
Kaylee Hillman
Amanda Farley
Outstanding Research Award:
Outstanding Service Award:
Congratulations to the following with Academic  Achievements:

Academic Excellence
Kingson, Iram
Smith, Jessica
Adkins, Lexi(Alexis)
Covington, Brianne
Stone, Amber
Jude, Kariana
Rice, Sydney
Stevenson, Rebecca
Hillman, Kalee
Freeman, Erin
Manning, Chloe
Howerton, Brooke
Farley, Amanda
Romans, Kelly
Academic Distinction
Carman, Kennedy
Justice, Kara
Bowen, Derrick
Burress, Ebony
Russell, Cleo
Fleming, Tyler
Butcher, Starr(Evelina)
Altizer, Andrew
Yost, Laura
Smith, Emily
Laslo, Katelynn
Curry, Hannah
Chapman, Natalie
Drake, Regan
Grant, Caleigh
High Achievement
Stapleton, Paige(Emily)
McCoy, Katelynn
Carter, Kayla
Lewis, Ariel
Criswell, Courtney
Pense, Julianne
Fairfax, Paris
Cassity, Kelli
Ferguson, Kim(Kimberly)
Pearson, Kaylee
Stepp, Miriam
Newsome, Kristen
Covey, Mikayla
Leffingwell, Jessica
Bennett, Heather
Ellis, Hardia(Christopher)
Taylor, Abi
Bricker, Paul
Sansom, Haley
Simmons, Jamison
Linz spearheads community action resulting in Huntington Community COVID Care Plan
April 8, 2020
Dr. Marianna Linz, professor and chair of the psychology department, has served as a driving force to bring community groups together in what is being called the Huntington Community COVID Care Plan.
The organization was created to help the vulnerable populations in Huntington who have been negatively affected by the COVID-19 pandemic, according to Linz, lead organizer of the group.
"We are working to create more awareness of the needs of agencies who serve those in our community that struggle with various issues such as poverty, homelessness and behavioral health issues, as well as those who are aging and challenged physically," Linz said. "At this unusual time, the agencies are experiencing increases in need and require more resources to meet that need."
She noted one example with the Huntington City Mission, which has seen a huge increase in the number of meals served under more cumbersome guidelines.
"There are families at the mission with children who have little access to play space and educational supports," she said. "They also have few resources to keep them busy and families are dealing with the stress of having children out of school and also having no permanent residence. We want to get them and other disadvantaged children access to things that help occupy their time, provide educational stimulation and assist families in maintaining health relationships. This includes activity kits, resources and ideas of things to do that are low cost."
The activity kits can include arts and crafts, science experiment packets, gross motor play equipment such jump ropes or balls, movies, games and puzzles. The Huntington COVID Care Plan organization is also providing tips for parents on managing stress and behaviors, as well as reducing anxiety over the current pandemic on top of the stress and trauma of being homeless.
"We also hope to organize activities where kids create art to share, such as creating their own character called 'Corona the Virus,' along with reminders of how to defeat Corona (handwashing, distance, etc.)," Linz said. "Families at the mission are often left with very little private space and with school being out, this has the potential to create stress for them. They soldier on valiantly, but we want to give them resources to make it easier. We are currently putting together our first 'expansion kit' that will include pre-packaged, fun science experiments like making slime and making vinegar volcanoes. If people have ideas and materials to share, they are encouraged to contact us via our Facebook page."
Items currently needed for the Huntington COVID Care Plan include:
Used or new computers for the City Mission;
Word searches for those in nursing homes and assisted living facilities;
"Fidget" items, or items with interesting patterns or nice textures that can relieve stress for those with dementia;
Adults or children willing to write letters for those in senior care centers;
Anyone interested in creating 'virtual play dates' that could link kids in different socioeconomic situations together for shared activities;
Food and hygiene item donations;
Donations of pajamas, blankets and stuffed animals for children.
All donations can be dropped off at bins outside Harris Hall on the university's Huntington campus. Front porch pick-up can also be arranged by contacting Linz by e-mail at linz@marshall.edu or visiting the Huntington COVID Care Plan Facebook page. Interested donors are also encouraged to contact their chosen agency directly to make their donations.
"We receive so much support from the community and we are a large entity capable of spreading much care. We also serve a vibrant community of young people who are looking for ways to be involved and we need to set the example and lead the way. Marshall has always been a unique university in its connection to the Huntington community. We need to continue to reach out and take care of each other," Linz said. "Please do what you can to help now but don't lose the momentum as things begin to return to normal at some point. Let our connectedness to each other be the new normal."
The Huntington COVID Care Plan organization has members from university's departments of psychology, social work, communication disorders. English and women's studies, in addition to several community agencies including Huntington City Mission, Harmony House, Stepping Stones, Golden Girls, Davis Child Shelter, Cabell County Schools, Cabell County Community Service Organization, Marshall Student Food Pantry, Facing Hunger Food Bank and various senior centers in Huntington and Barboursville.
Harmony House Volunteer of the Year Award
Congratulations John Hensley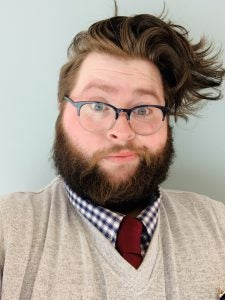 Harmony House was very excited to finally announce the winner of this year's Hometown Breakfast Volunteer of the Year award: John Hensley.
John is currently a master's student at Marshall University, working very closely with Marianna Linz. He was one of the students to help start Chat & Create at Harmony House and has helped kick start a similar program at The Center – Youth Opportunity Hub.
Aside from weekly Chat & Creates, John has been dedicated to collecting donations regularly both locally and in his hometown of Elkins on behalf of Harmony House, often filling the needs we have in the shelter.
Assistantship Opportunities
Departmental Awards and Scholarships
Previous Award Winners
Outside Scholarship Opportunities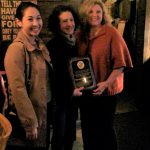 Congratulations to Dr.Marianna Footo-Linz who received the American Psychological Association Board of Educational Affairs Cynthia D Belar Education Advocacy Distinguished Service Award. In recognition of her leadership in advocating for increased federal investments in the Graduate Psychology Education Program, and her commitment to mentoring and instilling in her students and colleagues the shared responsibility of advocating for the psychology profession.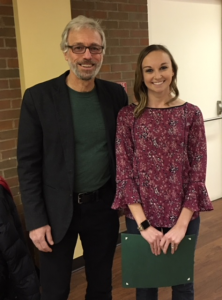 The Dr. Marty Amerikaner Scholarship for Excellence in Professional Psychiatry
Emily Woodrum received the first Dr. Amerikaner Scholarship on Friday, December 15th, 2017. The criteria to be a recipient(s), is to be a doctoral student candidate of the Psy D program who shows excellence in psychotherapy, mentoring and/or advocacy. The Department of Psychology, the Dean of the College of Liberal Arts, and the Office of Student Financial Assistance have selected Emily because she meets this criteria and has gone above and beyond as a doctoral student. This scholarship was established to honor the work of Dr. Marty Amerikaner and his contributions to the university, the psychology department, and to the many students that he advocated for to establish a quality training program for clinical psychologists.
Additional contributions may be added at anytime. You may either send them to:
Scholarships
MU Foundations
519 John Marshall Drive
Huntington, WV 25703
or go to the website at http://www.marshall.edu/foundation/