Psi Chi Cooks for Harmony House

A group of Psi Chi students prepare lunch for Harmony House every month.   Anyone interested in helping please reach out to the Psi Chi officers.  Anyone wishing to donate please reach out to the department.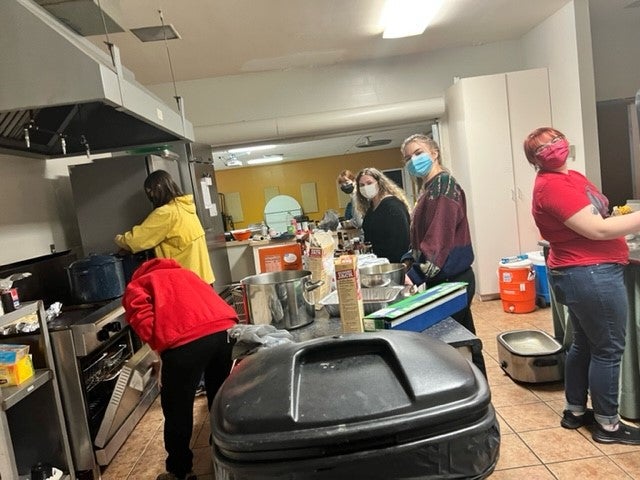 List of Volunteer Opportunities
Ronald McDonald House
Contact: Cathy Connaway 304-529-1122
Location: 1500 17th St., Huntington, 25701
rmhc.org | mchouse.org
Needs: check in families, bake, dinner, clean/yard service, or donations of household items (toiletries, packaged nonperishable food)
Huntington Health and Rehab
Contact: Debbie Day  304-529-6031,
Location: 1720 17th Street, Huntington 25701
Needs: Every Tues night, Sat afternoon and Sunday afternoon Bingo, reading to patients, visiting with patients, one on one attention
The Special Olympics of WV
Contact: Linda Quinn (outreach director, volunteer coordinator)
Location: 1206 Virginia St East, suite 100, Charleston, WV 25301
sowv.org (Announcements for upcoming events found on website)
Needs: Help with the year round events, such as the "summer games," help with state events, such as time/score keeping and meal preparation for the WV "Special Olympic Games" and help with the county programs such as training, coaching, and chaperones.
Huntington City Mission
Contact: Jodi Dowell (304-523-0293), email jdowell@hcmwv.org
Location: 624 10th Street, PO Box 3, Huntington, WV 25706
huntingtoncitymission.org/
Needs: This website list some volunteer opportunities.  You will need to fill out a volunteer application.
Huntington Area Food Bank
Contact: Susan Brody (304-523-6029), email
Location: 1327 7th Ave Huntington, WV 25701
hafb.org
Needs: This website has an events calendar to see what is coming up as a volunteer opportunity.
Hospice of Huntington
Contact: Martha Persinger  (304-529-4217)
www.volunteerwv.org search for Hospice of Huntington
www.hospiceofhuntington.org
Needs: Ongoing basis – do a training, background, verification, etc., patient care volunteers, caregiver respite, etc.; One time – landscaping at Hospice House, delivery of supplies, receptionists at Hospice House, gift shop workers
Faith in Action
Contact: Executive Director, Rose Thornberg 304-697-1274
Needs: Provide non-medical assistance to the elderly.  Do volunteer work, household work, landscaping, taking to appointments, etc.
Big Brothers Big Sisters
Contact: Patty Price Executive director (304- 522-2191), email: pprice@bbbstristate.org
Location: Somerville Bldg 501 5th Ave. Suite 3, Huntington, WV 25701
www.bbbstristate.org
Needs: Mentoring programs: School based (1h/week): go into school and tutor/mentor and Community based (1h/w or 4h/mo): pick kid up, go to movies, play in park, etc. Other events include the Annual Bowl for kids sake @ strike zone (May 17th): 4-5people/team with a minimum of $100 pledge/person; The Christmas Tree sale (Begins after thanksgiving): 3h shifts; work booth; Click to watch the BBBS promotion video:http://www.youtube.com/watch?v=q48JOSsjTzQ
Branches Domestic Violence Shelter
Contact: Trudy 304-529-2382
Needs: Paper products (toilet paper, sanitary napkins, paper towels, etc),
Hygiene items (washcloths, hairbrush, toothpaste, shampoo, etc), USED CELL PHONES, Cleaning supplies
***The ladies working here make baskets that they give upon entry (w/ hygiene needs) and leaving (cleaning supplies) for those coming through the shelter. ***
Cabell –Huntington Hospital
Contact: Volunteer services at 304-526-2113
Volunteer services include: Staffing and Patient Information Desk;  Delivering Flowers and Mail; Escorting Guests; Library Cart Service; Pet Therapy Program; Music Therapy Program; Senior Services Representative; ED Volunteer Support Staff; ECCC Patient & Visitor Comfort Care.
Habitat for Humanity
Contact: Nikki Hagermana  304-523-4822 or visit website at Https://www.hahabitat.org
Activities: Assist in building affordable housing for residents of Cabell County who could not otherwise afford housing.  Get a group!  Do it together!
 Huntington VA Medical Center
Contact: Volunteer Services Office  Teresa Bayse, Patricia Ferguson  304-429-6741  ext. 2952
Activities: Patient Services  for veterans, donations, courtesy van drivers.
MU Food Pantry
Contact:  Alicia Fox  304-696-4629
Activities: Drives for the food pantry.
AD Lewis Community Center
Contact: Mariah Hill  mariahill@cityofhuntington.com
Activities: Working with children, spending time, tutoring, events.
Soul Searching for Recovery
Contact: Jody Perry (304)612-0303 email: jody.perry@icloud.com
Activities: speaking events, workshops, music therapy
River Valley Child Development
Contact: Suzi Brodof (304)523-3417 ext. 207 sbrodof@rvcds.org
Activities: RV Cares program, pre-school and afterschool extension programs
West Virginia Family Child Care Association
Contact: Tammy Eubank 304-634-4806
Activities: Drives, Help with Conference, Group Behavioral Workshops
UNITED WE VOLUNTEER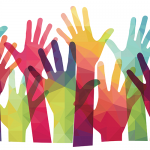 Contact:  Andrea Ray 304-523-8929
Activities: Maintains a list of organizations seeking volunteers with
contact information and descriptions.
VISIT THEIR WEBSITE TO SIGN UP FOR VARIOUS VOLUNTEER OPPORTUNITIES
http://www.unitedwevolunteer.org/
KEEP TRACK OF YOUR VOLUNTEER EXPERIENCES
Sign up at Herdlink to track your Volunteer Experience
https://herdlink.marshall.edu/