Open Faculty Position:
https://marshall.peopleadmin.com/postings/16214
Welcome to the Psychology Department at Marshall University. The Psychology Department is housed in Harris Hall on Marshall's campus in Huntington, WV. The Psychology Department also has offices and offers courses on the South Charleston Campus.
We offer an undergraduate program in Psychology, a Master's Degree in either general psychology or with a clinical emphasis, and a Doctoral Degree in Psychology with an emphasis on rural and under-served populations.
Psychology is the scientific study of human cognition, affect, behavior, and relationships. Psychologists seek to understand, predict and influence behavior through research into a wide range of issues that affect human functioning, including social, physiological, developmental, cognitive and emotional factors. Research methodology is central to the discipline, and all psychology majors learn about research strategies and methods of data analysis.
The psychology major earns a liberal arts BA degree while also preparing for a variety of post-baccalaureate options. These include:
graduate education in such fields as psychology, medicine, law or business
work in business, industry and organizations
work in mental health and social service settings.
MTSS for Teachers and Staff Handout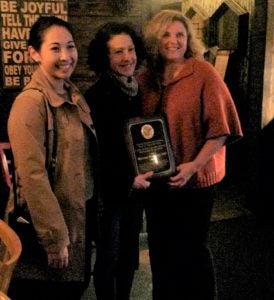 Dr. Mariana Footo-Linz receives APA Award
Dr. Mariana Footo-Linz received the American Psychological Association Board of Educational Affairs Cynthia D Belar Education Advocacy Distinguished Service Award in recognition of her leadership in advocating for increased federal investments in the Graduate Psychology Education Program, and her commitment to mentoring and instilling in her students and colleagues the shared MTSS for Teachers and Staff Handoutresponsibility of advocating for the psychology profession. October 2018
Contact Us
If you would like more information on one of our programs you may browse our site for more detailed information, Email us, or contact:
Department Chair
Dr. Marianna Linz
Phone: 304-696-2774
Email: linz@marshall.edu
Undergraduate Program
Dr. Melissa Atkins
Phone: 304-696-2779
Email: stinson8@marshall.edu
MA Clinical Program
Dr. Thomas Linz
Phone: 304-746-8995
Email: tlinz@marshall.edu
MA General Program
Dr. April Fugett
Phone: 304-696-2776
Email: fugett5@marshall.edu
PsyD Program
Dr. Keith Beard
Phone: 304-696-2781
Email: beard@marshall.edu
Nancy Tresch-Renau- Admin. Secretary Sr.
Phone: 304-696-6446
Email: tresch@marshall.edu
Tracy Eubank-Program Assistant III
Phone: 304-696-2785
Email: eubank5@marshall.edu