Sons and Daughters of Marshall

---
Lakin (Johnson) Castillo: B.S. in Geography, 2013
Geographer and GIS specialist for the West Virginia Department of Agriculture, Charleston, WV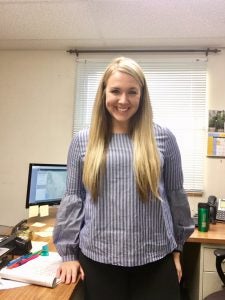 Lakin, originally from West Hamlin, WV, graduated cum laude from Marshall University with her Bachelor's Degree (B.S.) in 2013 with an emphasis in Weather Broadcasting. As a Geography major, Lakin was awarded the Dr. Sam E. Clagg Scholarship (2011), undergraduate award for best GIS research poster (2013; chosen by faculty and peers) and was a member of Gamma Theta Upsilon.
She completed internships with WOWK News 13 (meteorology; Summer 2012), and Natural Resource Partners (GIS; Summer 2013). Lakin then worked for the Department of Highways in Charleston, WV as a temporary GIS programmer analyst on a statewide linear referencing project. She conducted road analyses involving usage of straight-line diagrams, commissioner orders, and satellite imagery.
After beginning her graduate studies at Marshall in Spring 2014, Lakin transferred to Mississippi State University where her M.S. in Geosciences (Applied Meteorology) was completed in 2017. She previously worked as a GIS Analyst in the Engineering and Utilities Department for the City of Fort Walton Beach, Florida, where she used ArcGIS, AutoCAD, and survey equipment for multiple projects. She moved back to West Virginia in 2018.
---
Heidi Oberlin: B.S. in Geography, 2016
Incident Meteorologist and GIS Specialist for Chloeta Fire in Midwest City, Oklahoma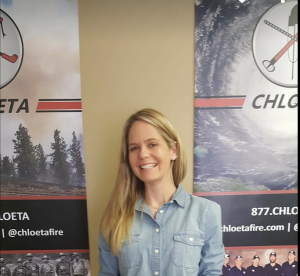 Originally from Tampa, Florida, Heidi Oberlin is an Incident Meteorologist and GIS Specialist for Chloeta Fire, a wildland fire management company that works with government agencies to manage fires and planning prescribed fires. Her duties include forecasting, spot forecasts, assisting staff during emergency events, and utilizing GIS for producing maps for the Airforce as well as for the Chloeta staff.
Heidi graduated from Marshall University May 2016 with a B.S. in Geography and minors in Meteorology and History. She completed a GIS internship with the Environmental Protection Commission of Hillsborough County and completed an internship opportunity with Marshall University through Dr. Trowbridge, assisting with creating data entries for The Clio.
---
Aaron "Ari" Nelson: BS in Geography, 2013 | MA in Geography, 2015
GIS Analyst, The Villages Technology Solutions Group in The Villages, Florida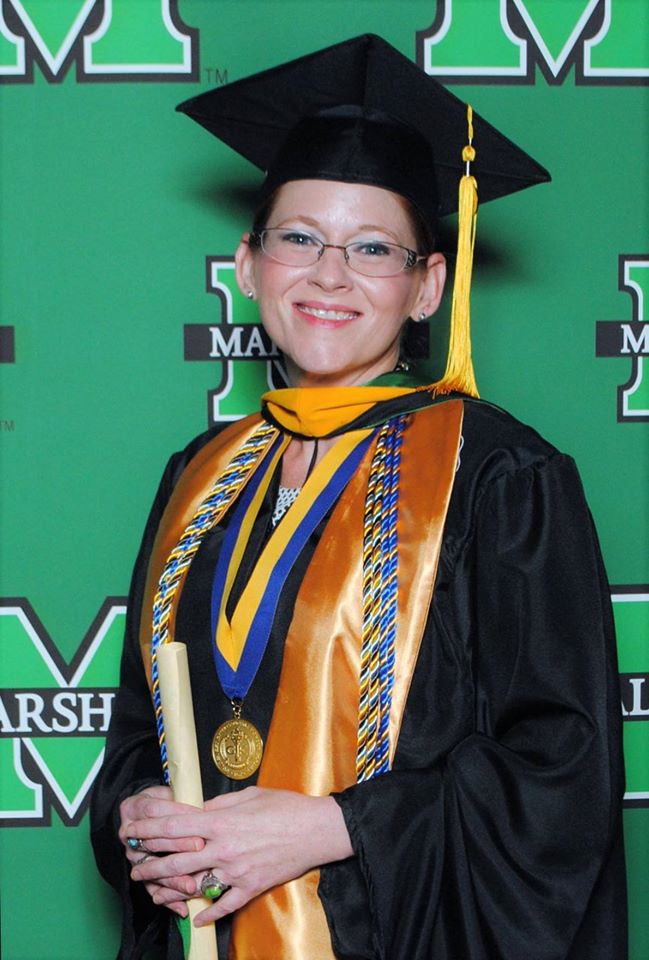 Originally from Ironton, Ohio, Katherine graduated cum laude from Marshall, where she was a member of Gamma Beta Phi honorary society. Following graduation, she obtained a Master's Degree in Geographic Information Systems (GIS) from the University of Leicester, England in 2003. After returning from England, she landed a job with an Engineering, Surveying, and GIS consulting firm in Columbus, Ohio. Her experience there included creating GIS datasets for E-911 applications using Trimble GPS and ESRI's ArcMap.  She was involved in field work, data collection, spatial analysis and client training.
For the past few years, Katherine has been working for American Electric Power in Columbus, Ohio as a GIS System Administrator. AEP implements ESRI's ArcSDE products and General Electric's Smallworld GIS products. Her main responsibilities are Smallworld GIS Database Administration.
During graduate school, she became interested in the areas of biogeography and paleo-climatology, and particularly in the Andes Mountains.  For that reason, Katherine has applied to the Ohio State University Geography Ph.D. program, where she plans to pursue research in paleo-geography, using glacier core analysis from the Andes.
As a loyal alumna, Katherine agreed to impart some of her knowledge of GIS by teaching a Special Topics:  GIS Programming course at MU as an adjunct instructor in Spring 2005.
---
Jennings Starcher: BA in Geography, 2003 | MA in Geography 2005
GIS Programmer Analyst, West Virginia Health Care Authority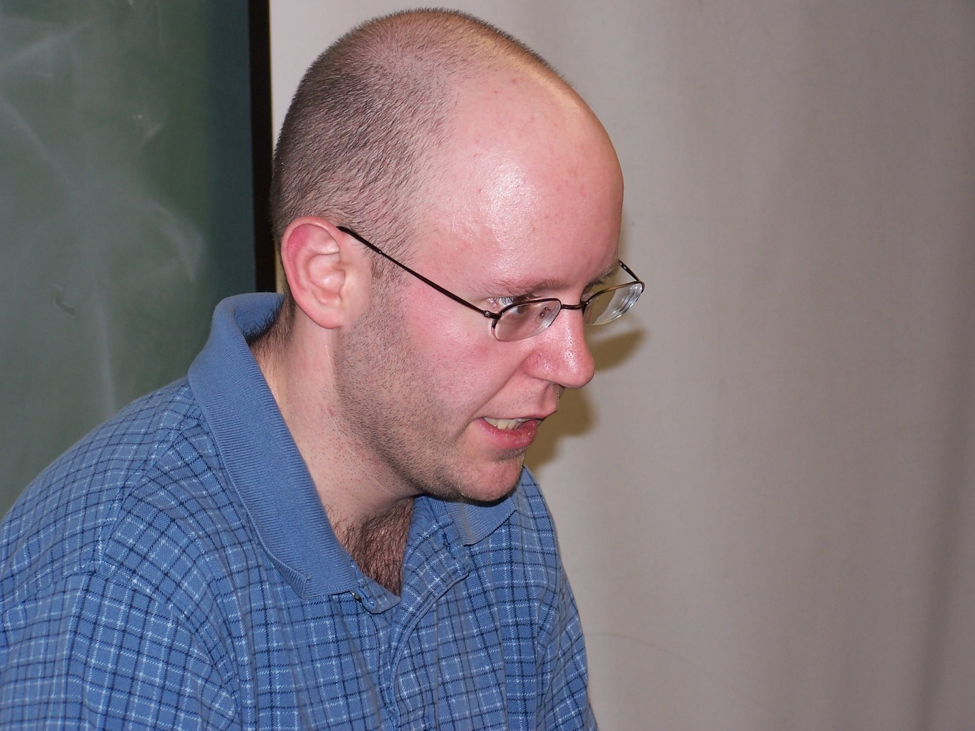 As a student, Jennings, a Ravenswood, WV native, learned to use Geographic Information Systems (GIS) software, a skill that would later land him a career in state government. He was an active member of the Geography Club from 2001 through 2005, holding every office in the club. His career received a jump start due to his participation in the West Virginia Governor's Internship Program during the summer of 2004. He received graduate credit for the experience and an opportunity to learn real-world skills at the WV Health Care Authority. His internship turned into a full-time job with the agency.
The average salary range as a GIS Programmer Analyst in his field is $31,000-$58,000/year. His primary duties include designing, refining, and maintaining spatial and non-spatial databases and operating a multi-tier healthcare GIS for mapping and analysis. He additionally recommends hardware and software purchases, produces maps and displays, presents his work at conferences, and develops and implements health care provider and facility surveys. He serves as a liaison between his department and other agencies to help identify GIS project needs, obtaining data, developing and analyzing the project and communicating project results.
---
Rick Lawson: BA in Geography, 1997 | MA in Geography, 2001
Sales and Marketing Coordinator, Environmental Systems Research Institute (ESRI), Inc.
Ric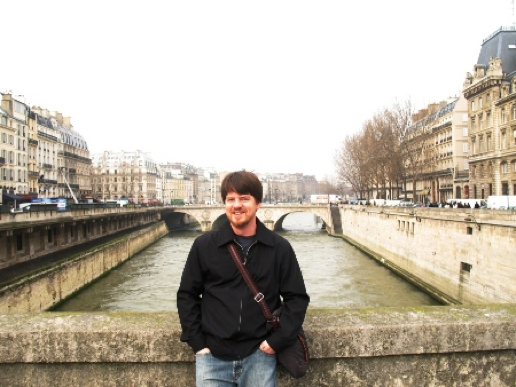 k handles all sales and marketing for the State of West Virginia at the world's largest Geographic Information Systems (GIS) software vendor based in Redlands, California. His responsibilities include client visits, exhibits and presentations at trade shows and conferences, and keeping abreast of the ESRI product line (a full-time job itself).
Rick graduated from George Washington High School in his hometown of Charleston, West Virginia. Although he began his career working for Mr. Donut, bigger things awaited him when he came to Marshall University's Geography Department.  While earning his Bachelor's Degree in 1997 and Master's Degree in 2001, he developed his interests in human geography and urban/regional planning. His favorite geographer is Yi-Fu Tuan.
Mr. Lawson accepted his first geography-related position with the City of Huntington's Planning Department while a student at Marshall. He also worked for a consulting firm in Charleston before he accepted his current position with ESRI in 2001.  The key qualification for the job—his Master's Degree in Geography.
---
Frank Chu: MS in Geography, 2006
Geographic Information Systems (GIS) Project Manager, National Taiwan Normal University in Taipei, Taiwan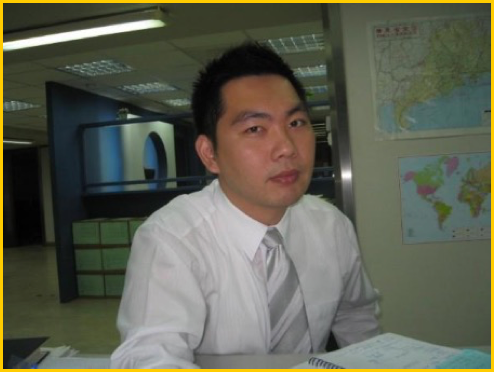 ---