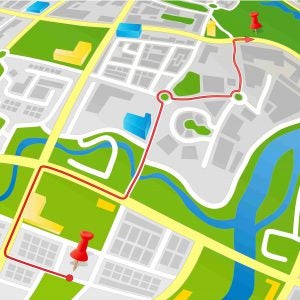 Find your place in this world with an online geography degree! You can finish your bachelor's degree in geography 100% online at Marshall University!  Transfer credits that you've already earned at other schools.  Learn from anywhere, on your schedule. With online courses, you never need to come to campus. You can work from the comfort of your home. Our degrees are fully accredited by the Higher Learning Commission. Marshall University accepts transfer credits from accredited institutions of higher education. You'll not find a more affordable, fully accredited program anywhere!  We are ranked #1 Most Affordable Bachelor's in Geography Online for 2019 by Great Value Colleges website. Ranked among GISDegree.org's top 5 online bachelor's programs in GIS, Marshall University is the most affordable top-ranked school.
Courses in this online geography degree program include geographic information systems (GIS), global environmental issues, meteorology, world regions, and human geography. As a student, you will earn a well-rounded education that emphasizes communication skills (including written and oral communication), understanding the physical environment, global cultures, and the latest geospatial technology.
Career Outlook
Upon graduation, you'll be prepared to pursue or advance your career in a variety of positions such as geospatial information analysis, natural resource management, city planning, geographic education, and environmental protection. Learn to grow. Learn to thrive. Learn to Succeed.
Students take classes in our online geography degree program from states as far away as Florida and California. West Virginia students who can't come to campus also enroll in our online courses.  Are you a working professional?  No problem!  By taking your courses online, you'll be able to earn your degree at your own pace while still fulfilling your work and family commitments.
Bachelor of Arts or Bachelor of Science?
Our BS degree emphasizes physical geography, such as environment or climate, and GIS (Geographic Information Systems).  The BA degree emphasizes human geography, such as cultures or economic geography, including foreign language study.   Courses are designed using the latest technology tools by the same faculty members who teach on campus. All Geography full-time faculty members have Ph.D.'s in the field, so you will be learning from highly trained, experienced researchers and teachers.
You'll have the full support resources of Marshall while pursuing a bachelor's degree in geography online: libraries, Writing Center, technical support, career services, and much more. See http://www.marshall.edu/muonline. A Geography faculty member will serve as your adviser to help you meet all requirements and answer questions about the program. We work with you to customize your learning experience and help you graduate on your schedule.
Transfers
Community College/Transfer students like our program because they may have completed some general education requirements already. General education includes subjects like math, science, English, and communications. Some students also have geography credits that can count as electives toward the department requirements. You could transfer as many as 72 credit hours to Marshall. Open up exciting new career opportunities with a complete bachelor's degree from Marshall.
We offer all required Geography courses to complete your degree online.  Many online courses are also available to meet general education and College of Liberal Arts requirements at Marshall.  Check with an advisor in the Geography Department for more details.
See the latest Undergraduate Catalog for more complete information about degree requirements. To get started in the online geography degree completion program, apply online. The Admissions Office will evaluate your previous college coursework and let you know what transfers to Marshall. At the same time, you can contact a Geography Department advisor for help charting your online bachelor's degree completion. We are happy to answer your questions and help you enroll.