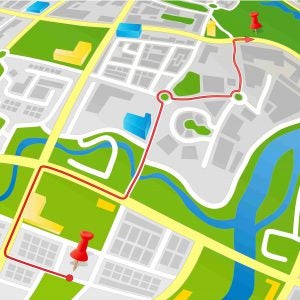 Find your place in this world with an online geography degree! You can finish your bachelor's degree in geography 100% online at Marshall University!  Transfer credits that you've already earned at other schools.  Learn from anywhere, on your schedule. With online courses, you never need to come to campus. You can work from the comfort of your home. Our degrees are fully accredited by the Higher Learning Commission. Marshall University accepts transfer credits from accredited institutions of higher education. You'll not find a more affordable, fully accredited program anywhere!  We are ranked #1 Most Affordable Bachelor's in Geography Online for 2019 by Great Value Colleges website.
Quick facts:
Total credit hours: 120
Total geography credit hours: 39-45
Start dates: January, May, August
Courses in this online geography degree program include geographic information systems (GIS), global environmental issues, meteorology, world regions, and human geography. As a student, you will earn a well-rounded education that emphasizes communication skills (including written and oral communication), understanding the physical environment, global cultures, and the latest geospatial technology.
Career Outlook
Upon graduation, you'll be prepared to pursue or advance your career in a variety of positions such as geospatial information analysis, natural resource management, city planning, geographic education, and environmental protection. Learn to grow. Learn to thrive. Learn to Succeed.
Students take classes in our online geography degree program from states as far away as Florida and California. West Virginia students who can't come to campus also enroll in our online courses.  Are you a working professional?  No problem!  By taking your courses online, you'll be able to earn your degree at your own pace while still fulfilling your work and family commitments.
Bachelor of Arts or Bachelor of Science?
Our BS degree emphasizes physical geography, such as environment or climate, and GIS (Geographic Information Systems).  The BA degree emphasizes human geography, such as cultures or economic geography, including foreign language study.   Courses are designed using the latest technology tools by the same faculty members who teach on campus. All Geography full-time faculty members have Ph.D.'s in the field, so you will be learning from highly trained, experienced researchers and teachers.
You'll have the full support resources of Marshall while pursuing a bachelor's degree in geography online: libraries, Writing Center, technical support, career services, and much more. See http://www.marshall.edu/muonline. A Geography faculty member will serve as your adviser to help you meet all requirements and answer questions about the program. We work with you to customize your learning experience and help you graduate on your schedule.
Transfers
Community College/Transfer students like our program because they may have completed some general education requirements already. General education includes subjects like math, science, English, and communications. Some students also have geography credits that can count as electives toward the department requirements. You could transfer as many as 72 credit hours to Marshall. Open up exciting new career opportunities with a complete bachelor's degree from Marshall.
We offer all required Geography courses to complete your degree online.  Many online courses are also available to meet general education and College of Liberal Arts requirements at Marshall.  Check with an advisor in the Geography Department for more details.
Summary of Online Geography Degree Requirements:
Apply Now!
Do you have what it takes?
To be successful in a 100% online learning environment, you should be:
Self-motivated, independent learner with good time management skills
Comfortable with technology and communicating in a virtual environment
For technology (GIS/RS) courses, you need to access a PC running Windows with these minimum specifications
See the latest Undergraduate Catalog for more complete information about degree requirements. To get started in the online geography degree completion program, apply online. The Admissions Office will evaluate your previous college coursework and let you know what transfers to Marshall. At the same time, you can contact a Geography Department advisor for help charting your online bachelor's degree completion. We are happy to answer your questions and help you enroll.
MUOnline is the real deal in Higher Education!
Over 150 online courses are offered each term taught by Full-time Marshall professors
Access to course resources anytime from any place; Blackboard technical support provided 24/7 via chat, phone, or email
Distance students can obtain their entire degrees completely online and are eligible for a distance tuition and fee rate regardless of residency status that is similar to in-state. Scroll down to view "DISTANCE" fees on this page: http://www.marshall.edu/tuition/
An array of student support resources are also provided online such as advising, career services, admissions, financial aid, the Writing Center, access to the library/librarians and more! http://www.marshall.edu/muonline/student-resources/campus-services/
Online Courses follow the Quality Matters rubric and comply with the eight essential standards for course development and delivery.
Student testimonial Christopher Poitras is an online student working toward a Bachelor of Science in Geography, and Meteorology degree.
"Taking online courses was an obvious option for me, because I had to maintain a part time job that
does not have set hours," Poitras said. "Maintaining a bachelor in-person would be nearly impossible. I volunteer at the Wx Centre. Here I create forecasts, news, videos and more all while learning the ropes of the business from my Marshall University courses, and my boss at the Wx Centre!"
"I am from Calgary, Alberta, Canada, and as well as visiting most of Canada, I have visited three states in the U.S., having visited Florida twice. Of course I do plan to visit West Virginia, specifically Huntington!"
Is an online Geography degree from Marshall for you?
Do you want an exciting careers in high-demand fields such as GIS, Meteorology, or spatial analysis?  Check out ouralumni success stories
Do you have an associate's degree and would like to build on that foundation? Marshall University accepts transfer credits from accredited institutions of higher education and we have several 2+2 agreements with community colleges
Did you start college but never finish?  Transfer those credits to Marshall and get your bachelor's degree online in Geography.
Have no background in Geography?  No worries.  You can begin the program without previous Geography experience or coursework.
Are you just graduating high school?  You can complete your BS degree in Geography 100% online using courses from Marshall University.  (Note:  For the BA in Geography, you must complete your foreign language requirement at another institution.)