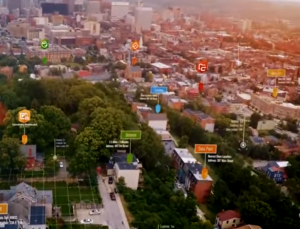 Ready to move to the next level? Change career directions? Continuing education or teacher certification?  Earn your master's of arts (MA) degree in geography 100% online from Marshall University!
Flexible schedule.  Learn from anywhere. With online courses, you never need to come to campus. You can work from the comfort of your home.
Fully accredited by the Higher Learning Commission.
All required Geography courses to complete your degree are offered online.
Learn the latest geospatial technologies – GIS and Remote Sensing.
Flexible curriculum – you choose your elective courses (with help from an advisor) in addition to the core courses.
Transfer credits that you've already earned at other schools.
Start the program in summer, fall, or spring, whenever you are ready!
No matter your location, you can earn your online geography degree (MA) at Marshall.  Family and work obligations?  No problem and no need to show up in a classroom.  Your academic advisor will be a Geography faculty member to help you meet all requirements and answer questions about the program. We work with you to customize your learning experience and help you graduate on your schedule. You'll not find a more affordable, fully accredited program anywhere!
This broad program offers physical and human geography, geospatial information systems, and geographical research to prepare you for a plethora of career fields such as Geographic Information Systems (GIS), Cartography, Environmental Science, Planning and Development, Business/Marketing Location, Natural Resource Management, and Geographic Education.
Courses are designed and taught using the latest technology tools by Geography full-time faculty members who have Ph.D.'s in the field.   Access the full support resources of Marshall while pursuing a master's degree in geography online: software licenses (e.g., ArcGIS, ERDAS Imagine), research libraries, English Writing Center, information technology support, and career services/JobTrax. See http://www.marshall.edu/muonline for more information.
Geography Core Courses:
Any GEO GIScience course, typically GEO523 Cartography and GIS – 3 credits (fall/spring/summer) or GEO526 Principles of GIS – 4 credits (fall/spring/summer)
GEO540 Spatial Statistics and GIS – 4 credits (spring)
GEO601 Colloquium in Geography – 1 credit (fall)
GEO615 Geographic Thought – 3 credits (fall)
GEO616 Geographical Research Methods – 3 credits (spring)
GEO679 Portfolio and Career Profile – 4 credits (spring/summer)
In addition to completing the core, choose from the following available online courses:
GEO502 Appalachia – 3 credits (every other fall)
GEO504 Europe – 3 credits (summer)
GEO508 Middle and South America – 3 credits (summer)
GEO522 Environmental Geography – 3 credits (every other spring)
GEO523 Cartography and GIS – 3 credits(fall)
GEO524 Transportation Geography – 3 credits (every other fall)
GEO525 Climatology – 4 credits (every other fall)
GEO529 Location Analysis – 4 credits (every other fall)
GEO531 Remote Sensing and Photogrammetry – 4 credits (spring)
GEO560 Weather Analysis – 4 credits (every other fall and summer)
GEO607 Economic Development – 3 credits (every other fall)
GEO617 Seminar: Sustainable Transportation – 3 credits (every other fall)
GEO618 Seminar: Weather – 3 credits (summer)
GEO620 Topics in Environmental Geography* – 3 credits (every other spring)
GEO623 Regions of North America – 3 credits (summer)
GEO690 Internship in Geography – 3 credits (spring/summer/fall)
The Master of Arts in Geography (M.A.) requires 34 credit hours, 17 of which must be at the 600-level.
*This course will require synchronous online attendance up to once per week.
Do you have what it takes?
To be successful in a 100% online learning environment, you should be:
Self-motivated, independent learner with good time management skills
Comfortable with technology and communicating in a virtual environment
For technology (GIS/RS) courses, you need to access a PC running Windows with these minimum specifications
See the latest Graduate Catalog for more complete information about degree requirements. To get started in the online geography degree completion program, apply online.
MUOnline is the real deal in Higher Education!
Over 150 online courses are offered each term taught by Full-time Marshall professors
Access to course resources anytime from any place; Blackboard technical support provided 24/7 via chat, phone, or email
Distance students can obtain their entire degrees completely online and are eligible for a distance tuition and fee rate regardless of residency status that is similar to in-state. Scroll down to view "DISTANCE" fees on this page: http://www.marshall.edu/tuition/
An array of student support resources are also provided online such as advising, career services, admissions, financial aid, the Writing Center, access to the library/librarians and more! http://www.marshall.edu/muonline/student-resources/campus-services/
Online Courses follow the Quality Matters rubric and comply with the eight essential standards for course development and delivery.