Geographers seek to understand 'why' things vary from place to place and 'how' their spatial distributions change over time, employing the latest Geospatial Information Science (GIScience) technologies in addition to traditional social science tools. In other words, our students become professionals who do not merely 'know' geography, they practice it. Our students learn as geographers to elucidate and address key challenges ranging from economic development, globalization, and territorial conflict to environmental sustainability, land use and natural resource management.  Geography bridges the natural and social sciences, as well as the STEM disciplines.
Where Can a Geography Degree Take You?

Geography equips you for career opportunities across  both the public and private sectors. For example, the US Bureau of Labor Statistics predicts that demand for trained GIS professionals and atmospheric scientists will grow faster than average over the next decade.
Fields open to you include:
Geographic Information Systems (GIS) Professions
Atmospheric science
Natural Resource Management
Economic Development
Environmental Conservation
Cartography
International Business
Regional and Urban Planning
See some of the careers in which our graduates are employed and learn more about the jobs you can pursue.
---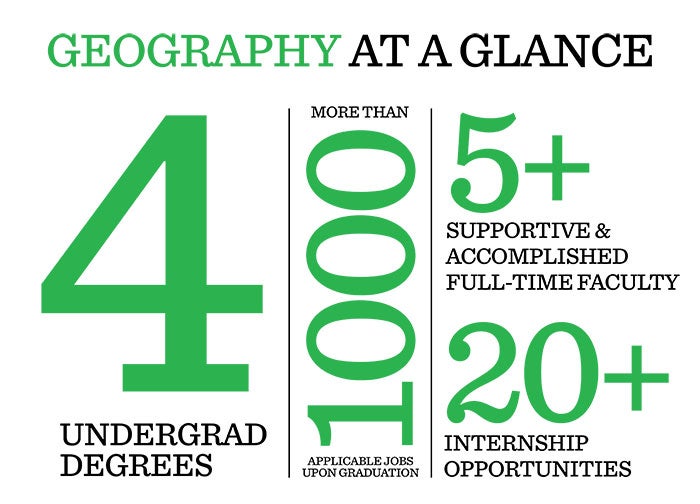 The Geography Department offers high quality undergraduate and graduate programs focused on building life-long critical thinking, technical, and practical skills for students to succeed as professionals in today's competitive job market, while simultaneously contributing to the University's general education mission to produce broadly educated citizens capable of living and working effectively in a global environment.