Make your career dreams a reality… with a Geography degree!
A Geography degree prepares you for a fulfilling life.
Geographers seek to understand why things vary from place to place and how their distributions change over time. We use the latest Geospatial Information Science and Technology, Remote Sensing, and unmanned aerial vehicles (drones) as well as traditional social science and natural science analysis. While you earn your Geography degree, you become a professional who does not merely "know" geography, you practice it. Geographers address key challenges of society such as economic development, globalization, and territorial conflict. Geographers also tackle human-environment challenges such as severe weather, climate change, sustainability, land use, and natural resource management. Geography bridges the natural and social sciences, as well as the STEM disciplines.
See what students and alumni say about their experiences as a Geography major at Marshall University.
Major in Geography
Choose a Geography degree, then…
Apply
Earn your bachelor's degree in geography in the classroom or 100% online. Want to go farther? Get your master's degree in geography (also available 100% online).
You can also transfer your college credits to Marshall and finish your geography degree at Marshall University, home of The Thundering HERD!
Geography equips you for careers in both the public and private sectors. For example, the US Bureau of Labor Statistics predicts that demand for trained GIS professionals and atmospheric scientists will grow faster than average over the next decade.
Fields open to you include:
Geographic Information Systems (GIS) Professions
Atmospheric science / Meteorology
Natural Resource Management
Economic Development
Environmental Conservation
Cartography
International Business
Regional and Urban Planning
Information Technology
See recent graduates and their careers. Learn more about the jobs you can pursue.
"I liked the way you approached my applying and enrolling at Marshall. You were supportive but not pushy. Encouraging but never overbearing. I appreciated that. It's probably the #1 reason I decided to apply and attend Marshall." ~ Robert Carcel, 2020
Geography degrees available at Marshall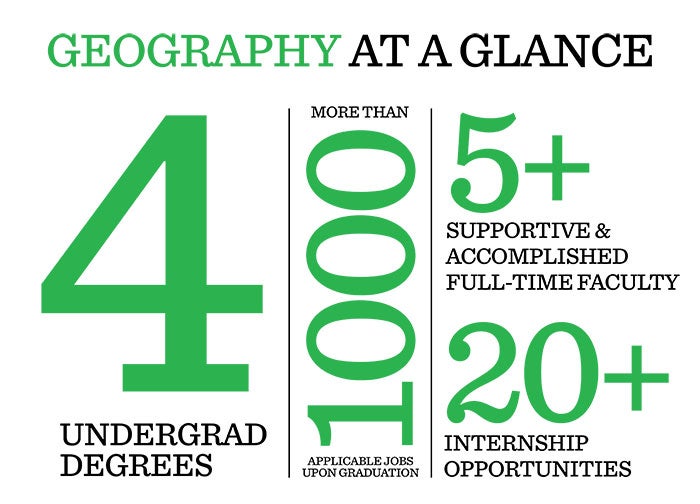 Where can a Geography Degree take you?
The Geography Department offers high quality geography degree programs. A geography degree from Marshall provides life-long critical thinking, technical, and practical skills. Furthermore, the Geography Department contributes to the University's general education mission to produce broadly educated citizens capable of living and working effectively in a global environment. As a result, graduates of our programs succeed as professionals in today's competitive job market.
Did you Know?
According to the U.S. Department of Labor, geographers in 2020 earned a median of $85,430 per year; Cartographers and Photogrammetrists earned $68,380 per year; Atmospheric Scientists, Including Meteorologists earned $99,740 per year; Urban and Regional Planners earned $75,950 per year.