iPED: Inquiring Pedagogies
Fall Conference on Teaching and Learning
Tuesday, August 15, 2017 | Marshall University, Huntington, WV
Deadline to submit proposals: May 15, 2017
---
2017 Theme:
Teaching and Learning for a Civil Society
In 1947, the President's Commission on Higher Education wrote "the first and most essential charge upon higher education is that at all levels and in all its fields of specialization, it shall be the carrier of democratic values, ideals, and process" (President's Commission on Higher Education, Higher Education for American Democracy, p. 102). Even though sixty years have passed, higher education continues to embrace and promote the following (A Crucible Moment, 2012):
Civic ethos

governing campus life. The infusion of democratic values into the customs and habits of everyday practices, structures, and interactions; the defining character of the institution and those in it that emphasizes open-mindedness, civility, the worth of each person, ethical behaviors, and concern for the well-being of others; a spirit of public-mindedness that influences the goals of the institution and its engagement with local and global communities.

Civic literacy

as a goal for every student. The cultivation of foundational knowledge about fundamental principles and debates about democracy expressed over time, both within the United States and in other countries; familiarity with several key historical struggles, campaigns, and social movements undertaken to achieve the full promise of democracy; the ability to think critically about complex issues and to see and evaluate information about issues that have public consequences.

Civic inquiry

integrated within the majors and general education. The practice of inquiring about the civic dimensions and public consequences of a subject of study; the exploration of the impact of choices on different constituencies and entities, including the planet; the deliberate consideration of differing points of views; the ability to describe and analyze civic intellectual debates within one's major or areas of study.

Civic action

as lifelong practice. The capacity and commitment both to participate constructively with diverse others and to work collectively to address common problems; the practice of working in a pluralistic society and world to improve the quality of people's lives and the sustainability of the planet; the ability to analyze systems in order to plan and engage in public action; the moral and political courage to take risks to achieve a greater public good.
Additionally, A Crucible Moment (2012) offers a framework (see Figure below) for civic learning in the 21st century that emphasizes the importance of a knowledge base, skills, values, and collective action (p. 4).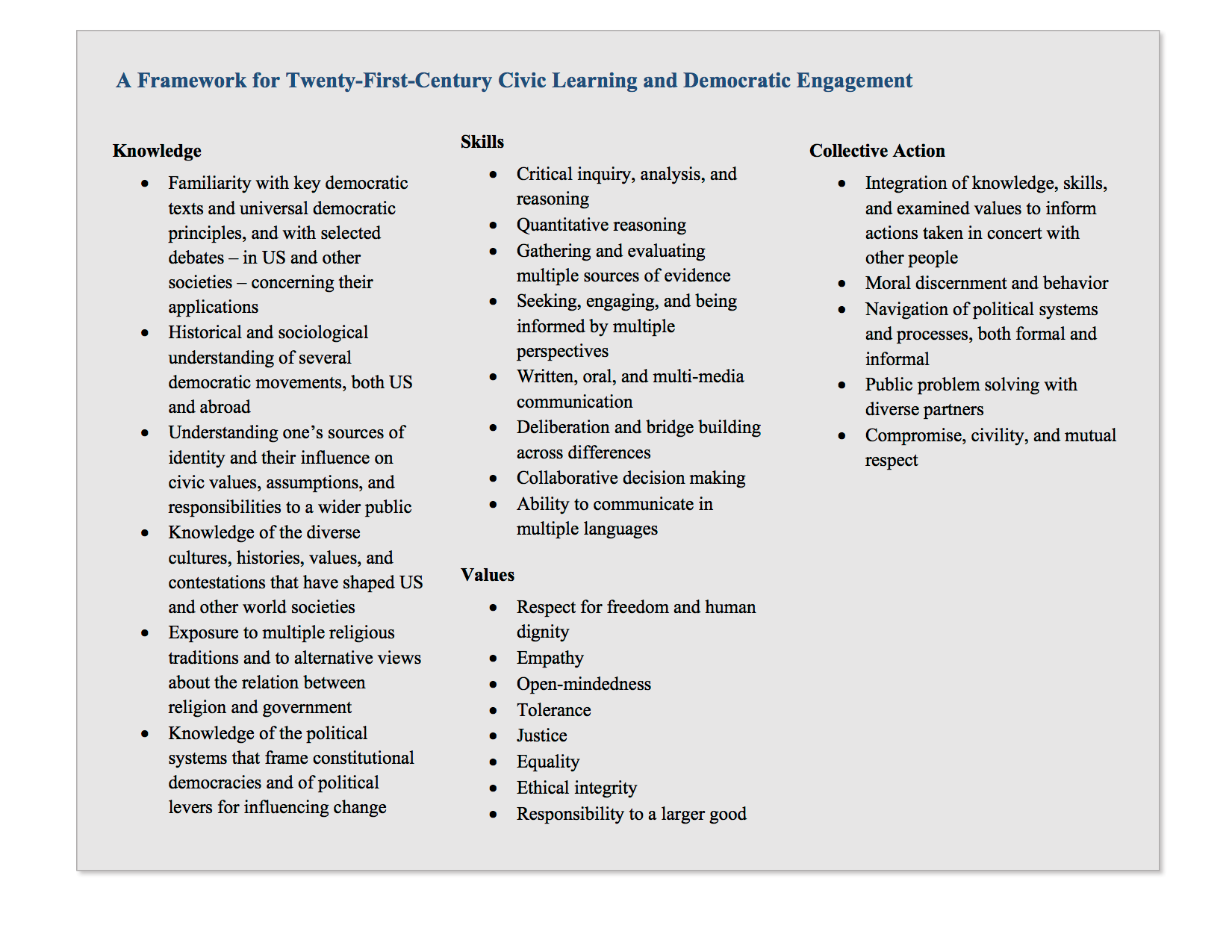 More importantly is the notion that
No longer is civic learning restricted to political science, history, or communication. Nor can any of those disciplines complacently prepare students for a 21st century world using 20th century conceptual disciplinary frameworks (Musil, 2015, p. 5).
The theme of this year's conference invites Marshall faculty to think deeply about the relationships between our disciplinary, institutional, and individual identities and practices in the context of a 21st century framework. We seek proposals related to the conference theme, particularly those that spark conversations about, or provide examples of, the knowledge skills, values, and collective action that make up a framework for teaching in the 21st century. General areas of interest include, but are not limited to:
What does it mean to be a civic-minded campus?
What are some ways to promote a civic ethos, civic literacy, civic inquiry, or civic action in our work with students and colleagues?
Where and when do students have opportunities to engage in the skills associated with civic learning?
How do we support students in the development of civic-minded values?
What kinds of opportunities exist for student engagement in community-based experiences that are specifically tied to an academic course (e.g., community service, action research, or social action projects)?
How is our core curriculum promoting the development of a civic ethos, civic literacy, civic inquiry, or civic action?
Session Types/Proposal Submission
To submit a proposal, click on the session type below to open the submission form for that type of session:
Deadline to submit proposals: May 15, 2017
References:
Musil, C. M. (2015). Civic prompts: Making civic learning routine across the disciplines. Washington, DC: Association of American Colleges and Universities.
President's Commission on Higher Education. 1947. Higher Education for American Democracy, Vol. 1, Establishing Goals. Washington, DC: Government Printing Office.
The National Task Force. 2012. A Crucible Moment: College Learning and Democracy's Future. Washington, DC: Association of American Colleges and Universities.