The mission of the Center for Teaching and Learning (CTL) is to empower faculty in their teaching and research by cultivating a campus culture that values pedagogical, disciplinary, and program-based inquiry in support of student learning. More specifically, CTL provides opportunities for faculty to develop and engage with the instruments of teaching and learning (e.g., curricula and pedagogy) and the processes of teaching and learning (e.g., data-driven teaching strategies, reflective and metacognitive practices). In addition to professional development opportunities, the center administers the annual faculty awards, conducts classroom observations, directs a New Faculty Orientation program, hosts an annual teaching conference, and maintains a library of resource books related to a variety of teaching and learning topics.
Housed within CTL are the Writing Across the Curriculum program, the Community-Based Learning program and the CORTEX Center.
The work of the Center is organized around a framework of
engaged scholarship
. With this model, we focus on what faculty
do.
In other words, we develop and host professional development opportunities that support teaching, research and creative activity, community engagement and the relationships among those three that make faculty more engaging and effective teachers, researchers, and citizens.
Engaged Scholarship Model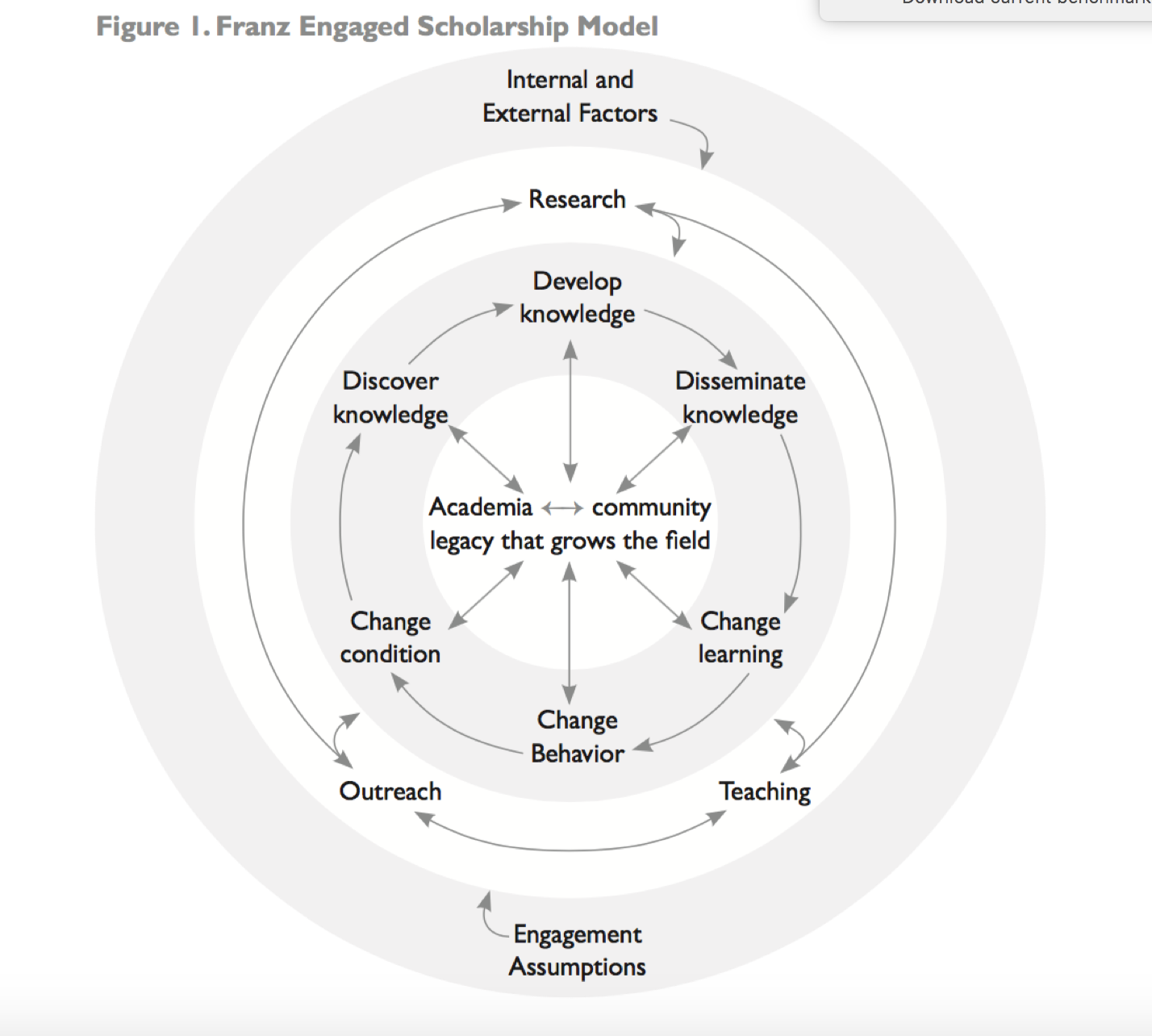 Research (Discover Knowledge & Develop Knowledge): SoTL, Boot Camp, DASA Awards, Hedrick Outstanding Faculty Award, Hedrick Program Grant, Undergraduate Research (CUREs & TIME)
Teaching (Disseminate Knowledge & Change Learning): Critical Thinking Workshop, First Year Seminar Institute, Community-Based Learning Workshops, Writing Across the Curriculum Retreat/Workshops, Teaching Consultations, Reynolds Outstanding Teacher Award, Pickens-Queen Teacher Awards, Council of Chairs Award for Excellence in Teaching, Adjunct Faculty Forums
Community Engagement (Change Behavior & Change Conditions): Community-Based Learning, Curricular Community Engagement, Co-Curricular Community Engagement
---
Franz, N.(2009). A holistic model of engaged scholarship: Telling the story across higher education's missions. Journal of Higher Education Outreach and Engagement, 13(4), 31-50.