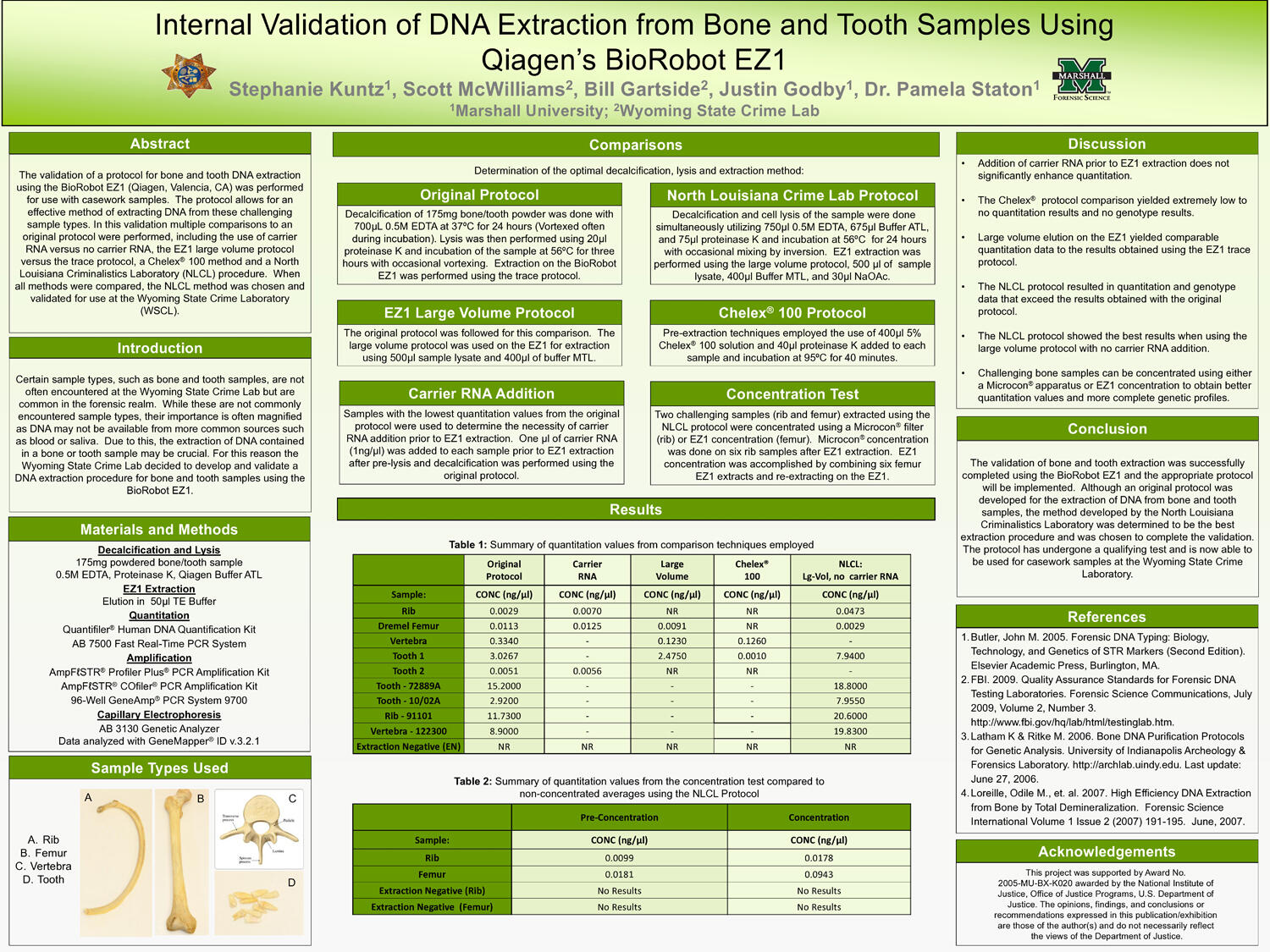 Internal Validation of DNA Extraction from Bone and Tooth Samples Using Qiagen's BioRobot EZ1
Biography:
Stephanie Kuntz is from Wheeling, WV.  She attended Marshall University from which she received her BS degree in Forensic Chemistry with a minor in Criminal Justice.  Currently, Stephanie is enrolled in the Marshall University Forensic Science Graduate Program seeking emphases in DNA Analysis and Computer Forensics.  During the summer of 2010 she worked with the Wyoming State Crime Laboratory validating their BioRobot EZ1's for DNA extraction from bone and tooth samples.
Abstract:
The validation of a protocol for bone and tooth DNA extraction using the BioRobot EZ1 (Qiagen, Valencia, CA) was performed for use with casework samples.  The protocol allows for an effective method of extracting DNA from these challenging sample types. In this validation multiple comparisons to an original protocol were performed, including the use of carrier RNA versus no carrier RNA, a Large Volume protocol versus Trace protocol, a Chelex® 100 method and a North Louisiana Criminalistics Laboratory (NLCL) procedure.  When all methods were compared, the NLCL method was chosen and validated for use at the WSCL (Wyoming State Crime Laboratory).
Poster: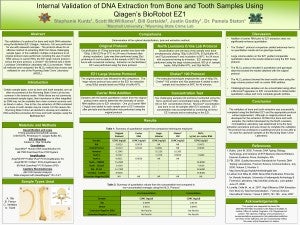 References:
Butler, John M. 2005. Forensic DNA Typing: Biology, Technology, and Genetics of STR Markers (Second Edition). Elsevier Academic Press, Burlington, MA.
FBI. 2009. Quality Assurance Standards for Forensic DNA Testing Laboratories. Forensic Science Communications, July 2009, Volume 2, Number 3. .
Latham K & Ritke M (2006). Bone DNA Purification Protocols for Genetic Analysis. University of Indianapolis Archeology & Forensics Laboratory. http://archlab.uindy.edu. Last update: June 27, 2006.
Loreille, Odile M., et. al. 2007. High Efficiency DNA Extraction from Bone by Total Demineralization.  Forensic Science International Volume 1 Issue 2 (2007) 191-195.  June, 2007.