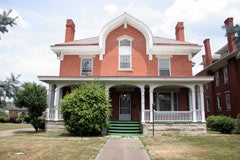 As part of its continuing efforts to provide the best in forensics education and training, the Marshall University Forensic Science Center is pleased to announce its acquisition of a mock crime scene facility for use by our students and trainees. This large home was purchased by Marshall University and reconditioned by MUFSC to provide a state-of-the-art educational experience for our students and trainees. The facility is located just off campus providing easy access to students and faculty.
Proper handling of a crime scene is a critical skill for all forensic scientists and not just crime scene investigators. Crime scene analysis promotes critical thinking skills and proper evidence handling techniques which can be taken from the scene and into the lab. The crime scene house applies to all three emphases stressing the collection of DNA, forensic chemistry, and digital evidence.
MUFSC firmly believes that students learn best through the hands-on application of principles taught in the classroom. The crime scene house gives students the opportunity to experience what a CSI experiences when arriving at the scene of a crime. They are taught important principles including entry procedures, photography, evidence documentation and collection, latent fingerprint development techniques, blood spatter pattern analysis and many other aspects of crime scene investigation. By providing a first-hand look at the procedures followed by crime scene personnel our faculty can better illustrate the concepts of corresponding lectures.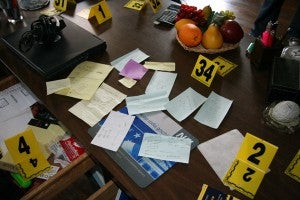 The crime scene house is comprised of three stories and a large unfinished basement. The entire first floor of the house is wired with closed circuit audio and video equipment that can be recorded and monitored, which gives instructors a unique method for critique. In addition to the main house, the property contains a large garage with a two bedroom apartment, a pond and gazebo, and a large side yard for conducting grid searches and large mock crime scenes. Held on the first floor of the house is a student laboratory containing crime scene investigation equipment, which facilitates research in crime scene related topics such as latent fingerprints, footwear impressions, and forensic photography. This area is also used for laboratory practical exercises and demonstrations.
Access to the crime scene house also allows us to provide valuable training for state and local law enforcement officers through the efforts of a cooperative agreement with the FBI and NIJ. Trainees gain a first-hand perspective on crime scene investigation and learn critical skills in site survey, documentation, and reconstruction, latent fingerprints, and footwear impression evidence. Other training that takes place at the house includes in-service training for local law enforcement and investigative personnel.
CSI: Huntington is a chance for a group of students to receive hands-on experience in the Forensic Science field. They will spend the day at the Crime Scene House and learn six aspects of Crime Scene Investigation. Click the CSI: Huntington link for more details.
Map & Directions
From Marshall University Forensic Science Center (To park in the back):
On Hal Greer Blvd go north, towards main campus
Turn left at the alley between 5th Avenue and 4th Avenue
It is the second house on the left
There is an area to park off to the left of the alley, behind the house
Click here for directions on Google Maps
MUFSC Crime Scene House
1524 5th Avenue
Huntington, WV 25703
304-399-1006