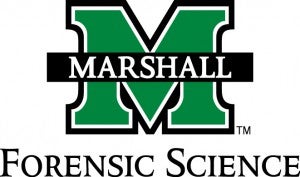 Admission Policy
Entrance into the Forensic Science Program is restricted to the fall semester only. Applicant materials should be submitted by March 1 to have the best chance for admission for the fall term. The program observes a rolling application policy so that individuals may apply at any time. Applicants are considered after the deadline if openings are available in the program. Students who apply by or before March 1 have a better chance of admission than those who apply after March 1; however, it is not uncommon for applicants to be notified throughout the year.
All application, admission, and degree-granting requirements and regulations shall be applied equitably to individual applicants and students regardless of age, sex, race, disability, religion, or national origin.
Admission Process & Requirements
To apply, visit Marshall's Graduate Admissions page
The complete application process includes:
1. Complete the Application for Graduate Admission.
2. Complete the Departmental Application PDF.
3. Financial Aid
Out of state students whose state does not offer a Forensic Science Graduate Program can qualify for the Academic Common Market.
4. Submission of formal transcript(s) documenting that the applicant has:
a. Completed a Bachelor's degree in a forensic or natural science, computer science, computer electronic or electrical engineering, information systems or information technology (or its equivalent coursework in a relevant field) from an accredited institution of higher learning.
b. Achieved an overall Grade Point Average of 3.0 or better.
c. Completed 1 academic year of biology and its associated labs with no grade of less than a C.
d. Completed 1 academic year of general chemistry and its associated labs with no grade of less than C.
e. Completed 1 academic year of organic chemistry and its associated labs with no grade of less than C.
f. Completed 1 academic year of physics and its associated labs with no grade of less than C.
g. It should be noted that successful completion of an undergraduate course in biochemistry is recommended, but not required, prior to entry into this program.
4. Graduate Record Exam (GRE): Applicants should achieve a score of 150 or higher on the verbal and quantitative sections and a score of 3.5 or higher on the analytical writing section (Based on the 2014/2015 Graduate Catalog).
5. Formal Letters
a. Applicant's Personal Statement providing reasons why he or she should be admitted to the Forensic Science Program.
b. 3 Letters of Recommendation on formal letterhead from individuals familiar with applicants' moral character, academic acumen and aptitude, integrity, and work ethic.
The Forensic Science Graduate program may admit applicants conditionally, for one term, pending receipt of final transcript.
Full admission to the program, once an offer is made, is also contingent on receipt of final official transcripts, successful completion of a background check, documentation of hepatitis B vaccination/titer or formal declination of vaccination, and receipt of other documentation required for enrollment.
All materials should be submitted to:
Graduate Admissions Office
Marshall University
100 Angus E. Peyton Drive
South Charleston, WV 25303-1600
Telephone: 1-304-696-4723
Do NOT send materials to the forensic science center.