A. Grade Point Average (GPA) Marshall University Forensic Science Program Average Incoming Undergraduate GPA versus Exit MSFS GPA
Graph A: This graph provides the average undergraduate GPA for students coming into the Forensic Science Program as well as the average GPA upon graduation from the Program.
A more precise numeric view of incoming and exit GPAs over the past 5 years can be seen by downloading: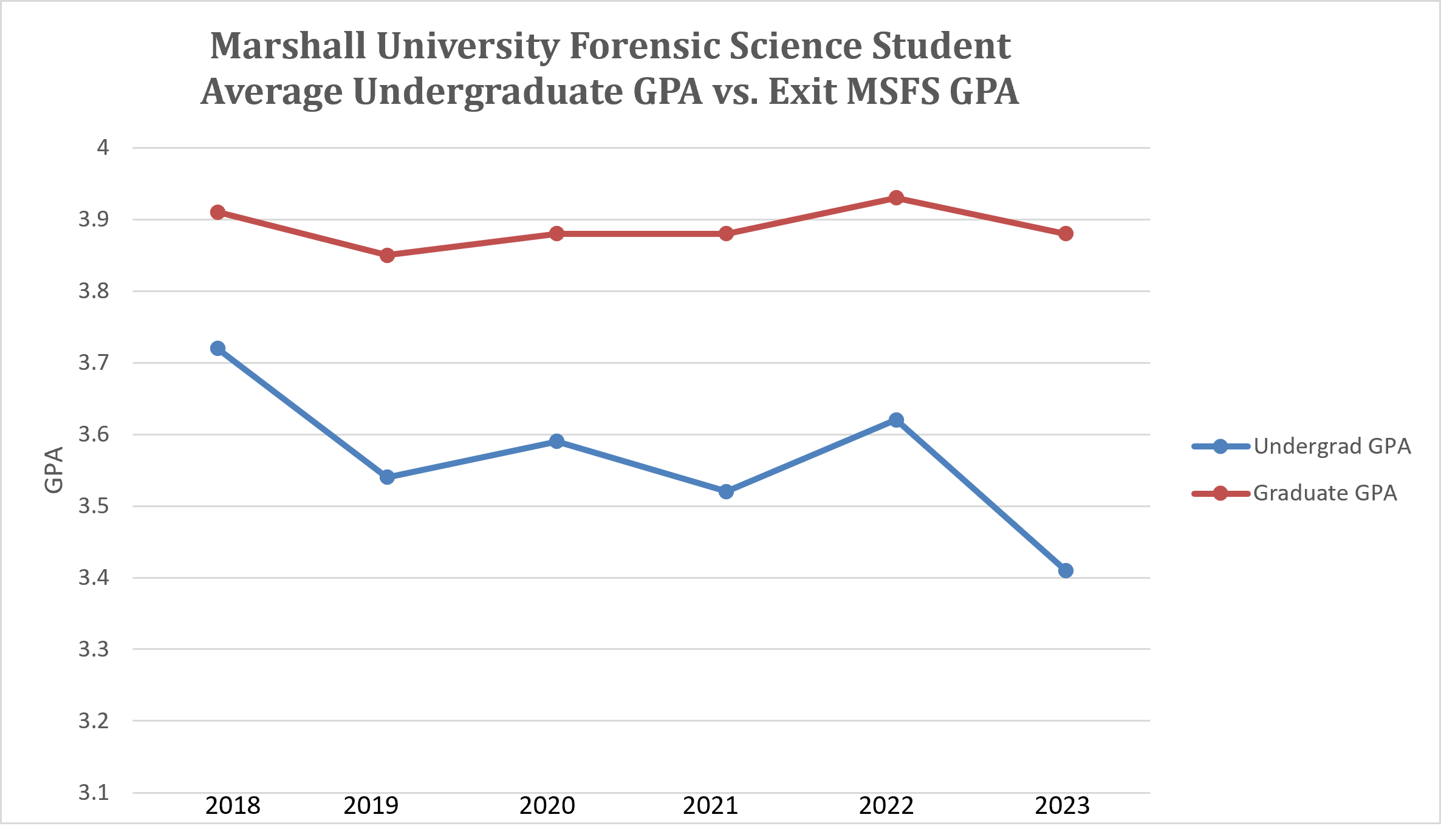 Graph A: Marshall University Forensic Science Student Average Undergraduate GPA vs. Exit MSFS GPA
B. Employment Statistics: Marshall University Graduate Employment Statistics
Individuals classified as having a Forensic Science job are those in the actual field of Forensic Science after graduation with respect to the relevancy of their degree obtained. Examples of this would be as follows: Laboratory or field work with forensic governmental agencies, private corporations, etc.
Table B: Employment Statistics 2023
C. Professional Development Marshall University Forensic Science Graduate Student Presentation at the American Academy of Forensic Sciences Annual Meeting or MAAFS Regional Meeting
nd – year students attending compared to the total number of students enrolled in the program for that year. "Percent Presenting" is based on the number of students who were selected to present a poster or podium presentation at the meeting compared to the total number of 2nd-years students in the Program.
2nd – year students have completed research projects to be eligible for national meeting presentation.
Important Note: 2021 shows 0 attendance due to Covid. Attendance from 2022 and 2023 include virtual attendance.
Graph C: Students at AAFS National or other Regional Meetings: Percentage (%) of Presenters and Attendees per Class per Year
D. Incoming Student GRE Score Averages
Graph D1 & D2: These graphs provide average GRE scores of applicants accepted into the MUFS graduate program for the past 5 years in the areas of verbal, quantitative, and writing.