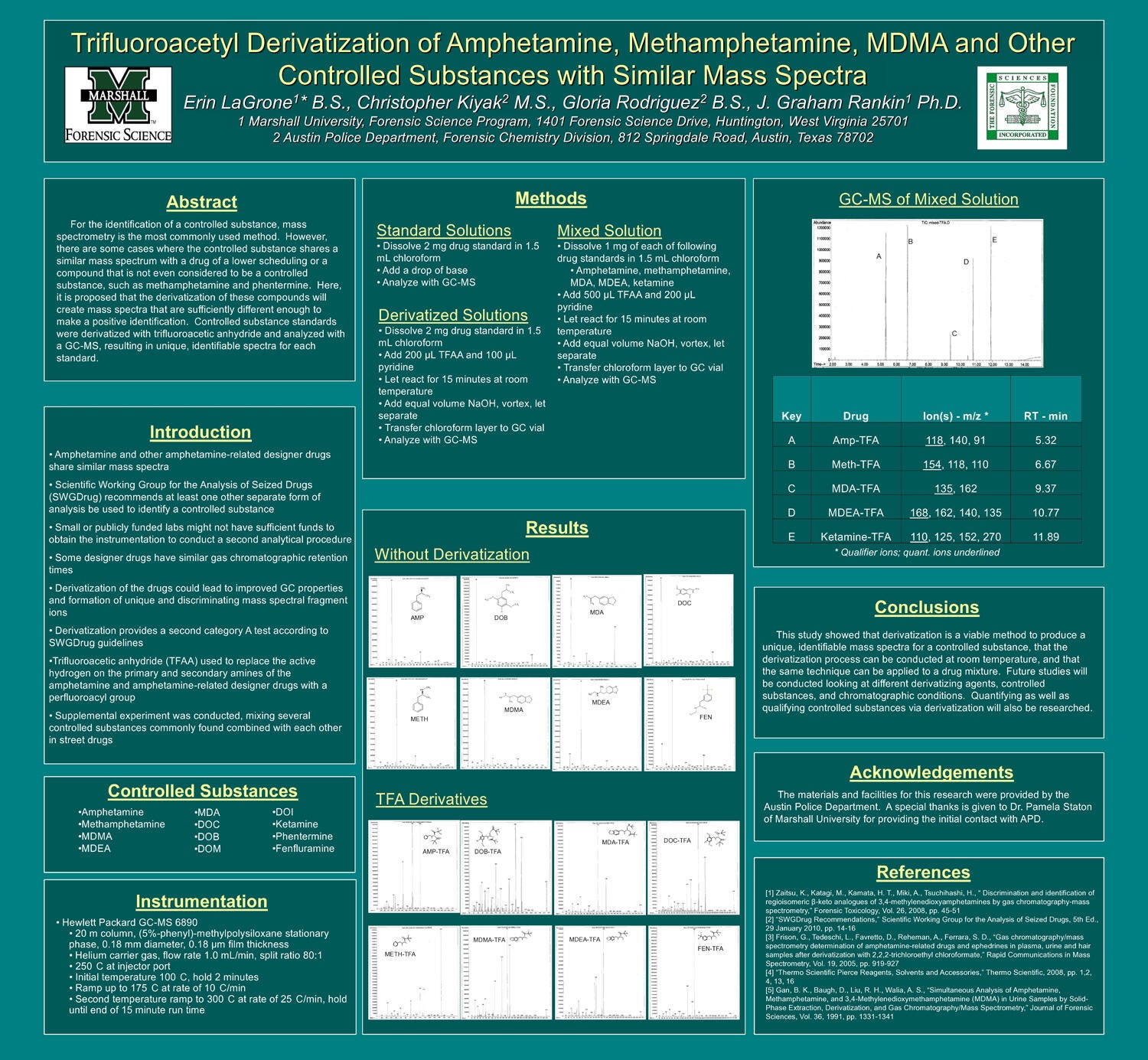 Trifluoroacetyl Derivatization of Amphetamine, Methamphetamine, MDMA and Other Controlled Substances with Similar Mass Spectra
Biography:
Erin Elizabeth LaGrone is from Katy, Texas, and she received her bachelor's degree in chemical engineering from Lamar University in Beaumont, Texas.  She will graduate this May with her master's degree in forensic science from Marshall University with emphases in forensic chemistry and crime scene investigation.  This past summer she interned with the forensic chemistry division of the Austin Police Department in Austin, Texas, where she conducted research in the derivatization of controlled substances.
Abstract:
 For the identification of a controlled substance, mass spectrometry is the most commonly used method.  However, there are some cases where the controlled substance shares a similar mass spectrum with a drug of a lower scheduling or a compound that is not even considered to be a controlled substance, such as methamphetamine and phentermine.  Here, it is proposed that the derivatization of these compounds will create mass spectra that are sufficiently different enough to make a positive identification.  Controlled substance standards were derivatized with trifluoroacetic anhydride and analyzed with a GC-MS, resulting in unique, identifiable spectra for each standard.
Poster: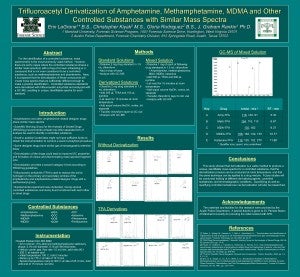 References:
Zaitsu, K., Katagi, M., Kamata, H. T., Miki, A., Tsuchihashi, H., " Discrimination and identification of regioisomeric β-keto analogues of 3,4-methylenedioxyamphetamines by gas chromatography-mass spectrometry," Forensic Toxicology, Vol. 26, 2008, pp. 45-51
 "SWGDrug Recommendations," Scientific Working Group for the Analysis of Seized Drugs, 5th Ed., 29 January 2010, pp. 14-16
Frison, G., Tedeschi, L., Favretto, D., Reheman, A., Ferrara, S. D., "Gas chromatography/mass spectrometry determination of amphetamine-related drugs and ephedrines in plasma, urine and hair samples after derivatization with 2,2,2-trichloroethyl chloroformate," Rapid Communications in Mass Spectrometry, Vol. 19, 2005, pp. 919-927
 "Thermo Scientific Pierce Reagents, Solvents and Accessories," Thermo Scientific, 2008, pp. 1,2, 4, 13, 16
Gan, B. K., Baugh, D., Liu, R. H., Walia, A. S., "Simultaneous Analysis of Amphetamine, Methamphetamine, and 3,4-Methylenedioxymethamphetamine (MDMA) in Urine Samples by Solid-Phase Extraction, Derivatization, and Gas Chromatography/Mass Spectrometry," Journal of Forensic Sciences, Vol. 36, 1991, pp. 1331-1341