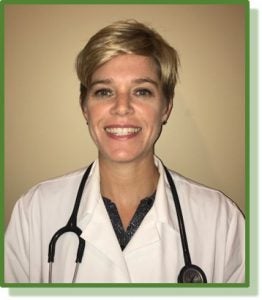 Kelly Yannizzi, '05– I graduated with a B.S. in Physics from Marshall in 2000. I subsequently attended medical school at Marshall from 2001 to 2005. I completed my first year of post graduate training at the National Naval Medical Center in Bethesda, MD in 2006. I then completed a nearly 4-year tour as a General Medical Officer with a US Marine Corps Unit based out of Beaufort, SC. During that time, I deployed to Iraq twice as a Senior Medical Officer in charge of 30+ Medical Officers and Corpsmen (medics). I also met and married my husband. I completed post graduate training in Family Medicine at Naval Hospital Camp Lejeune in Jacksonville, NC in 2012. Subsequently, I transferred to Millington, TN where I led a department of military and civilian medical staff in providing primary care to active duty and retired military service members as well as their families. I transitioned from an active duty Naval Officer to a reservist in 2015. I continue to practice Family Medicine in the Memphis, TN area.
I really enjoyed majoring in physics at Marshall. Having small classes directly led by approachable professors was a huge asset for me. The critical thinking skills that I developed during that time has served me well in virtually every role I've played since- physician, leader, investor, parent, homeowner, etc. I was a member of the Marshall University Tennis team and also enrolled in the Honors College as John Marshall Scholar throughout my undergraduate years. I was still able to achieve a great balance between my various academic and athletic responsibilities. And, yes, I still had plenty of time for fun! I would definitely recommend pursuing a physics degree to current and future Marshall students – the pursuit itself, as well as the result, would be quite rewarding.
Thank you,
Kelly Yannizzi MD (maiden name Kelly Peller)
---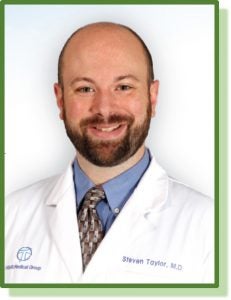 Steven Taylor '06 – I am currently a Family Medicine Physician at the HSHS Medical Group in O'Fallon IL. I completed medical school at the Marshall University JCE School of Medicine in May 2006, then Residency at the 375th Medical Group Scott AFB/Saint Louis University School of Medicine as a Chief Resident in 2013. Since then, I have served as a Major in the USAF and Medical Director of Langley Family Medicine. I have completed a deployment to Afghanistan in support of Operation Inherent Resolve/Freedom's Sentinel. I have now separated from active duty and joined a practice in O'Fallon Illinois for full scope outpatient Family Medicine. My lovely and brilliant wife, Megan Collins, and I met in the physics department at Marshall. Both of us became close with Dr. Oberly with his constant support of the department and I worked with Dr. Wilson in collaboration with the American Foundation for the Blind. ~ Steven Taylor, MD
Steven Taylor's career has been laced with over a dozen awards from his most recent the Air Force Meritorious Service & Air Force Commendation Medal (2017) to his earliest awards earned at Marshall, the Brigadier General Charles "Chuck" Yeager Scholarship at Marshall University and Sigma Pi Sigma Physics Honorary Member (2008).
---
Dear Alumni! Please let us know what you are up to!
If you have graduated from the Physics Department (or the once Department of Physics and Physical Sciences) in the BS program, Physics 9-Adult Comprehensive program, or the Master's program in Physical and Applied Science, please drop us a line a tell us what you are currently doing. We would also like to know how your experiences and interactions with the faculty and staff in the Department and/or College of Science (and/or your overall experience in general when you were here at Marshall) has influenced you and your current career. Please send any correspondence to: mcbrides@marshall.edu
---
Contact mcbrides@marshall.edu if you have trouble accessing the Physics Department website or experience errors. Questions about the content can also be addressed to mcbrides@marshall.edu.
---