Featured Story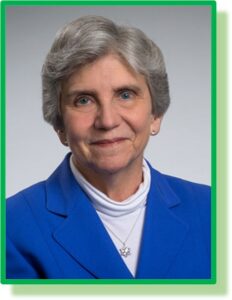 Physics: A Springboard to a Fantastic Career!
Ellen Mosley-Thompson, 70′ –  Hello everyone! I am pleased to share with you the impact that receiving a B.S. degree in Physics has had on my career and my personal life. In my senior year at Nitro High School I had a fantastic teacher who made physics exciting and fun. At the time I did not have a vision of myself as a physicist, but I was extremely excited about the future opportunities physics might offer. I applied to Marshall University and joined as a first-year physics student in 1966, the same year that Dr. Wesley Shanholtzer joined the faculty. Dr. Martin was still the Chair. It is my understanding that I was the Department's second female student, the first being Dr. Martin's daughter. I greatly enjoyed all my physics, chemistry, and math classes but after graduation I was still hungry for opportunities to apply what I had learned. After a brief stint teaching junior high math in Charleston, WV, I moved to Columbus Ohio and in 1973 entered The Ohio State University where I received an M.S. (1975) and Ph.D. (1979) in Atmospheric Sciences. As a student affiliate in the Institute of Polar Studies (renamed the Byrd Polar and Climate Research Center in 2015), I was quickly immersed in the excitement of all things "polar", and my interest in Antarctica grew. Simultaneously, I joined Lonnie Thompson, my spouse, fellow graduate student, and a 1970 Marshall graduate (Geology), to develop a relatively new field called ice core paleoclimatology which is the use of the chemical and physical properties stored in Earth's polar ice sheets and mountain glaciers to reconstruct Earth's climate history.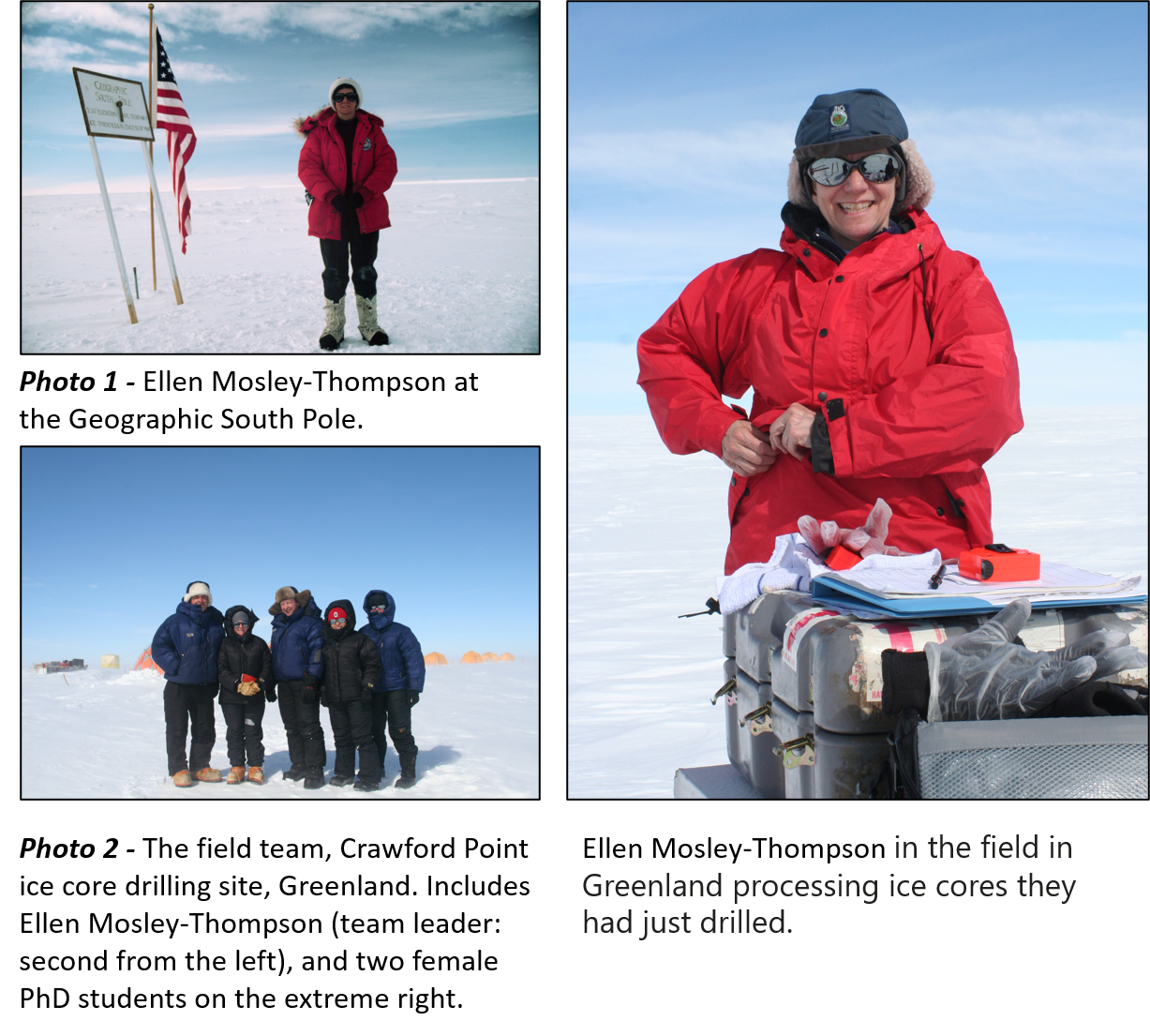 In 1982 I traveled to South Pole Station (SPS) in Antarctica for my first Antarctic field season (photo 1). Scientifically this experience was magnificent, but it was a revelation when I realized how few women were engaged in Antarctic research. There were only two women at SPS that year, me and a carpenter. I soon realized that the U.S. ice core drilling projects were being led by men and conducted at or near established bases for logistical convenience. Thus, the U.S. only had three stations located in areas of the ice sheet where cores could be drilled. At the same time I was very engaged in the National Science Foundation's (NSF) Polar Programs Advisory Committee which positioned me to address two systemic issues. These were securing greater support for scientists who wanted to conduct research at remote locations where ice cores had not been drilled and promoting greater opportunities for women to not only participate in field programs, but to serve as remote field team leaders. In 1985 I was funded to lead a drilling project at Siple Station, Antarctica and in 1986 I led a field team of six to drill cores at our " Plateau Remote" camp, a very remote site in East Antarctica located near the "Pole of Inaccessibility" which means the inland location that is furthest from the coast in all directions.
Fast forward 35 years during which I led 15 projects to drill ice cores at more remote sites in Antarctica and Greenland and I have been able to include more female graduate students in the field teams (photo 2). Here my team of five was funded jointly by NSF and NASA to drill ice cores at Crawford Point in Greenland. Three of the 5 team members were women and two of them were PhD students. Although there have been a number of accomplishments during my years at OSU, I am especially proud to have helped opened the door to enable more women scientists to lead or participate in remote field projects in both Polar Regions. I also served from 2009 to 2018 as the first (and still only) female Director of OSU's Byrd Polar and Climate Research Center. In 2009 I was elected to the National Academy of Sciences and am also an elected Fellow of the American Academy of Arts and Sciences, American Geophysical Union, and the American Association for the Advancement of Science. I have received the Franklin and Mendel Medals among others, but none of this would have been possible had I not received my B.S. degree in Physics from Marshall University that served as an excellent springboard to my M.S. and Ph.D. in Atmospheric Science.
Ellen Mosley-Thompson (May 11, 2022)
Distinguished University Professor, Ohio State University, Columbus, OH
American Institute of Physics – Niels Bohr Library & Archives – Oral History Interview with Ellen Mosley-Thompson
---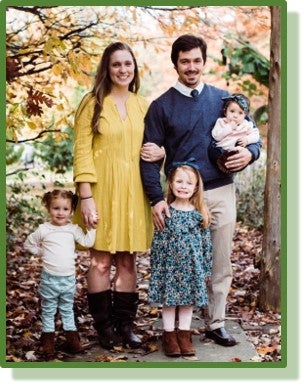 Tony Hernandez, 10′ – I graduated with a undergraduate degree in Physics and one in Applied Mathematics from Marshall in Spring 2010. I finished a masters degree in math Spring 2012. I now teach physics (general and AP), various math classes (calculus 3, statistics, algebra), and computer programming at the Highlands Latin School in Louisville, KY. I am also serving as a soccer coach for our high school team, a youth minister for our church, and teaching math for Boyce College. Katie (wife) and I have had 3 daughters: Eliana age 4, Atalia age 2, and Elenora age 1. We plan to serve the Eli House Mission in San Luis, Rio Colorado, Mexico next year as the director of operations.
The Hernandez Family Fall 2017:
Katie, Tony, Elenora (Nora, 1).
Atalia (Tata, 2), Eliana (4).
---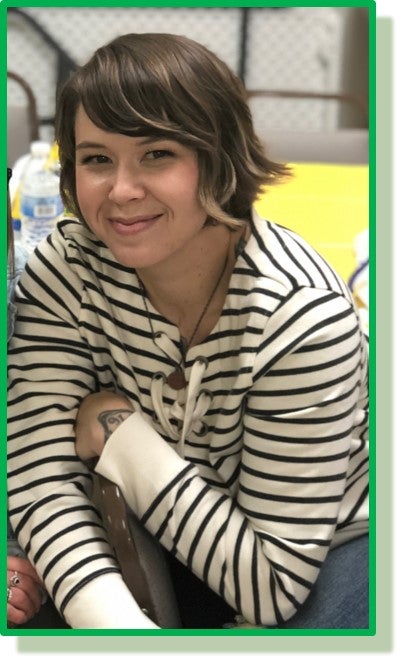 Shannon Durfee (Shannon McKinney), 08′ 
– I graduated with my B.S. in Physics from Marshall University in 2008, where I was also a Yeager Scholar.  I started calculus based physics my very first freshman semester, which gave me a bit of a head start and allowed me to take more upper-level classes later on that were not offered every year.  With such small classes, I grew close to several professors.  Notably Dr. Oberly, who was my adviser and was also involved in the Yeager Program, and Dr. Nguyen, who taught nearly all of my upper level classes.  Dr. Oberly went above and beyond for me academically and personally–but I wasn't special in that regard, he would do that for anyone.  Dr. Nguyen's ability to balance research and dedication to instruction, and her personal warmth made a huge impression on me and continues to inspire me to this day.  And of course Dr. Orsini was there to push me when I needed it.  I was also very involved in SPS and Sigma Pi Sigma, and completed an REU at Indiana University the summer of my junior year.
Upon graduation, I was unsure what to do next, but only because I felt like a physics degree gave me an overwhelming number of options!  I decided to stay at Marshall and work in the department for a while to give myself time to make a decision, but still be in an academic environment.  It was during these years that my grandfather developed cancer and by taking him to his radiation treatments, I learned about the field of medical physics.  After two years working in the department, I applied to the Medical Physics graduate program at Columbia University.  My education from Marshall Physics served me very well, even at an ivy league school.  I completed my graduate studies in 2013 and was offered a job back in Huntington.  Since 2013 I have become recognized by the American Board of Radiology as a boarded Therapeutic Medical Physicist (DABR).  I currently work at both local hospitals in the Radiation Oncology departments as a radiological physics consultant.
---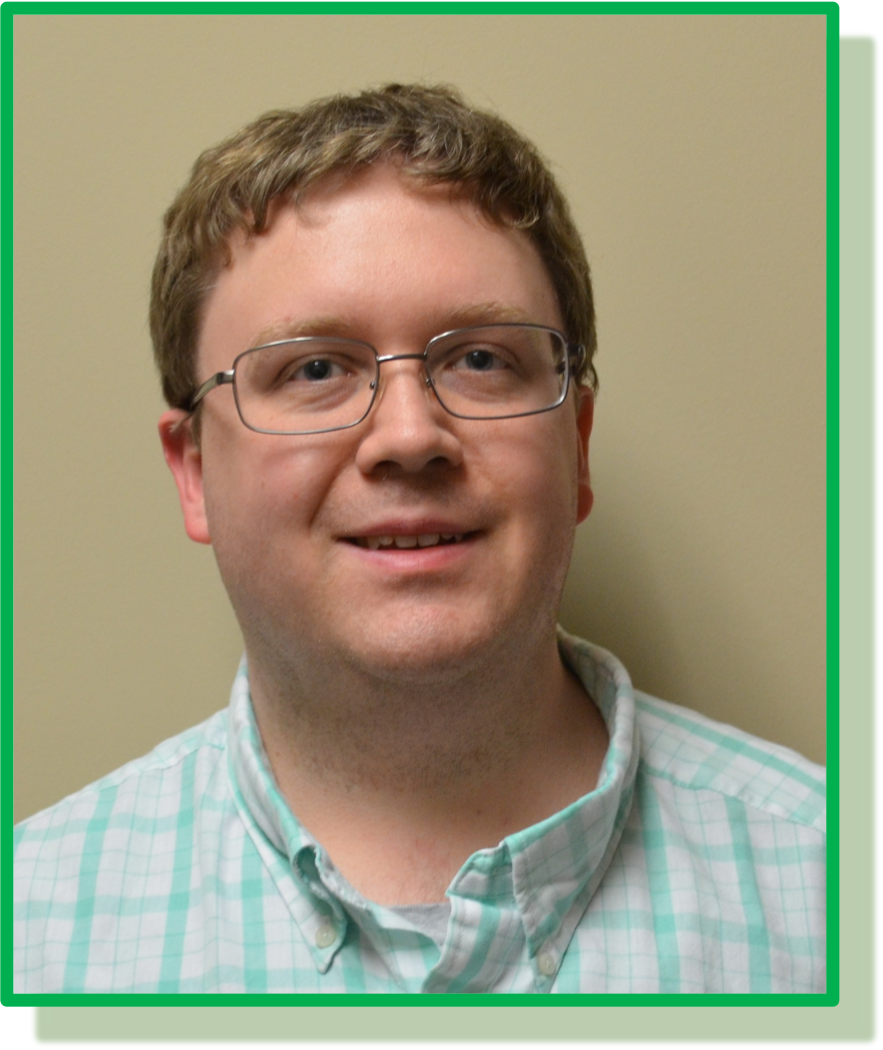 Andrew Reinhardt, 06′ – Andrew Reinhardt graduated from Marshall in 2006 with his B.S. degree in Physics and again in 2013, with his M.S. degree in Physical & Applied Sciences. Andrew is a doctoral candidate in the Electrical & Computer Engineering Department at the University of Dayton, and currently in the final year of his studies. Andrew works part time as a research engineer at a local defense contractor in the Dayton, Ohio, area on advanced sensors technology. His dissertation consists primarily of work with a 3D flash LiDAR camera operating in short wave IR (1550 nm), including calibration of the camera including non-uniformity correction, and later more advanced topics such as 3D metrics. He has also provided consulting expertise to the Aerospace Engineering Department on campus at the University of Dayton towards design of a coherent LiDAR system for wind velocimetry. Prior to his work in the Dayton metro area, Andrew worked full time as a GIS Analyst for the state of West Virginia's Mined Minerals GIS Unit for nearly two years, automating models and streamlining services in python.
Andrew found his way to Marshall largely due to the support of the College Program for Students with Autism Spectrum Disorder on campus, of which Andrew was among the first graduating class in 2006. Andrew has autism spectrum disorder, but has not let this hold him back. Marshall University is an excellent option for students on the autism spectrum who want to pursue physics but may need additional support to go transition to college. The physics department at Marshall was extremely supportive of Andrew throughout his studies.
---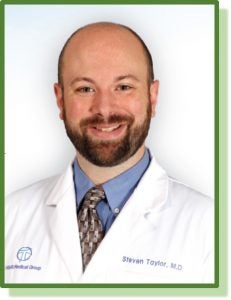 Steven Taylor '06 – I am currently a Family Medicine Physician at the HSHS Medical Group in O'Fallon IL. I completed medical school at the Marshall University JCE School of Medicine in May 2006, then Residency at the 375th Medical Group Scott AFB/Saint Louis University School of Medicine as a Chief Resident in 2013. Since then, I have served as a Major in the USAF and Medical Director of Langley Family Medicine. I have completed a deployment to Afghanistan in support of Operation Inherent Resolve/Freedom's Sentinel. I have now separated from active duty and joined a practice in O'Fallon Illinois for full scope outpatient Family Medicine. My lovely and brilliant wife, Megan Collins, and I met in the physics department at Marshall. Both of us became close with Dr. Oberly with his constant support of the department and I worked with Dr. Wilson in collaboration with the American Foundation for the Blind. ~ Steven Taylor, MD
Steven Taylor's career has been laced with over a dozen awards from his most recent the Air Force Meritorious Service & Air Force Commendation Medal (2017) to his earliest awards earned at Marshall, the Brigadier General Charles "Chuck" Yeager Scholarship at Marshall University and Sigma Pi Sigma Physics Honorary Member (2008).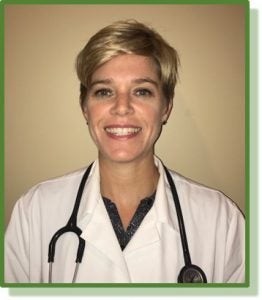 Kelly Yannizzi, '05– I graduated with a B.S. in Physics from Marshall in 2000. I subsequently attended medical school at Marshall from 2001 to 2005. I completed my first year of post graduate training at the National Naval Medical Center in Bethesda, MD in 2006. I then completed a nearly 4-year tour as a General Medical Officer with a US Marine Corps Unit based out of Beaufort, SC. During that time, I deployed to Iraq twice as a Senior Medical Officer in charge of 30+ Medical Officers and Corpsmen (medics). I also met and married my husband. I completed post graduate training in Family Medicine at Naval Hospital Camp Lejeune in Jacksonville, NC in 2012. Subsequently, I transferred to Millington, TN where I led a department of military and civilian medical staff in providing primary care to active duty and retired military service members as well as their families. I transitioned from an active duty Naval Officer to a reservist in 2015. I continue to practice Family Medicine in the Memphis, TN area.
I really enjoyed majoring in physics at Marshall. Having small classes directly led by approachable professors was a huge asset for me. The critical thinking skills that I developed during that time has served me well in virtually every role I've played since- physician, leader, investor, parent, homeowner, etc. I was a member of the Marshall University Tennis team and also enrolled in the Honors College as John Marshall Scholar throughout my undergraduate years. I was still able to achieve a great balance between my various academic and athletic responsibilities. And, yes, I still had plenty of time for fun! I would definitely recommend pursuing a physics degree to current and future Marshall students – the pursuit itself, as well as the result, would be quite rewarding.
Thank you,
Kelly Yannizzi MD (maiden name Kelly Peller)
---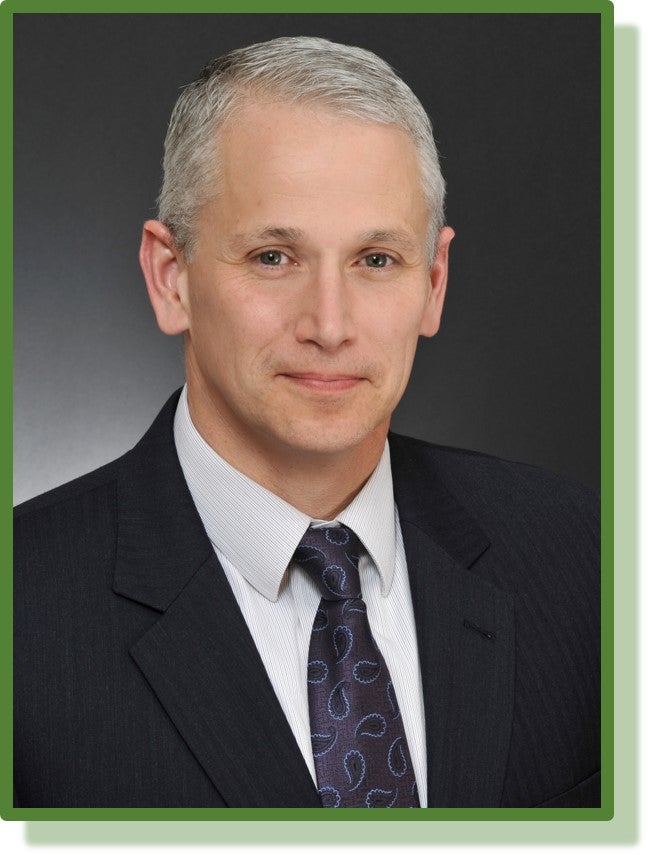 Chad Mitchell, '91 – I am a diagnostic medical physicist working for a consulting firm in Maryland, Virginia, DC, Pennsylvania and eastern West Virginia. My career has followed a circuitous path, but I have been able to see some pretty cool stuff along the way.
I got my bachelors in physics and math from Marshall in 1991, and I immediately went to graduate school at Ohio State. As I progressed through my studies at OSU, I realized that I never really found a passion for my research (detector development in experimental nuclear physics), and I frequently found myself thinking back to a course in medical physics and radiation safety taught by the late Dr. Manakkil. So, I started volunteering at the James Cancer Hospital and Research Institute and immediately realized that medical physics brought together fascinating challenges with a sense of accomplishment and service to others.
After committing to a career in medical physics, I left graduate school as a Ph.D. candidate and tried my luck on the job market. Unfortunately, I was unable to get any interviews when I had so little job experience. It was at that point that I decided to call a Navy recruiter. After a year of paperwork and interviews, I began my naval career in 1996, initially working in clinical medical physics in military hospitals. Over the next 20 years, my career expanded to include deployments on aircraft carriers, emergency preparedness in shipyards, homeland security-related research and humanitarian assistance efforts in Japan following the tsunami of 2011. Also, along the way, I was awarded a Navy fellowship to return to OSU to finish my Ph.D., this time in biomedical engineering studying RF coil design in ultra-high field (8 Tesla) Magnetic Resonance Imaging.
While my naval career covered a wide variety of radiation-related work, my principal interest was always in diagnostic medical physics, and that has been my full-time career since retiring in 2016 at the rank of Commander. The demand for diagnostic medical physicists has exploded since I began my career in the 1990s because insurance reimbursements, in recent years, require quality control and dose optimization under the direction of a medical physicist.
Chad A. Mitchell, Ph.D., DABR
Medical Physicist
---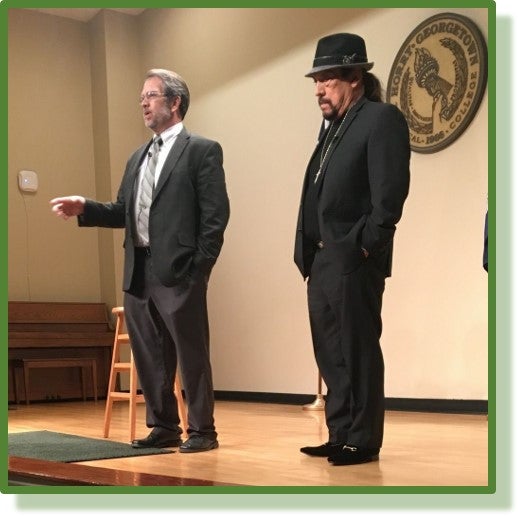 Casey King (left), 86′ – As a native of McDowell county, I started my college career at Marshall University and graduated in 1986 with my B.S. in physics, back when Oberly, Shanholtzer, Bellis and Dumke were the pillars of the physics department.  Completing my M.E. in nuclear engineering in 1989 from the University of Virginia, my professional career began as a radiation specialist with the U.S. Nuclear Regulatory Commission in Chicago.  In 1990, I moved to the nuclear power industry as a reactor engineer in Hartsville, S.C.  And after working a few refueling outages, I left nuclear power in 1994 to teach college physics and astronomy and have been at Horry-Georgetown Technical College in Myrtle Beach, S.C. for the last 28 years.  In 2005, I commenced my own personal journey in recovery from addiction and in 2008 created the HGTC Addiction and Recovery lecture series as a way to give back to the recovery community.  Over the last 14 years, I have worked with such notable celebrities in recovery as Lou Gossett, Jr., Danny Trejo (right), Meredith Baxter, Dr. Drew Pinsky and many, many others.   In 2019, I was named HGTC Professor of the Year, nominated for A. Wade Martin Innovator of the Year and named Community Advocate of the Year by Faces and Voices of Recovery – Grand Strand.   I continue to advocate strongly in the field of recovery and look forward to spending the rest of my life doing the same one day at a time.   The 2022 HGTC Addiction and Recovery lecture series will be held in virtual space and may be attended at Horry Georgetown Technical College Addiction & Recovery Series.
---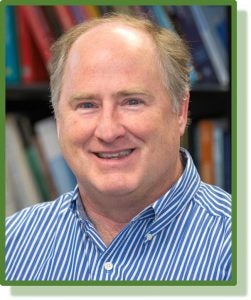 Scott Courts, 82′ – Dr. Scott Courts is an Applications Scientist at Lake Shore and has been active in the field of cryogenics for more than 30 years. Dr. Courts received his BSc in Physics from Marshall University and a Ph.D. in Experimental Solid State Physics from The Ohio State University in 1988. While at OSU, he studied the transition to superfluid turbulence in two-fluid flow of helium-II. In 1989, Dr. Courts joined Lake Shore as a Senior Scientist in our Sensor R&D Division. In this position, much of his focus was on developing thin-film thermometer materials exhibiting high ionizing radiation tolerance and low magnetoresistance offsets for use in accelerator applications. This work led to the development of Lake Shore Cernox™ sensors. Dr. Courts then moved to Lake Shore's manufacturing engineering group in 2001 to fill the role of Applications Scientist and work on improving sensor products, processes, and testing. He has also served as Technical Director for Lake Shore's thermometer calibration facility and worked to extend the calibration range capabilities to its current 20 mK lower limit and up to 900 K at the upper end. Currently, he serves as a metrologist/scientist with the responsibility of maintaining Lake Shore's traceable thermometry scales. A member of the American Physical Society and on the Board of Directors for the Cryogenic Society of America, Dr. Courts has published more over 40 articles on cryogenics/thermometry and served as a reviewer for various journals and proceedings. He has also taught short courses on cryogenic thermometry and instrumentation in both public and private settings for the past 25 years.
Outside of work, Dr. Courts performs physics demonstrations for science classes at local schools, serves as an adult leader for a local Boy Scouts of America troop, is a singer/guitarist in a rock and roll oldies band, and has taught as an adjunct professor in the Physics Department at Otterbein University.
---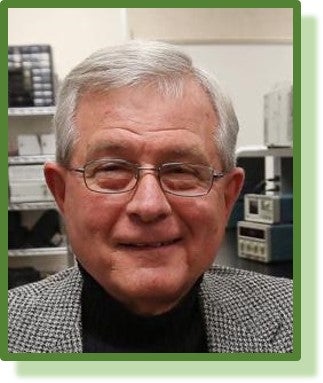 Bob Fischer , 70′ –  In the eighth grade at West Junior School, Huntington, WV, I was invited to enroll in a unique Electronics Technology program funded by "emergency legislation" of Congress known as the National Defense Education Act.  That class had been tailored for students gifted in science and math who had already shown interest in fields critical to national security during the Cold War.  Forty-five students started the class at Huntington East High School in 1961.  Only fifteen of us survived the very grueling curriculum, graduating from high school with what educators said was the equivalent of an associate degree in electronics engineering.  As far as we have been able to determine, this was the first "technical" curriculum offered in West Virginia high schools.
I immediately enrolled in the Marshall University engineering curriculum.  When I started having problems with the engineering math, I found a mostly algebra-based "Physics & General Science" major offered by the College of Education.  Back in those days, the Physics Department was teaching Electronics Physics, Applied Electronic Instrumentation & Digital Electronics.  It seemed like a good fit.  I changed majors and graduated with a Bachelor of Arts degree in 1970.
Not long after graduating from Marshall, physics professor, Dr. Ralph Oberly called me saying he needed one more student to be able to offer one of his graduate classes.  I became "that student" for two or three of his graduate classes.  He arranged the meeting time for one of them so I could attend during lunch from my full-time job.  He gave me keys to the lab so I could complete lab assignments in evenings and on weekends.  His classes helped me pick up a Master's degree in Vocational-Technical Education from Marshall University in 1976.  I enjoyed dropping in for visits with Dr. Oberly until his retirement.  He was one of the best teachers I have ever had.
Dr. Donald C. Martin was chairman of the Marshall Physics Department during my undergraduate years.  He was always easy to talk to and willing to spend additional time with students.  But he was also quick to let me know he expected more from "his" students than students just passing through the physics department with a class or two.  Following graduation, Dr Martin invited me to join an informal, monthly, roundtable he hosted at his home to discuss current physics topics.  Dr. Warren Dumke, another of my physics professors, usually attended those meetings.  We eventually drew up a charter and formed The Ohio Valley Astronomical Society.  The Donald C. Martin Observatory has been an enduring reminder of Dr. Martin's influence on the lives of his students.  I remained close to him until his death.
I worked for a couple of defense contractors and a couple of design-build electrical manufacturing companies before taking a job as Electrical Foreman at an ACF Industries railroad car manufacturing plant.  That engagement lasted 13 years.  I designed many automation projects, did some pioneering work with robots and picked up two patents while at ACF.  I was managing Plant Engineering, Production Engineering and Tooling Engineering when I left the 2,000-employee plant. In 1979, I founded Fischer Technical Services, an "applied science and engineering" consulting firm I have operated part-time since then.  In 1981, I passed the tests (including math) and completed other requirements required by law to become licensed as a Professional Engineer.  I have been licensed in KY, WV & MS. I spent another 15 years with Calgon Carbon Corporation managing Electrical, Instrumentation, Utilities, Water & Wastewater Treatment and Maintenance Departments.  I served as an electrical and reliability consultant to CCC plants throughout the U.S., in England, Belgium and Germany. The last ten years of my full-time employment were spent working as an Instrumentation Specialist for a large electrical contractor.  I was "on call" 24/7/365 to service electrical, electronic, pneumatic, hydraulic and nuclear instrumentation for petrochemical refining operations in KY, WV & VA.  A major part of this job was training and certifying electricians to do instrumentation work.
In 1992, I completed requirements for a Ph.D. in Electrical Engineering from Kennedy-Western University.  I developed a Robotics class for Marshall University Community & Technical College and instructed it for 13 years.  I have also instructed Solid-State Electronics classes for ITT Technical Institute and Electronics and Physics classes for Mountwest Community & Technical College.  I served on applied science curriculum advisory committees for four colleges and universities.  I have presented my works at engineering, scientific and professional conferences, published a few articles and co-authored a set of Electrical & Instrumentation textbooks.  I am an Emeritus Member of The West Virginia Academy of Science.
I have been very fortunate to have gone from growing up on a small farm in Cabell County West Virginia, to "living the American dream."   The solid background in basic physics I received at Marshall and a very tolerant wife have both played key roles in making that happen.
---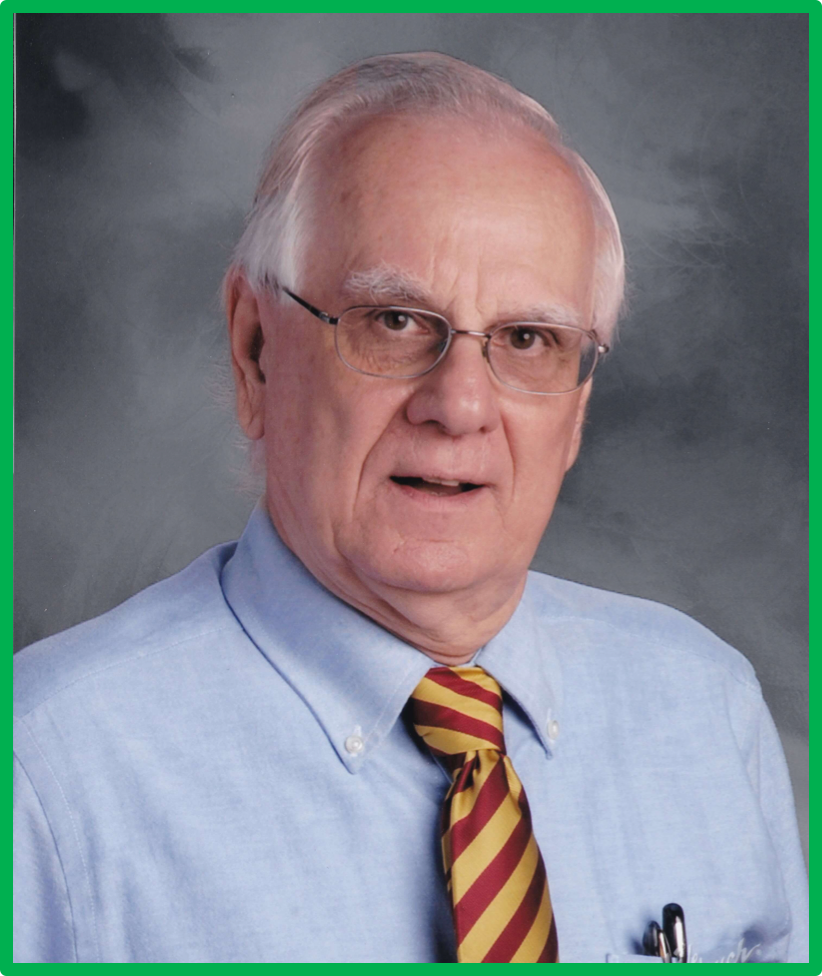 Bob Campbell, 67'– When I enrolled in 1963, there were 3 teachers, Dr. Martin who was the Department chair, Mr. Hanna, and Mr. Schaeffer. In 1967 Dr. Parnell and another PhD were hired. I believe there were 2 graduates in 1966 and 67 each. Al Duba and a Mr. Dubois graduated in 66. Al went on to a PhD from University of Chicago and a career with Lawrence Livermore Labs and Mr. Dubois went to the Air Force. Rodney Honaker and I graduated in 67. Rodney went on to an MD and I went to UNC Chapel Hill for an MAT. I taught Physics for 3 years then moved to a job in industry. After I retired from that after 28 years, I went back to teaching high school physics. Retired from that and now teach Physics as an adjunct at Gardner-Webb University in North Carolina.
Many fine memories of Physics at Marshall,
Bob Campbell
Bob has graciously provided some information on research projects from 1965-66, visit Physics Research Bob Campbell for more information.
---
Dear Alumni! Please let us know what you are up to!
If you have graduated with a degree in Physics in the BS program, Physics 9-Adult Comprehensive program, the master's program in Physical and Applied Science, or the master's in physics program, please drop us a line and tell us what you are currently doing. We would also like to know about your experiences and interactions with the physics faculty, your overall experience in general when you were here at Marshall and how that has influenced you and your current career. Please send any correspondence to mcbrides@marshall.edu
---