•Events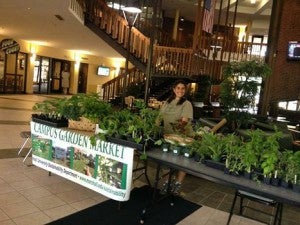 Mark your calendars for some great sustainability Coming Events!
Every Wednesday this Summer! – MU-Grown Vegetable Market: 11AM-2PM @ the MU Memorial Student Center, sponsored by the MU Sustainability Department. Make a donation to the Student Garden project and get fresh vegetables that were grown right here on campus
…
OCTOBER
20th - "Meatless Mondays" at Harless Dining Hall from 10:30am-2:00pm – The Harless and Twin Towers dinning halls have joined together with the MU Sustainability Department in creating "Meatless Mondays". Eating less meat reduces demand, and reduces greenhouse gas emissions.
19-21 – WV Solid Waste Authority Conference @ Pullman Plaza – The Cabell County SWA has worked diligently to create and maintain numerous community recycling stations, and host regular E-Cycle events. The MU Sustainability Dept. feels it is very important to promote awareness of their efforts and participation in their events.
21st – (Tuesday) – Loving Appalachia @ MSC Plaza from 10am-3pm: Come celebrate our diverse, Wild and Wonderful Appalachia! There is so much to learn and appreciate in the physical and cultural landscapes that create our region, community, and university. And, the MU Sustainability Department will be there, so come find our table and learn just how sustainable our Appalachia can be. Sponsored by the Appalachian Studies Association (http://www.appalachianstudies.org).
23rd – (Thursday) – 100 Mile Meal Day @ Twin Towers from 4-7PM: This fall Marshall's Student Association of Nutrition and Dietetics (MU SAND) is partnering with Dining Services and the Sustainability Department to host a 100 Mile Meal on October 23th in Towers Marketplace. Food for this dinner will be sourced within 100 miles of Marshall University, helping to support our area farmers and to create a more stable, sustainable economy.
24th – (Friday) – Food Day and Campus Sustainability Day @ the MU Student Center: Campus Sustainability Day (CSD) (www.campussustainabilityday.org) is a time to recognize the successes, challenges, and innovations of sustainability in higher education on each campus. The theme for the upcoming Campus Sustainability Day is Empowering Change on Campus and in the Community. The change we are working for is to create a greener campus, which includes growing our food choices and policies to include Meatless Mondays, locally raised foods, composting of kitchen waste, and more. This is why we have partnered with MU SAND to merge our event with Food Day. Food Day (www.foodday.org) is a nationwide celebration of healthy, affordable and sustainably produce foods, and a grassroots campaign for better food policies. Food Day builds all year long, culminating on October 24. Food Day is an opportunity to support better local, state and federal food and nutrition policies, educate the public about healthy and sustainable diets, and push for change in the American food system. Last year, universities across the country played a major role in making the campaign an overwhelming success. Over 300 universities organized Food Day events from campus farmers markets to lectures and debates on a range of food issues. This year Marshall is joining the movement.
25th – EPA GameDay Recycling Challenge @ the MU Football Stadium. This will be a homegame (http://www.herdzone.com/sports/m-footbl/sched/mars-m-footbl-sched.html). Join us in keeping our campus Marshall Green by helping recycle during Game Day. Lend a hand, pick up some litter, and recycle. The GameDay Recycling Challenge is a friendly competition for colleges and universities to promote waste reduction at their football games. During the challenge, colleges and universities implement waste reduction programs during home football games. Schools track and report waste reductions and disposal data that is used to rank the schools. The competition is run by a partnership of the College and University Recycling Coalition (CURC), RecycleMania, Keep America Beautiful (KAB) and EPA's WasteWise program. (http://gamedaychallenge.org/)
27th - "Meatless Mondays" at the Twin Towers Market Place from 10:30am-2:00pm – The Harless and Twin Towers dinning halls have joined together with the MU Sustainability Department in creating "Meatless Mondays". Eating less meat reduces demand, and reduces greenhouse gas emissions.
29th - 2015 Sustainability Fair planning meeting @ Black Sheep from 6-7:30PM: We'll be working on Live Music and other components of our 2015 Sustainability Fair event, scheduled for May 16th next year. Local musicians are local artists, and supporting local artists and businesses helps to create a stable sustainable local economy. Looking forward to meeting with everyone, eating some great food, and planning our first Sustainability Fair for Huntington, WV.
…
NOVEMBER
2nd – Time Change ("fall back" – turn your clock back one hour)
13th – America Recycles Day – Campus Activities will be planned to participate in this national event
15th - International Festival – The MU Sustainability Dept. will participate by showcasing a fun an interactive Global Sustainability issue (TBD)
17th – Greening Marshall Meeting, 10:00-11:30 am @ the Conference Room SMB
---

Past Events:
Jan 29th, Wednesday, 10-11:30am, 2E10 MSC:  Greening Marshall Meeting 
Feb 5th, Wednesday: GREEN Pledge Drive Day
Feb 8th, Saturday: Boy Scouts Sustainability Badge Day @ MU
Feb 10th-13th: Recycled Valentines Week
Feb 12th, Wednesday: MU Day at the Capital
Feb 25th, Tuesday, 9am-2pm, BE5: Sustainable Architectural Design Lecture, by Jill Watkins
Feb 26th, Wednesday, 10-11:30AM, 2E10 MSC:  Greening Marshall Meeting
March 1st: EcoCycle Bike Loan Program begins its 4th year, so come on by and borrow a bike for the day for free!
March 3-7th: @ The Residence Halls – Spring Cleaning & Collections for GoodWill
March 7-9th: WSAZ HomeShow – make sure to check out their lectures on Friday evening and all day Saturday, most especially our very own Angela Kargul who will be speaking on the MU Sustainability Gardens from 7-8pm.
March 26th, Wednesday, 10-11:30AM, 2E37 MSC: Greening Marshall Meeting
April 12th, Saturday, 11AM-2PM: Student Yard Sale! Great chance for people in the community to come to campus and bargain shop.
April 14th, Monday: "Green Pledge" Residence Hall Competition Day!
     – 6PM to 7:30PM: Ben Lowe, Churches and Environmental Stewardship @ 26th St. Baptist Church
– 8PM to 10PM: Yalmaz Siddique, speaker for Closing Program @ MU Student Center
April 22nd: MU Earth Day Festival!  Tuesday, 10AM-3PM – Come visit this huge annual campus event!
April 25th: Earth Day @ Ritter Park  Friday, 12-7PM – hosted by the Greater Huntington Park and Recreation District.
April 26th, Sunday, 9AM: Beech Fork Clean Up, hosted by the Cabell County Solid Waste Authority's (CCSWA)
April 30th, Wednesday, 10-11:30AM, 2E37 MSC:  Greening Marshall Meeting
May 3rd, Saturday – "E-Recycling Event": 8AM-3PM @ the 5th Ave Kroger in Huntington.
Hosted by the Cabell County Solid Waste Authority's (CCSWA). Bring your old computers, TV's, DVD players, etc. "We'll take anything with a cord."
May 3rd, Saturday – Tour de PATH: 11AM @ Pullman Square
May 23rd, Friday – Energy Efficiency and WV Code Compliance: 8AM-Noon, followed by lunch, @ the Marshall University Memorial Student Center, room BE5. This event is sponsored by the West Virginia ASHRAE, WVU, and the WV DOE. The cost is $10, and you can earn 4 hrs continuing education, as well as AIA & WVBAR credit.
To Register, visit http://www.wvashrae.org/wvu-ashrae-90.1-2007-workshops.html
Capacity is limited so sign up early to get a seat. 
WV upgraded their State's Building Energy Code in 2013. WVU, WV ASHRAE and WV Dept of Energy is offering workshops to help everyone become familiar with the new code and how to meet it in order to obtain better buildings. Subject is of interest to owners, managers, consultants, builders, agents, representatives, appraisers, real estate agents, real estate attorneys, city sustainability leaders and code inspectors of commercial buildings – public and private. Attendees will learn how to calculate building energy intensity (EUI), obtain their Energy Star score, and compare their EUI with other buildings. Also learn what the new ASHRAE 90.1-2007 code requires, who will enforce the code and what they could look for. Other subjects will include building energy modeling, available rebates for upgrades, dynamic building commissioning and where to go for help/assistance/consultants.
June 18th – Health Fair:10am-1pm @ the MU Student Center, sponsored by the MU Nutrition and Dietetics Program.
June 17th-20th – Parent Orientation: 3PM-4:30PM @ MU Foundation Hall. The MU Sustainability Department will be participating in Parent Orientations, so visit our table.
July 8th-11th – Parent Orientation: 3PM-4:30PM @ MU Foundation Hall. The MU Sustainability Department will be participating in Parent Orientations, so visit our table.
August 7-8th  – Parent Orientation: 3PM-4:30PM @ MU Foundation Hall. The MU Sustainability Department will be participating in Parent Orientations, so visit our table.
AUGUST – WOW Week of Welcome:
21st – 5PM-6PM Garden Green Tour @ the MU Memorial Student Center. Take a tour of the sustainability side of Marshall University, including our many gardens. Be Marshall Green!
– 7PM-8PM MU Critical Mass Bike Ride @ the Rec Center. Bring your bike, or check out an Eco Cycle from the Rec Center, and take a bike tour of Huntington. You'll get a cool Commuter Bike Map of the city, and get to know where all the cool places are, including Ritter Park, the Wild Ramp local farmers market, River and Rail Bakery & Coffee Shop, Pullman Square, Harris Riverfront Park, Downtown, Marshall Hall of Fame Cafe', and more!
23rd – 10AM-11AM Garden Green Tour @ the MU Memorial Student Center. Take a tour of the sustainability side of Marshall University, including our many gardens. Be Marshall Green!
– 12PM-3PM RecFest @ the Rec Center. The MU Sustainability Department will be participating in RecFest, so visit our table.
SEPTEMBER
15th - "Meatless Mondays" at the Twin Towers Market Place from 10:30am-2:00pm – The Harless and Twin Towers dinning halls have joined together with the MU Sustainability Department in creating "Meatless Mondays". Eating less meat reduces demand, and reduces greenhouse gas emissions.
18th – "Student Garden Volunteer Day", from 4-7PM @ the MU Student Gardens (Behind the Career Services Center). Come join us for a work day in the student gardens! Students, staff, and faculty are all welcome.
22nd – "Meatless Mondays" begins at the Harless Dining Hall from 11:30am-2:00pm – The Harless and Twin Towers dinning halls have joined together with the MU Sustainability Department in creating "Meatless Mondays". Eating less meat reduces demand, and reduces greenhouse gas emissions.
23rd – "Employee Wellness Fair" from 11:30am-4:30pm @ the MU Memorial Student Center's Don Morris Room – Come visit our booth and pick up some very useful First Aid Kits and Band-aid Dispensers, each made using recycled content
23rd - "Be Clean – Be Green" Workshop:
Cleaning Solutions for a Healthier Home & Environment, from 4:30-5:30PM @ Harris Hall 139. JOIN US! Learn more about the draw backs to chemical-laden cleaners, the benefits of green cleaning solutions and how simple it can be to start cleaning green. You will walk away with green money saving tips, recipes and your very own home-made cleaner. Bottles and material will be supplied. Register by Clicking Here!
25th – "Chat-n-Chew" discussion and planning meeting for the community 2015 Sustainability Fair, to be held May 16th 2015 at Heritage Station (for more info, visit www.livinglocalwv.com). To join the discussion or help bring this project into fruition, come to the Frederick Building 940 4th Ave. from 5:30-7PM. "Chat-n-Chews" are a weekly community discussion forum hosted by Create Huntington (www.createhuntington.com).
26th – Water Festival from 8am-2pm @ Buskirk Field, hosted by the WV DEP. Learn about the water cycle, the importance of protecting our water systems, and more!
29th - "Meatless Mondays" at the Twin Towers Market Place from 10:30am-2:00pm – The Harless and Twin Towers dinning halls have joined together with the MU Sustainability Department in creating "Meatless Mondays". Eating less meat reduces demand, and reduces greenhouse gas emissions.
…
OCTOBER
2nd-7th – SRAPPA Conference – as a part of Marshall University's Physical Plant, the MU Sustainability Dept. will be lending a hand with this year's SRAPPA conference, to be held this year at Pullman Plaza Hotel. For more information, visit http://www.srappa2014.com/travel.html
4th – E-Cycle Event – The Cabell County Solid Waste Authority invites you their fall Electronic Recycling event, to be held on Saturday, October 4th at the 5th Avenue Kroger Parking Lot. As always, "WE'LL TAKE ANYTHING WITH A CORD." The event runs from 8:00 AM until 3:00PM. For more information, visit www.ccswa.us
14th – Greening Marshall Meeting, 1:00-2:30 pm @ the Conference Room SMB