The Adventure Recreation program leads exciting trips every year that highlight some of the greatest outdoor attractions and activities. With national trips to the Smokies and Grand Canyon to local adventures here in West Virginia, there's a trip to suit every adventurer!
Register online for an Adventure Recreation program or Clinic.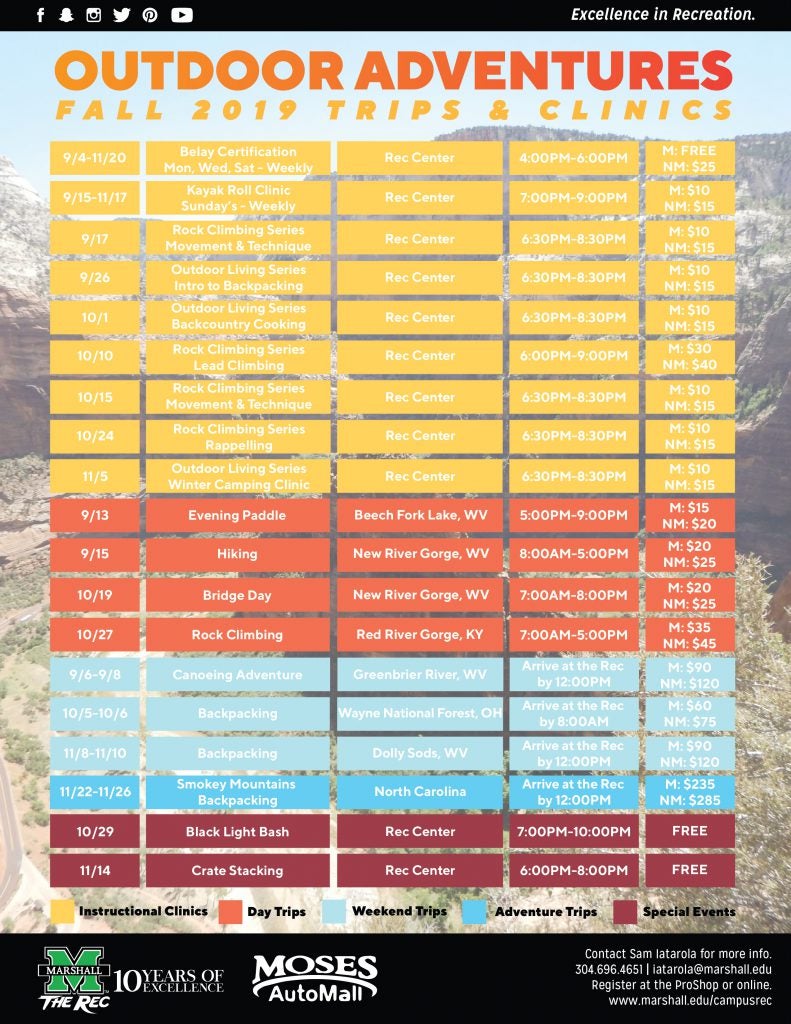 OUTDOOR ORIENTATION
Purpose:
The purpose of the Outdoor Orientation Trips is to provide meaningful interactions, and a confidence building experience with a new community of other first year students.
Program Description:
This program offers incoming Marshall University students to connect with themselves, their classmates, Marshall University, and West Virginia on this outdoor adventure trip. These trips will
consist of groups of 6-10 incoming students, and 2 staff/student leaders to backpack for 3 days in the Monongahela National Forest, and 1-day whitewater rafting on the New River Gorge. These
locations are iconic destinations in the state of West Virginia.
Outdoor Orientation Trips offer an opportunity to make new friends, learn new skills, and face new challenges. This program will involve active engagement from students. Students will be challenged to actively communicated and cooperate with group members and leaders, and will have a big role in completing group tasks, accomplishing goals, and managing risk.
To Register:
Two steps:
1) Register online
2) Fill out Pre-Trip Forms
Follow the link here to sign up and pay in full for the program. Then, you will receive an email with Pre-Trip Forms. You will be required to fill out the Pre-Trip Forms and return them to
iatarola@marshall.edu within 5 days of registering, which insures our staff to have plenty of time to effectively plan and prepare for the trip. Your registration isn't finalized until you have fully completed and returned all the forms.
Risk Management and Expectations:
Prior experience is not required. These trips are designed for all skill levels. All that is required is the willingness to participate and try new things while exploring the outdoors. Trip leaders will have communication devices for safety purposes and are in contact with an on-call coordinator if assistance is needed. Trip leaders are professional and student staff members, with outdoor leadership experience, wilderness medical certifications, and will be equipped with appropriate safety equipment.
In order to minimize risk, and maximize the outdoor experience for the small groups, the following items are prohibited on all OOTs: alcohol, tobacco, non-prescription drugs, illegal drugs, cell phones, MP3 players, radios, or other electronic devices. A note on cell phones: Outdoor orientation programs' success revolve around stepping away from society, and into new environments. We believe the importance in temporarily disconnecting from the world around us, so that we can connect with our group, our school, our state, and ourselves. Therefore, we choose to prohibit cell phone usage on program trips.
Program Schedule: 
You should arrive at Marshall Recreation Center at 9am on Day 1 of your program. You will meet your leaders and your group in the Outdoor Pursuits area of the Marshall Recreation Center. You
will spend the morning learning the basics of backpacking, and equipment, getting to know your group, and then drive away towards the mountains and rivers! You will then hike, camp, and live
together in the wilderness for the next few days. On Day 4, you will pack up and head to the New River Gorge for a day of whitewater rafting. After rafting, you will then return to campus that
evening.
Challenge Description:
Participants should be able to carry a backpack 35% of for an average of 5 miles and 1000 ft of elevation change each day. Backpacks will be filled with both personal gear and shared gear that is provided. Participants will be sleeping in shared tents, cooking meals in groups, and accomplishing camp tasks as a group. Meals will be planned by trip leaders, and dietary needs will be considered. Participants should be able to swim or be comfortable with being in and underwater.
What to Bring:
All technical equipment for the OOT is provided. This includes backpacks, tents, sleeping bags, sleeping pads, stoves, cookware, trekking poles, first aid kits, emergency communication equipment, etc. The raft companies will provide all necessary rafting equipment. Participants will need the following items found in the Personal Equipment List here. Feel free to send an email to Sam (iatarola@marshall.edu) if you have any questions on equipment needed.
Hygiene:
While there will be limited access to bathrooms, and no access to showers, hygiene and sanitation will be a high priority on Outdoor Orientation Trips. Students will learn how to use the bathroom, wash their hands, prepare food, brush their teeth, and stay as clean as possible in the woods. Students should be sure to bring their own personal hygiene items, as outlined in the personal equipment list above.
Feminine Hygiene:
Be prepared for changes in periods in the backcountry! Changes in activity, diet, and environment can all cause periods, even when you aren't expecting it. Feminine hygiene is something to be
prepped for as well, and we encourage you to pack a backcountry period kit. Here as a helpful article about how to handle your period in the back country: https://www.rei.com/blog/hike/girl-
talk-part-2-handling-your-period-in-the-backcountry . Here is an article that talks about backpacking with your period, and items to bring along in your backcountry period kit:
https://www.rei.com/learn/expert-advice/backpacking-with-your-period.html
Food:
All food is provided for the duration of Outdoor Orientation Trips. Please eat breakfast before arriving on Day 1. Dietary restrictions and food allergies will be taken into consideration. This will be accounted for by staff when planning the trip, and an all food restrictions and preferences should be communicated through the pre-trip paperwork. The food will be vegetarian-friendly regardless. While we do our best to accommodate for food restrictions and allergies, participants may be asked to provide some of their own food.
Examples of typical meals:
Breakfast: Oatmeal, bagels, cereal, pancakes
Lunch: PBJs, hummus and veggie wraps
Dinner: Stir fry noodles, pasta with sauce, mac and cheese, potato soup, etc.
Snacks: granola bars, trail mix, fruit, cookies and other treats!
Beverages: Hot cocoa, coffee, drink mixes, and a lot of water
Sponsored by: